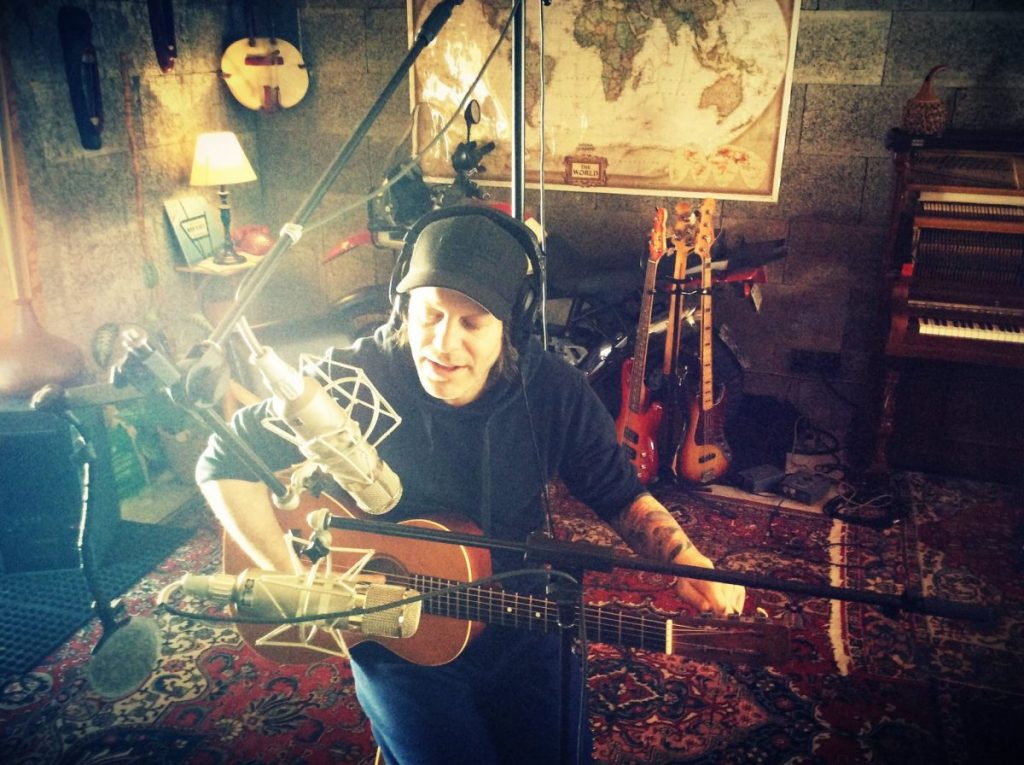 Patiently Awaiting the Meteorite – Strange Intuition
WATCH THE VIDEO: https://www.youtube.com/watch?v=rBYqGlVyOoE
"Strange Intuition" is Patiently Awaiting the Meteorite's second single from Canyon Diablo, the first sustained musical collaboration between producers extraordinaire the Grand Brothers and popular singer/songwriter Dee. Dee has experienced tremendous success on his own and previously working with the Grand Brothers on earlier projects, but the union resulting in Patiently Awaiting the Meteorite is the most powerful expression of their combined talents imaginable and there doesn't appear to be any ending to what they are capable of. Canyon Diablo is a remarkably complete, fully realized effort and "Strange Intuition" embodies the full breadth of the collaboration's talents while still reflecting the rock side of the outfit's musical character
It comes across immediately thanks to the assertive drumming and guitar running throughout the track. Patiently Awaiting the Meteorite never takes an overly obvious approach, however, and dynamics stretch and manipulate the song even from the first. The Grand Brothers develop the song, nevertheless, as it progresses with a number of electronically and synthesizer colored shifts and flourishes that never risk diluting the obvious rock power driving the song from its outset. There's never any of the hamfisted theatrics or guitar heroics we might hear from lesser artists, however – you won't hear any extravagant solos, no self-indulgence. Instead, "Strange Intuition" is focused from the beginning and never wastes the listener's time. Patiently Awaiting the Meteorite brings it all to bear on the audience and leaves us wanting more.
AMAZON: https://www.amazon.com/Strange-Intuition/dp/B07CMKG9GB
Dee's commanding vocal performance is another major reason why the song proves to be so successful. The confidence he shows navigating through the song's lyrics never wavers and his voice has a strongly emotive quality while still packing plenty of bite. He uses his talents as he should, another instrument in the song's musical mix, and tailors his contributions to complement the arrangement rather than creating tension working against it. His ability to amp things up at crucial points, particularly around the chorus, gives a new shade to the song that it might have otherwise lacked and the writing provides Dee with a first class platform for him to compel an audience's attention.  The Grand Brothers construct memorable scaffolding around Dee and the obvious thrust of the song is to unite these potentially disparate elements into an unified whole and they've succeeded magnificently.
These musical collaborators have experienced considerable success throughout their short time in the spotlight, but listening to this single and their earlier effort "Electrified" makes it abundantly clear they are more than Ready for Prime Time. Patiently Awaiting the Meteorite, the name of the project illustrating the underlying intelligence and wit sustaining the project, may be the best vehicle yet for these writers and musicians to illustrate the full gamut of their skill and personality alike. "Strange Intuition" is a winner from the first and will satisfy both traditional rock fans and those with more of a pronounced interest in modern sounds. Patiently Awaiting the Meteorite's new single will undoubtedly gain additional traction for Canyon Diablo and their promising future.
FACEBOOK: https://www.facebook.com/patientlyawaitingthemeteorite/
Loren Sperry