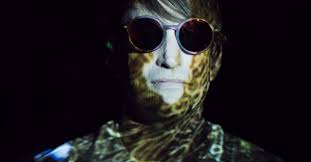 Jalal Andre releases Dark Alien Pop (LP)
SOUNDCLOUD: https://soundcloud.com/user-495147057/02-dream-about-nothing-promo/s-zuW6S
Fusing eclectic post-punk experimentalism with electronic-tinged industrial dance beats, Jalal Andre (under the moniker gloryBots) dishes out one of the most evocative and stylish rock albums of 2018 in the all new Dark Alien Pop. Powered by the leadoff single "Dream About Nothing," Andre's 12 song collection of dirge anthems and exotic, space age melodies wasn't designed for the bubblegum pop crowd by any stretch of the imagination. He's crafted an LP that is indulgently calculated and riddled with freeform arrangements the likes of which would make any avant-garde enthusiast giddy with excitement. If you've got the palate to embrace its tenacity, Dark Alien Pop will treat you to the most engaging listening experience of the decade.
Surrealism has been all the rage in indie rock for the last couple of years, but no one is utilizing the concept's sublimely cerebral qualities like Jalal Andre is. "Fire in the Sun" and "Immolation" are supreme examples of the existential narrative as it's been reimagined by millennial artists, and the bulk of material that Dark Alien Pop boasts is packed with glistening, mind-bending fodder for listeners of all ages to enjoy. This is a sprawling LP by construction, but casual fans shouldn't feel intimidated by its ambitious stylization.
"Gold Politique" was one of my favorite songs from Dark Alien Pop, not only because of its downright addictive drum beat but because of its swaggering chorus that is reminiscent of Ministry's early melodic work. A lot of folks will take to calling this album an entry in the post-industrial discography of alternative rock, but I personally think that Andre's freewheeling nature keeps his new record from being so easily labeled. There's enough gusto and brawn for the industrial crowd, but this is a definitive indie rock release nevertheless, bound by no scene politics or prerequisite expectations to restrict its magic.
The math rock of "Forces" would have been enough to build an entire record around, but instead it's but one of the many dimensions that Jalal Andre chooses to share with us in the debut gloryBots LP. I was surprised by how relaxed the song feels after several listens, as does most of Dark Alien Pop. There's something about this album that, not dissimilar to a killer batch of lasagna, tastes a little better on the second day than it did on the first. Time will treat this record well, and I predict that we'll be heralding it as a classic of this era in a decade or less.
The future is very bright for the gloryBots brand as Andre embarks on the next chapter of his solo career, and there isn't anything to indicate that his music is going to get anything but better as the years go by. Longtime supporters like myself will be the first to tell you that his creative growth is instantly recognizable in Dark Alien Pop, which could be described as his most mature and well-rounded release to date. I'm very eager to hear what he comes up with next, but for the time being I highly encourage music fans everywhere to get out and secure themselves a copy of this, the most original rock album of 2018, as soon as they can.
Loren Sperry