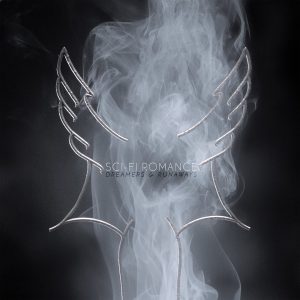 Back in early 2016, Los Angeles alt rock trio Sci-Fi Romance showed great promise with their acclaimed sophomore release, Dust Among the Stars. The Vance Kotrla-fronted band has made the best of their identity, featuring introspective lyrics backed by gothic-tinged textures and an earthy, melodic folk body. Now heading toward their eighth year together, Kotrla and company prepare to release their latest album, Dreamers & Runaways, a truly focused and fleshed out follow-up.
The album is swiftly catalyzed by its eponymous opener, an acoustic, up-tempo number that quickly expands upon a variety of instrumental involvement. Right off the bat, I appreciated how the noir, subdued quality of its surf guitar foundation is bolstered by the grand warmth of the string arrangements. Kotrla's signature crooning baritone has remained a constant benefit to these elements. In combination with his thematic stance, it paints a bleak but poignant picture of those obliviously driven by their ambitions, who soon realize the non-conducive extent of their newfound surroundings. "Long Ways Left," the track to follow, maintains somber thematic leanings albeit with a pleasant sounding main melody. In its stationary phase, the song's clean tone drives an anecdote of an argument gone awry, a sense of forgiveness on the horizon. However, its chorus – overdriven and minor-keyed, by contrast – emphasizes the inevitability of emotional wounds remaining dormant despite momentary closure. This extent of strain carries over into the next two tracks, "A Beautiful Prison," and "The War in Me." Both feature a gradual buildup of different instrumental components, while centering on progressive interpretations of internal conflict. Whereas the first song exhibits a scenario of shutting out darkness, choosing to instead cling to a life of oblivious harmony, the second highlights the result of that darkness being suppressed for so long, in an outright showcase of flaws. Capping the album's first half is "Voices," which does right as its premier single. Though it may seem to play that part a bit too well in terms of pacing, the song suffices both in making the band's diverse influence scope palatable, as well as offer a more uplifting angle of persistent emotional strength.
Characterizing the album's latter half is its sixth track, "The Fight." This one retains much of the same lyrical standpoint, although expressing a more directly combative sentiment. Its overdriven guitar proves fitting for this reason, offering a slight but nonetheless refreshing stylistic shift. The main chord progression is memorable as well and works equally in projecting Kotrla's vocal tone. I felt that "Gone Wrong" came across as a decent response, stressed by need for humility when times. Such a sentiment is further echoed carefully in two of this side's highlights, a beautifully folk-laden rendition of Temple of the Dog's "Wooden Jesus," and the penultimate "Sunrise," a rough-hewn grunge track noticeably contrasting from anything else on the album. Finally, the closing "Hymn for the Invisible" mirrors the initial cap's spirit-building nature. Its slow, somber chord sequence complements the thematic focus, which draws from anecdotes involving restless, but assiduous minds on the verge of collapse. However, once the chorus hits in full form, the lush, wide string arrangement envelops Kotrla's voice, not only providing it substantial presence, but instilling a sense of confidence in much the same way. In short, the song has potential as a follow-up single, and is certain to sincerely serve its intended purpose.
Overall, Dreamers & Runaways was an undoubtedly pleasant listen. The songs flow as cohesively together as they do on their own, creating a strong, encompassing image of fair skies – a mixture of sun and clouds with light rain that emits inspiration regardless of circumstance. If Dust Among the Stars showed promise, then let Dreamers and Runaways cement Sci-Fi Romance's staying power in modern alternative music.
Follow Sci-Fi Romance:
Official Website|Facebook|Bandcamp|Twitter