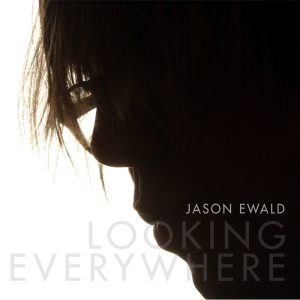 Jason Ewald honed a competent musical understanding as early as childhood. Born in Wisconsin and raised on classic rock and jazz, Ewald equally absorbed both sounds – whether through his father's drumming along to Creedence Clearwater Revival, or in listening to Clyde Stubblefield's Monday Jam session, just outside Madison's King Club. In the late 90s, Ewald's travels – including a move to Los Angeles, and influential stays in Spain and Brazil – would further shape his identity as a musician and performer. However, it would be Ewald's move to New York City by the following decade that continues to have the most profound effect on him today.
From this experience comes Ewald's latest single, "Looking Everywhere," which sees him drumming and singing alongside a sextet of established local musicians – guitarist Brain Lazarus, bassist Jim Saxa, pianist Kevin Bernstein, organist Erik Deutsch, saxophonist Michael Eaton and trumpeter Dan Brantigan. Together, this team creates an involved, yet palatable backdrop channeling the soul of late 70s slow jams, and seasons it with Ewald's insight on urban life.
According to Ewald, only after the recording of the single did he recognize the greater extent of his situation.
"It seemed my subconscious was at work right under my nose," Ewald observes. "Such is existing in New York. What you love about it—what fulfills and nourishes you—is exactly what grinds you down and tests your resolve." He then reiterates that sense of challenge with similar perspective: "[You are] living in a city of millions, yet alone. Navigating periods of doubt, but always emerging victorious."
Indeed, the song's backdrop could represent New York City from two contrasting angles: a massive hub bursting with seemingly bottomless culture and immense opportunity, or a bittersweet plethora of once vibrant life, desperately compacted on a single cumbersome pedestal. Nonetheless, Ewald and company make the best of their journey, utilizing the influences they love, and making an impact every which way to their hearts' content.
Jason Ewald Socials:
Official Website|Facebook|Instagram|Bandcamp