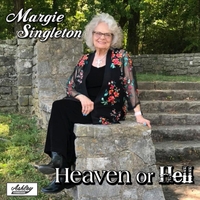 One running issue that we tend to find in the music business is that age has become a factor to determine what musicians should be popular. Why is that? Artistic beauty knows no boundaries and knows nothing about ages, so it's always refreshing when someone comes along and destroys modern conventions by doing a song, a book or a painting that can stand the test of time.
This is what Country great, Margie Singleton, did with her latest single, Heaven or Hell.
A musician with such a long career as Margie has dabbled in several music genres, like Pop, Gospel or Country, so it's not surprising that we get to hear a little bit of each influence with this single, but she knows how to deliver; her voice is lush and seasoned, capable of singing these lines about contrasting morals with great power and emotional baggage, which is paramount for a great vocalist.
She might not have the background and success of, say, Dolly Parton, but she is no slouch in any sense of the word when it comes to making music and here we have a solid song where balance is one of the main characteristics that you are going to find; the song maintains a certain quality throughout that makes it much more compelling and solid. This is not like most modern songs where you just have a catchy chorus and the rest of the track is forgettable–here we have a great single as a whole.
Margie doesn't need to prove anything to anyone in this point of her career; she just wants to make great music and to enjoy herself and that is something she seems to have achieved in recent times with Heaven or Hell, reaching a pretty good level amongst the critics that believe that age should be a detriment for a musician's performing levels or creativity. Just a fantastic song made by a fantastic vocalist.
Too old for this? Add a "b" before "old" and you might have something there.