Buzzworthy pop duo Joyeur have today released their hotly anticipated debut EP LIFEEATER. The EP is available to stream and download now via all digital streaming platforms, including iTunes, Spotify, Amazon and Apple Music.
LIFEEATER is led by the brand new single "Pusher"
Earlier this summer, the track served as one of the featured songs used by World Surf League and the Vans US Open for their competition highlights. In addition to "Pusher", the EP features the previously released single "Fast As You Can", in addition to three other never-before-heard songs.
"LIFEEATER is undeniably and unapologetically us. It's an extension of who we are as musicians and people, and we're so excited to finally share it with everyone," the duo said about the project. "It's our proclamation to the world that we're here, we're hungry, and we're optimistic about the future. So much work and emotion has gone into this EP over the past few years, and we hope everyone that listens feels inspired to continue pushing through all the bullshit to get to the best parts of life."
"Fast As You Can" succeeds Joyeur's first single "Dig" and their cover of Kendrick Lamar's "Pride", which were both put out as a standalone releases over the past year. The songs caught the attention of several trendsetter websites.
LIFEEATER Album Art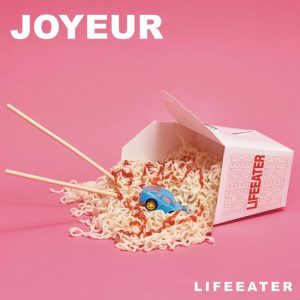 LIFEEATER Track Listing
Pusher
Fast As You Can
Heartbreak At The Disco
Daisies
Dance With Me