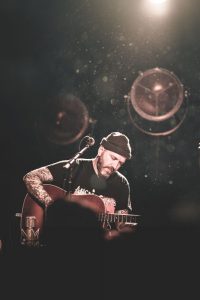 Folk rock is always interesting to listen to, as the complexity of the songs come from the lyrics more than the music. It is an experience anytime it is played, and something calming to add to your daily soundtrack. It is even more interesting to listen live, and with Dallas Green's project, City and Colour's latest live album, they wanted to share that experience with their fans who couldn't attend their sold out show across Canada. So, how does it hold up to those who weren't at that show, but still wanted to be part of that all the same?
It is interesting to note that the conversations that proceed the tracks are included in the live album, and most of them have connections to the songs. For example, before beginning the song "We Found Each Other In The Dark", Green asks the audience to "keep mean tweets to yourself", as it is a nice incentive for a calm and welcoming environment within the gig. A lot of the songs themselves have very relatable lyrics, like "how can I be so foolish to let you leave" in the track "Lover Come Back". A lot of the lyrics contain a lot of heart and emotion, which is lifted up more by the vocals; it gives a lot of power to the song, and the harmony in tracks like "Casey's Song" are simply beautiful. Musicality, however, has its moments. For example, "Sensible Heart" has a great guitar solo within it, and the keyboard in "As Much As I Ever Could" sounds fantastic with his chord progression too. But most of the rhythms in the acoustic guitar are usually simple and standard, for example in "Twilight".
Overall, it is a relaxing listen to, mostly for the poetic lyrics. The added live experience to the album is only felt in some moments, but the ethereal aesthetic added to the songs is a nice touch, and beautiful to listen to. It is worth listening to, especially through Still Records. It shows that Green is a great performer outside of the studio, and shows that there is more to look forward to in the years to come for Green and his music.
Guite Me Back Home (Live) is out 5th October!