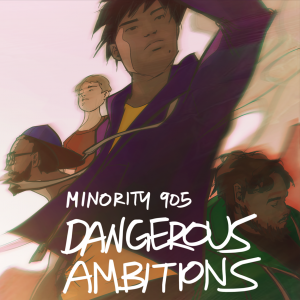 Minority 905 is an emerging Canadian quartet armed with refreshing pop appeal. The band's name is made up of two allusions: 'Minority' from the eponymous Green Day hit, and '905' being the area code of founder John Aquino's hometown, Mississauga, Ontario. Formed in the summer of 2013, the band earned sizable buzz through consistent local touring as well as a prominent output on YouTube. Now with two albums under their belt, the band's lineup is presently rounded out by guitarist Chris Goodfellow, bassist Steven Woolwyn, and drummer Spasimir Vasilev. This lineup defines the band's latest album, Dangerous Ambitions, which comes three years after their acclaimed debut, Broken, Not Beaten.
On this new slate, Minority 905 see a fair revamp in the signature pop punk that initially solidified the previous album but without sacrificing its merit. The album opens on "Don't Panic," an assuring up-tempo jam that launched me in right from the song's intro. I appreciated its stylistic offering, focusing on solidly layered chunky guitars, as Aquino's tonality fits well within the instrumentation. A subtle, but important aspect that I also appreciated was the prominence of the bass section. For a relatively polished mix, the bass is clearly defined and brings a lot of substance to its composition. In the widest sense, the song makes a decent reminder of the rewards to come through bracing life's most difficult challenges. "Catching Fire," the track to follow, contains tightly woven melodies alongside a poignant thematic perspective. It seems to center on coming to grips with one's self-trust, despite contact with someone they once held dear being sealed off completely. That sentiment is echoed in the album's title track, which similarly pertains to staying truthful amidst a trying course of off-hand hurdles. I particularly enjoy how the song's melody smoothly translates from verse to chorus, especially from a harmonic context. Subsequently, "Relapse" and "Picture Perfect" are more clearly addressed in anecdote form, providing a progressive look into emotional strain. Whereas the first track centers on being dragged down by another's emotional manipulation, the second deepens such insight, highlighting a sensation of feeling imprisoned by aimless fantasies and a false sense of hope. Amidst these challenges, tenacity is what triumphs in the long run.
An array of straightforward hook-laden punk defines the album's first side, but the latter side is where the album truly comes together, both melodically and thematically. That shift is initiated by "Smoke and Mirrors," a slower, somber-edged song by contrast that details the extent of a bounding pressure. It plays on the idea that when change is forced, such a mental approach only leads to fatigue, and, as a result, further disenchantment. There's very well-implemented emphasis on the song's clean and heavy phases, while the guitar solo also makes a pleasant surprise. I related to the seventh track, "27 Club," not only in my being 27 years old, but having experienced similar darkness carried over from past years. In much the same way, the band does an exceptional job expanding the sentiment of the previous track, highlighting the cynicism and general obliviousness those my age begin to face. However, the song also makes a point of mentioning the importance of the small surge of hope on the horizon, that tends to manifest even if in a dormant form. The eighth song, "Soundtrack," holds resonance in being my introduction to the band, as well as influencing my wanting to review the album as a whole. It seems to depart from the band's pop punk nature, instead coming across as a broader alternative single, which works to its benefit. Its message rings pertinent again much like the previous side, emphasizing the continuance of a musical backdrop as life goes on. After a thoughtful acoustic punctuation in "Lucky Ones," the band returns to an up-tempo sound, albeit with a looser melodic feel. "Run This Town" and the penultimate "What If" express two starkly contrasting viewpoints, with one feeling especially in control of life while the other involves dwelling on a rock bottom outcome. Nonetheless, both play a considerable role when factored into the final track, aptly titled "Future." For all this band has gone through in their relatively short tenure, they show a mature outlook on their journeys as a unit, taking into account the ever-present uncertainty, but at the same time, excitement, to come.
Overall, Dangerous Ambitions is a much-improved sophomore effort in solidifying Minority 905's career. Each song is a relatable, cohesive anecdote that stands out individually, especially within the band's broader stylistic scope. I look forward to seeing how the band will further expand their talents in another full-length setting.
Minority 905 Socials:
Facebook|Twitter|Instagram|YouTube