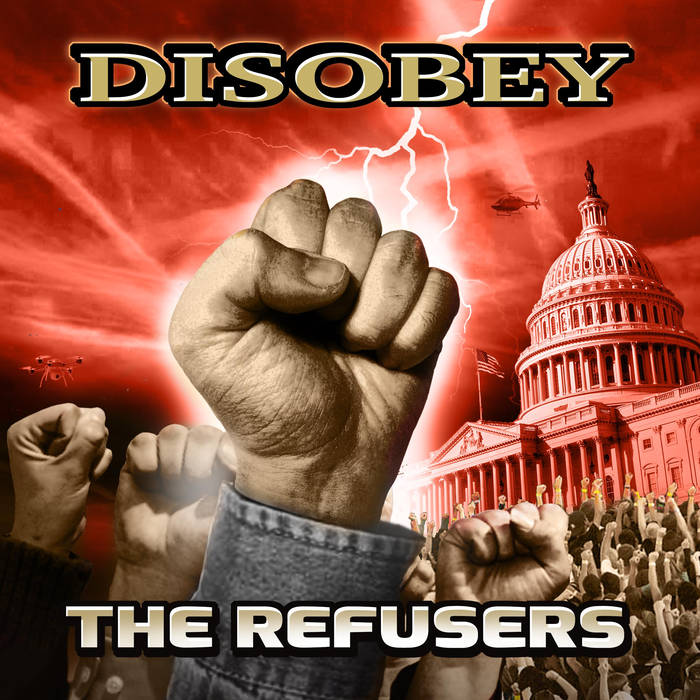 The Refusers – Disobey
BANDCAMP: https://therefusers.bandcamp.com/
Right now you won't find many folks on either side of the political aisle who will tell you that America isn't living in one of the most chaotic and discord-filled chapters in all of its history. Everywhere we look it seems like we're reminded of the division, the inequities that create it and the subsequent suffering that it leaves behind in its wake, but Seattle's The Refusers don't want us to give up all hope for a new day just yet. Their new record, Disobey, is a sonic call to arms intended to unite us under the banner of modern punk rock – and its message is one I think both liberals and conservatives will agree needs to spread like wildfire.
The Refusers aren't afraid to get into controversial subject matter with their lyrics, and they prove so in some of Disobey's key moments. Whether expressed in the literal sense, such as in the self-explanatory "Fake News;" or through a more surreal lens i.e. the anti-opioid commentary of "Why Do They Lie" or the anti-poverty anthem "Free the Captives," the band goes out of their way to face tough subjects with an open mind and a clenched fist. The topics aren't for the faint of heart, but neither is living in the good old U.S. of A. lately.
Disobey is just as rebellious musically as it is lyrically, and if guitar driven tracks like the blistering "Playing With Fire" aren't enough to get your body moving, I don't think anything will. In the old days, rock n' roll albums of any variety (but especially in punk) could be counted on to pack some serious heat volume-wise, but today it seems like getting a rock band to really crank their amplifiers and cut loose is next to impossible. Personally, I think that this makes Disobey all the more special and worth savoring for rock aficionados like myself.
Another thing that The Refusers prove in Disobey is that a band doesn't have to be on a major record label with a big budget to make a credible impact on contemporary pop music. It's their kind of DIY ethics that have bred the most significant musical movements of all kind.
The underlying message of Disobey, other than its blatant disdain for the evils of commercialism and greed, is that brutality belongs in rock n' roll records and not in the streets, where sadly most of our societal aggression ends up getting released. While not overly preachy or self-righteous,  The Refusers aren't shy about standing firm on what they believe in and the urgency of what their message entails, and though some would be quick to call their new LP controversial, I found it to be nothing less than prolific and mesmerizing. Art is ultimately subjective, but I think few critics or listeners will disagree on the legitimacy of this album's musical authenticity.
Loren Sperry