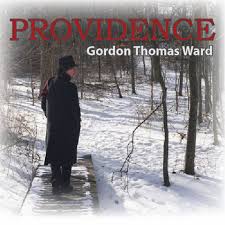 Gordon Thomas Ward releases LP-
SOUNDCLOUD: https://soundcloud.com/user-226965519/sets/providence
Good music doesn't take a whole lot of time to reach through the speakers and grab our attention with full force, and that's precisely what Gordon Thomas Ward does in the opening salvo "Arcadia Lament – Names Into Stones," from his new album Providence. The delicately layered strings draw us into the gorgeous soundscape that Ward is crafting just for us, and by the time it clears a path for "Destiny," any idea that we weren't going to be glued to our hi-fi's for the duration of this record is eliminated with prejudice. The easy going folk melody is jarringly connective but not quite countrified by definition, but it's just the first of many sonic amalgamations to behold in this incredibly varied album.
Ward keeps the mild catharsis flowing in "Just One More," which sets us up with an optimistic yearn before tearing us into the passionate whirlwind of its climax. It's not the elegantly relaxed balladry of "Ledges," but very few songs can be. "Ledges" on its own is reason enough to acquire Providence, but its gilded harmony is but one facet of Ward's contemplative palate of emotional depth. The ominous strut of "The Horseman" unexpectedly washes over the frame like a thick black shadow and changes the tone of the album long enough for us to see that we're not listening to a one dimensional songwriter by any stretch of the imagination. It aptly primes us for the vulnerability of "Saint Agnes" but shouldn't be described as a bridge track in the least – it's way too hypnotizing to be anything of the kind.
"The Cruelest Work" wraps around us like a serpent intent on crushing us with its sheer will to survive and offers up some of the most inspired vocals of Ward's entire career. I have the say that it's probably the most radio ready song of the disc, but its follow up "One Kiss" gives it a run for its money courtesy of a Long Winters inspired chord pattern that recalls the autumnal glow of early alternative folk rock. I didn't think that a single artist could pack so much organic flare into a single album  but Ward resoundingly proves me wrong at every possible opportunity in Providence.
The gentle "How Many More?" sharply cuts into the misty flow of "One Kiss" like a hot knife through butter, but its winding tempo makes the shift in harmony much easier to digest than one might anticipate. "Lamington Dew" throws up another flag for boldness before Providence comes to an ethereal conclusion with the juggernaut "The Line," which anyone worth their sense in the study of music will find to be one of the more calculated acoustic songs released in this era. Providence is such a gripping listening experience that it isn't difficult to listen to the entire album all the way through several times and walk away with a slightly different interpretation each time. It's a more than compelling record that I highly recommend fans of indie folk give a spin at the next possible occasion.
Loren Sperry