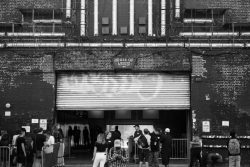 After opening their doors 8 years ago as a skatepark and concert venue House of Vans has become an iconic part of the community in the Greenpoint section of Brooklyn through skateboarding, music, and art. In the summer of 2011 House of Vans hosted its first ever "Vans House Parties" with No Age, HEALTH, Cults, Ceremony, Superchunk, Off!, and Lemuria.The house parties were a series free  concerts throughout the summer. Since 2011 the house parties have hosted such major names as Melvins, Ghostface Killa, Gorilla Biscuits, Bouncing Souls, Nas, Dinosaur Jr, Digable Planets, Descendents, Action Bronson, Suicidal Tendencies, Sick of it All, Pennywise, Liz Phair, and most notably Blondie.
On Friday, August 24th Interpol would be added to the list of bands by hosting a special album release show at House of Vans in Brooklyn along with Gang Gang Dance and Honduras. The show would be nothing less of a celebration for both Interpol and House of Vans, for Interpol it would be the release of Marauder the bands sixth studio album since 2004, and with House of Vans it would be more bitter sweet celebrating the end of an era as the "House" would be permanently be closing their doors after first opening in 2010.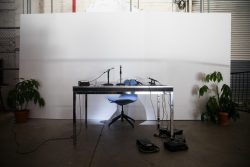 Sending House of Vans out with a bang, Interpol supplied a visual and interactive experience for fans throughout the 25,000 sq. foot warehouse that includeed a replica of the press conference desk from the album cover art where you could have your photo taken and printed out for free.
When it was showtime Brooklyn locals Honduras who have been making a name for them selves over the past couple of years with their hazey indie punk sound started things off and gave the crowd a solid performance to get the night underway. Next in the lineup was another hometown local band Gang Gang Dance who also just recently released their album Kazuashita this past June delivered a heavy percussive set that really gave the show a party atmospheric vibe while the crowd took in everything the night had to offer. Topping off the evening Interpol hit the stage opening their set with "Number 10" the second single off their newest LP Marauder, also making their way on to the setlist were the other two singles from Marauder "The Rover" and "If You Really Love Nothing". Interpol's 18 song setlist was actually divided pretty evenly between both Antics and Marauder, but it was the debut of "Complications"  played live for the first time that really had fans cheering the loudest along other heavy fan favs such as "Evil" and the core closer "Obstacle 1".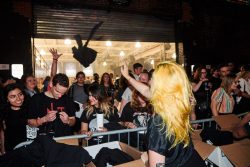 With the show coming to it's end as fans made their way out the doors for the last time they were handed posters and loads of other free merch like shirts and tote bags that were printed to commemorate the 8 year run of the Brooklyn location.
While we close the chapter on this book and reflect back on how much we will miss House of Vans and what it has done for all of us, Vans promises they will continue to create innovative and meaningful experiences for the community with pop ups continuing around the US, Canada, and Mexico this year, but more importantly for NYC, they've announced some really awesome ways to say thank you and goodbye including the Vans Give A Band School program, a competition for local schools to win music gear and a $10,000 music program grant. I personally would like to take this opportunity to thank everyone at House of Vans for all they have done not only for myself but for the entire community.
Insert photos by:Laura June Kirsch and Jonathan Mehring
SETLIST:
Number 10
All the Rage Back Home
If You Really Love Nothing
Public Pervert
The Rover
NYC
Mammoth
Roland
Complications
The Scale
Evil
NYSMAW
Take You on a Cruise
Anywhere
Slow Hands
Encore:
Lights
Not Even Jail
Obstacle 1
INTERPOL