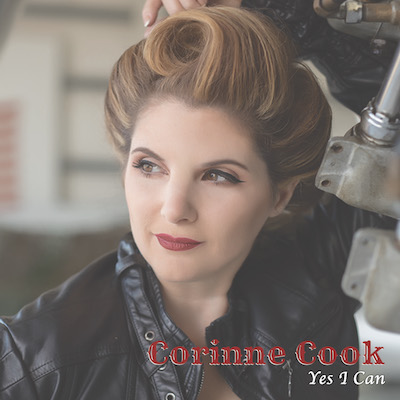 Corinne Cook – Yes I Can
URL: https://www.corinnecook.com/
FACEBOOK: https://www.facebook.com/corinnecookmusic/
TWITTER: https://twitter.com/corinne_cook
Corinne Cook's music crosses a lot of borders and has broad based appeal. This is by design, naturally, but don't think the California born singer's choice in material doesn't reflect her inner life as closely as possible and allows her to give vent to emotion through her art. The obvious commitment she pours into the eight songs included with her third studio release Yes I Can is, arguably, her most considered musical statement yet and finds her broadening her artistic reach in meaningful ways. Cook has lived an eventful life including hailing from an intensely musical family and serving her country in the Air Force. Moreover, she's pursued her musical dreams through thick and thin and her persistence is still paying off for her. Three albums into her career, Corinne Cook's musical journey has hit a new high point and the road ahead is clear going forward from here.
INSTAGRAM: https://www.instagram.com/corinne.cook/
"Last Thing to Go" brings the album to life with a shot of bluesy grit. Cook's got a great voice for this kind of material without ever laying on the histrionics too thick. The inclusion of harmonica doesn't feel too forced and, instead, enriches the blues feeling the song's clearly going for. The drums and bass playing is particularly strong for this performance. The slightly saucy point of view we hear with the opener continues with the song "One Box of Tissues", but Cook practices a little musical sleight of hand for the opener with its downtrodden piano lyricism and aching Cook vocal. It soon transforms into a vigorous mid tempo romp and Cook obviously relishes delivering the lyrical content. Much of Yes I Can has a commercial edge, but it never comes off as cheap or cookie cutter in anyway.
SOUNDCLOUD: https://soundcloud.com/CorinneCook
The album's title cut is a pleasant surprise. Cook could have opted for a more obvious approach than she takes with meditative verses depicting the stories of four historical women and the change their actions brought to the world, but Cook does ramp things up significantly for the choruses. A title song should stand out on even a great album and "Yes I Can" more than fits the bill. She takes her first spin at a full-fledged ballad with the song "Trying Not to Die" and Cook nails it with a wrenching vocal emphasizing the inherent drama of the situation. Cook embraces songs with spot arrangements and unsparing language that's always well tuned and never overwrought.
YOU TUBE: https://www.youtube.com/corinnecookmusic
"Mr. Mechanic" is another of the album's more playful moments and has a cracking arrangement that gives its humor some bite. The song's a tribute to Cook's husband and the added intimacy of her subject matter elicits quite an emotive performance from Cook and the playing maintains a tense edge throughout. The stately sweep of the album's penultimate song "Seven White Stars" is highlighted by immaculate production, a patient and magical Cook vocal, and a nuanced musical performance from each of the musicians present for this recording. Yes I Can ends with "Those Few Dreams", another moving ballad number Cook puts over with emphatic feeling. She shows all the instincts of a veteran singer with the way she takes this