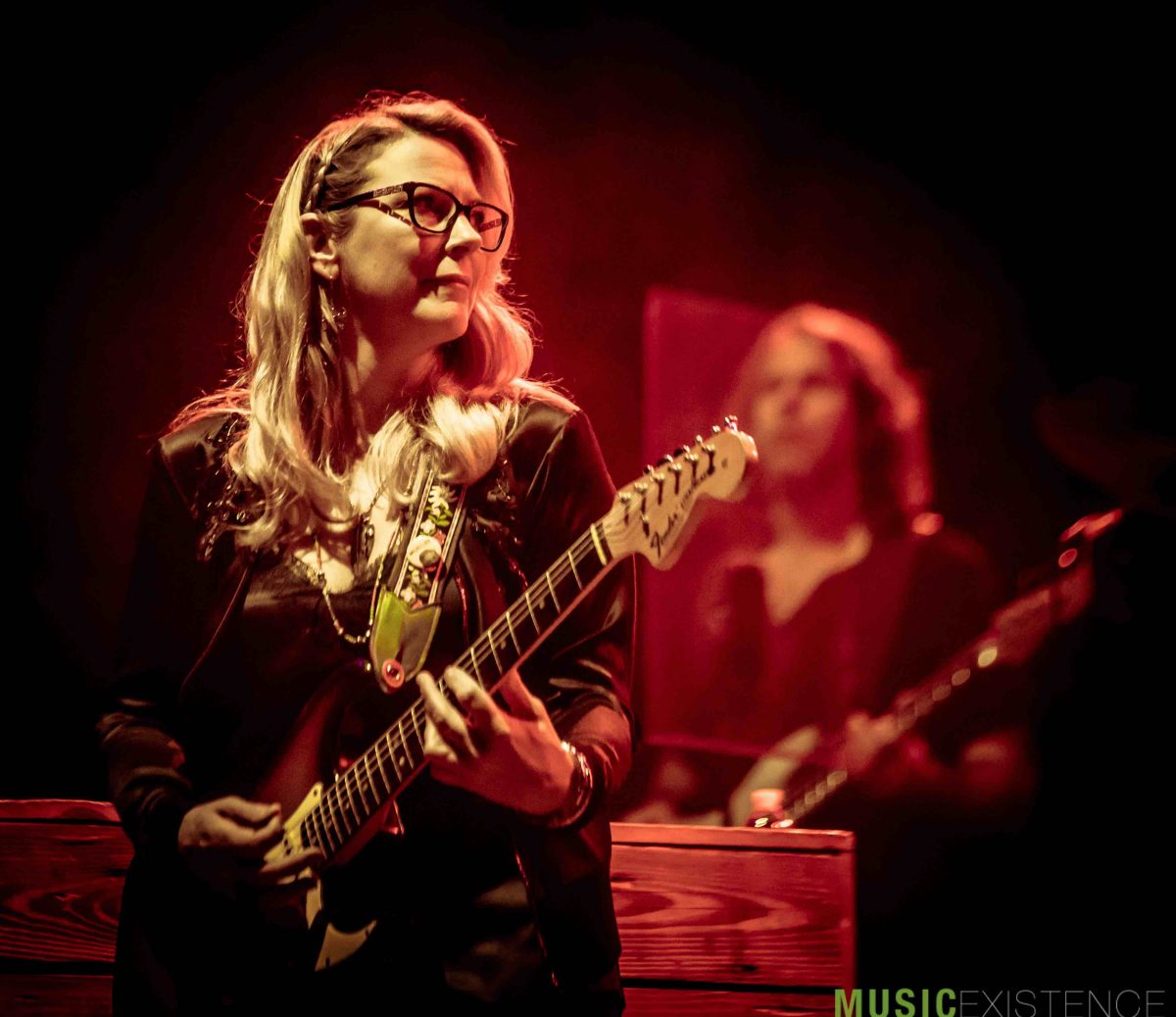 Tedeschi Trucks – Red Rocks Amphitheatre – Morrison, CO – 7/28/18
Tedeschi Trucks, Drive-By Truckers and The Marcus King Band brought the early summer edition of the Wheels of Soul tour to a glorious close on July 28th and 29th at Red Rocks Amphitheatre in Morrison, Colorado.
All three bands doled out the fire and brimstone throughout the course of the tour's final weekend with Greenville, South Carolina's own, The Marcus King Band, kicking things off on Saturday night.
King, the much buzzed about guitar virtuoso and his eclectic band, skillfully mixed a brilliant combination of southern rock, blues, jazz and psychedelia throughout their spirited, albeit brief set.
The Red Rocks crowd's reaction to King's explosive guitar licks was nothing nothing short of euphoric.  Perhaps the only negative in regards to The Marcus King Band's time on stage was that it seemed as though it ended far too soon.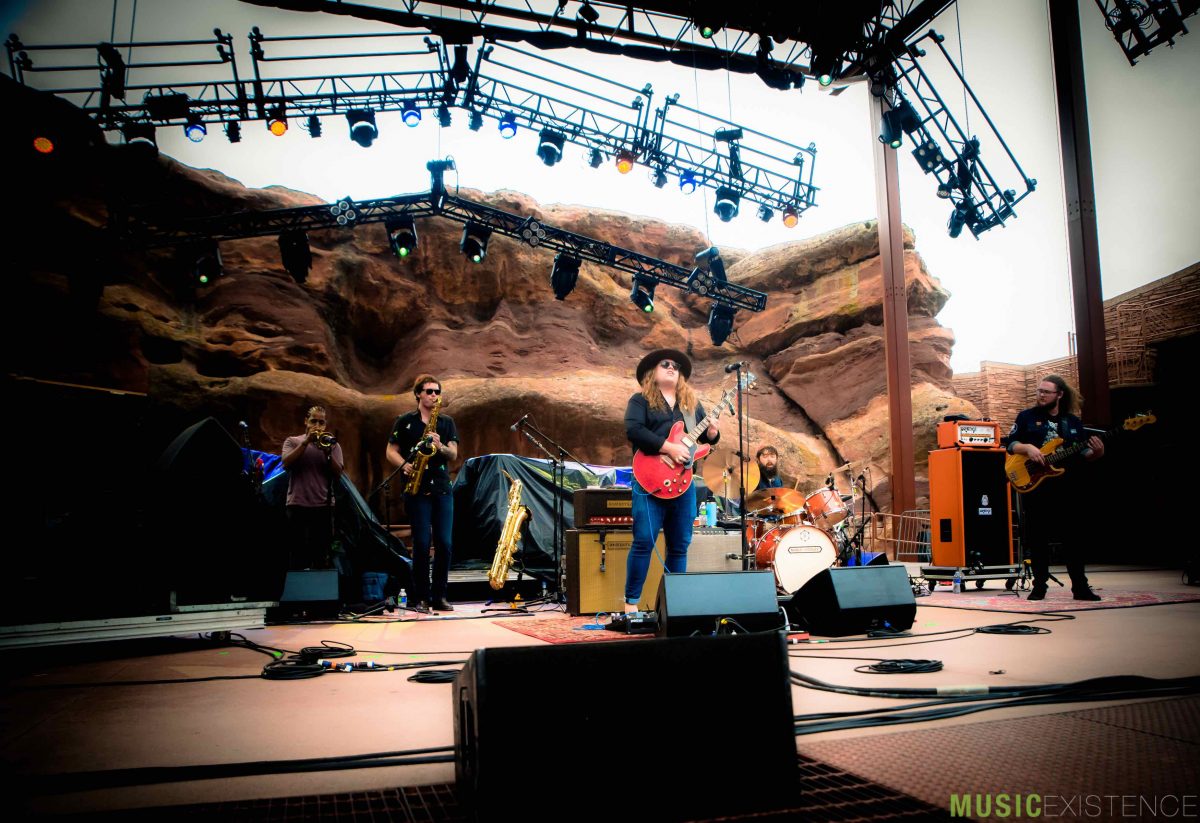 The Marcus King Band – Red Rocks Amphitheatre – Morrison, CO – 7/28/18
Next up were Athens, Georgia southern rock meets Americana stalwarts, Drive-By Truckers.  Drive-By Truckers took the Red Rocks audience on a long and winding sojourn through their catalogue which included a wildly entertaining take on the Ramones' "The KKK Took My Baby Away."
There's a reason Drive-By Truckers have built such a strong and fervent fan base.  They are not only intrinsically likeable, they play songs and weave sonic tales that draws the audience inward and makes them feel as though they are an integral part of their own musical allegories.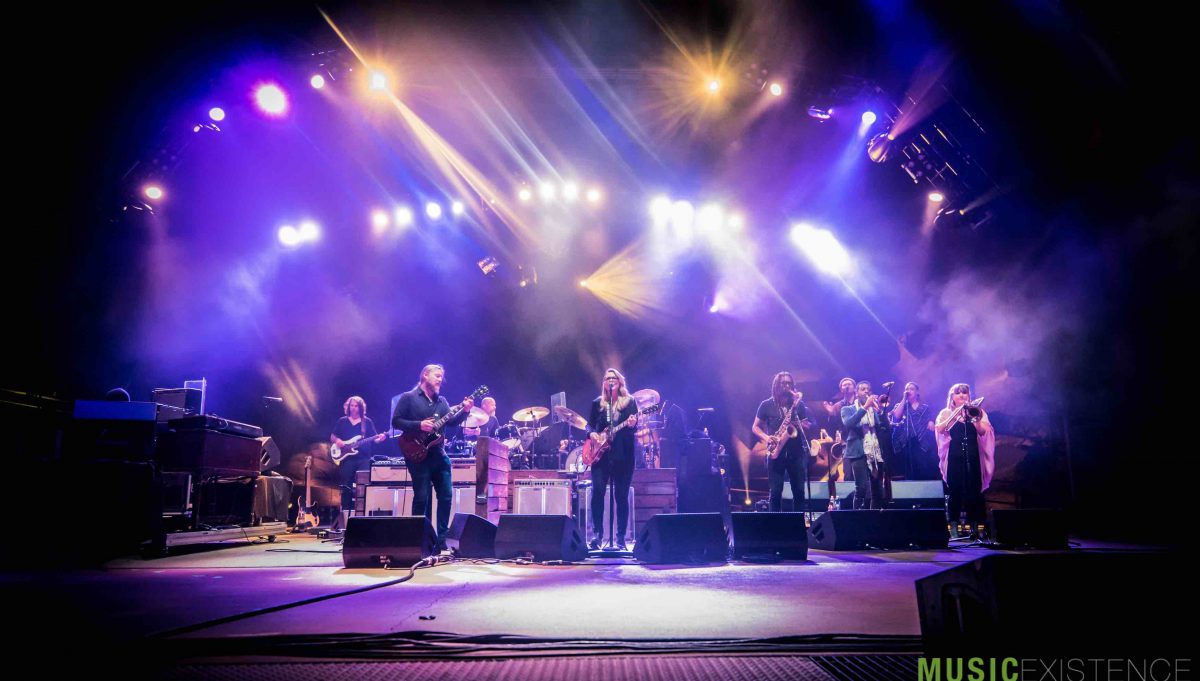 Tedeschi Trucks – Red Rocks Amphitheatre – Morrison, CO – 7/28/18
Following Drive-By Trucks thirteen song set the Red Rocks Amphitheatre welcomed tour headliner Susan Tedeschi, Derek Trucks and the Tedeschi Trucks Band to the lighted stage.
Effortlessly fusing southern rock, Motown, gospel and jazz, Tedeschi Trucks spun an angelic musical web that lasted over two hours and included more than a few surprises.
The band kicked things off with the Derek and the Dominos classic "Tell The Truth," which featured some resplendent vocals by Mike Mattison and a dash of Trucks' brilliant slide guitar playing.
The next big moment of the evening came via the band's own "Shame," a song which truly highlighted the soul and gospel power of Tedeschi's voice as well as how well Truck's guitar playing serves as a perfect counter part to her own talents.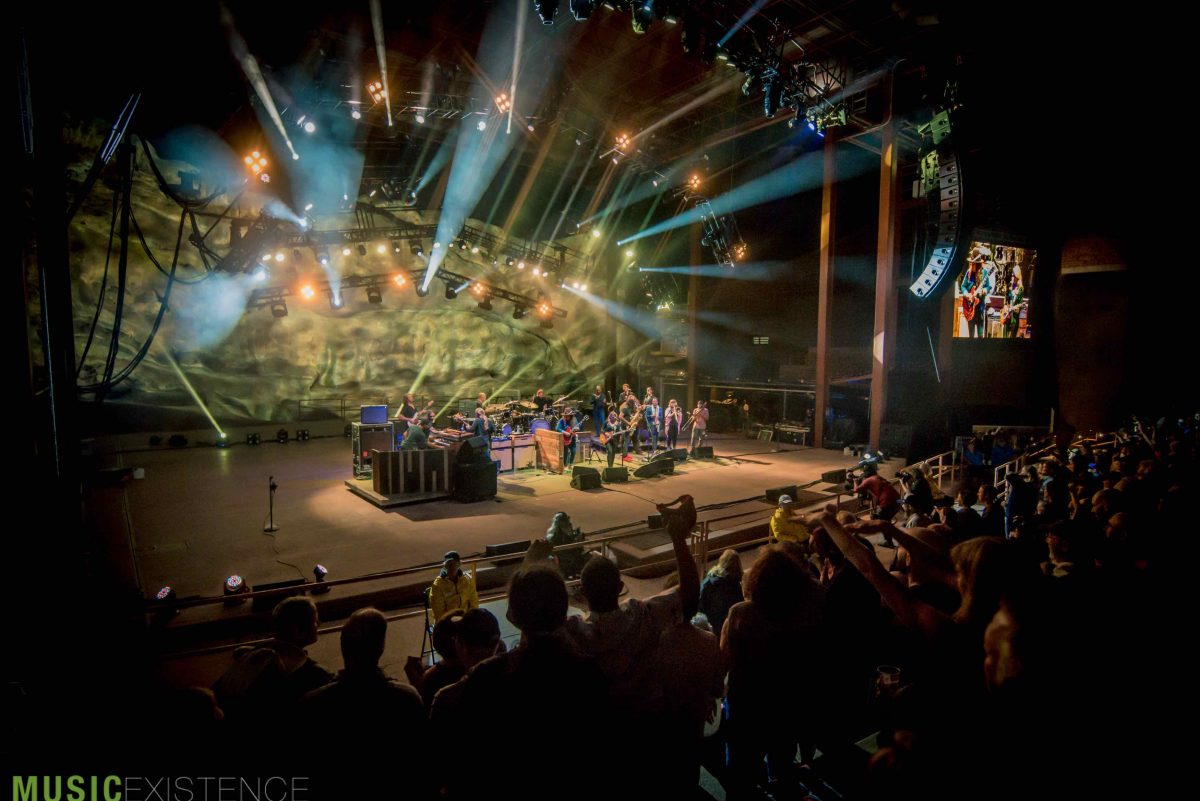 Tedeschi Trucks – Red Rocks Amphitheatre – Morrison, CO – 7/28/18
"More and More" provide Mattison and additional TTB vocalist Mark Rivers an opportunity to prove to the Red Rocks' audience why Tedeschi is more than happy to share vocal duties with the duo.
As Tedeschi Trucks' set continued more refulgent covers followed, including a soulful take of Bob Dylan's "Going Going, Gone" as well as a rambunctious effort on The Coasters "Let's Go Get Stoned."
It was on the later of these two songs where some of Tedeschi Trucks other players truly shined, which included Kofi Burbridge on keys as well as the horns of Kebbi Williams, Ephraim Owens Elizabeth Lea.
It would be hard to point out any singular highlight from Tedeschi Trucks rhythm section, which includes bass monster, Tim Lefebvre and co-drummers Tyler Greenwell and J.J. Johnson.
The plain and simple truth of the matter is, just about every song Tedeschi Trucks plays live incorporates the thunder and lighting Lefebvre, Greenwell and Johnson bring to the table night in and night out.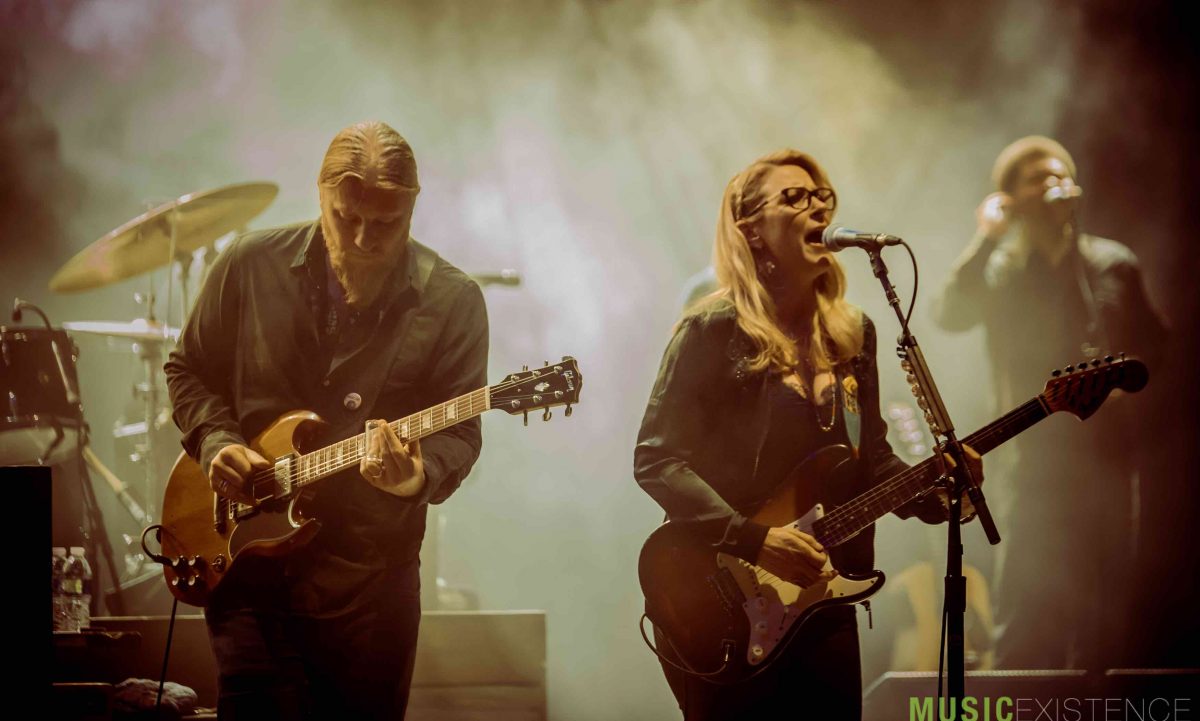 Tedeschi Trucks – Red Rocks Amphitheatre – Morrison, CO – 7/28/18
What Tedeschi Trucks tour closer be without additional collaborations?
To end the first of the band's final two nights of the Wheels of Soul tour the band brought back out Marcus King, Justin Johnson (trombone), Dean Mitchell (saxophone) and Deshawn "D-Vibes" Alexander for a double shot of Sly & The Family Stone, via "Sing a Simple Song" and the night's swan song, "I Want to Take You Higher."
Alexander and Burbridge went blow for blow on keys before Johnson and Greenwell battled a bit on drums during the front end of the medley.  The closer also showcased the radiant vocals Tedeschi Trucks' other vocalist, Alecia Chakour, offers up every time a single not reverberates from her microphone.
The song and the evening came to combustible conclusion with guitar heroes Trucks and King trading lick for lick on the Sly and The Family Stone classic.
It's also worth mentioning that there was an actual sighting of the very elusive saxophone hero, "Saxsquatch" on stage during the Sly and the Family Stone medley.
Where this musical beast came from, what his origin is and what in tarnation he doing at Red Rocks, are all musical mysteries that may never be solved.
The Wheels of Soul tour may sadly be over until next year's edition. However, fans of all three bands won't have to wait too long to see these three exceptional acts on the road again, as each band has a slew of dates planned for the late summer and early fall.
Connect with Tedeschi Trucks, Drive-By Truckers & The Marcus King Band:
Connect with Tedeschi Trucks (click icons):

Connect with Drive-By Truckers (click icons):

Connect with The Marcus King Band (click icons):

All Writing and Photography:  40_photography (Instagram)