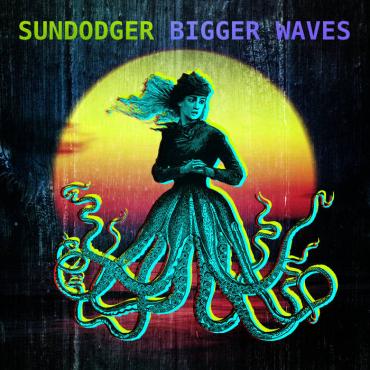 SUNDODGER – Bigger Waves (LP)
BANDCAMP: https://sundodger.bandcamp.com/album/bigger-waves
Music is a powerful force that artists have been trying to find a way to harness and tame since the very beginning of time itself. Music can be powerful in many ways. There are lyrics that can change our entire perspective on life and the people living it. There are medleys that can capture the very essence of seasons changing. In the first fifty years following the dawn of the recording age, music both soundtracked and soothed the evils and tragedy of a world at war. And in just this last half century, we've seen rock band's that left audiences completely hypnotized and spellbound by their massive, overpowering volume that rivaled the sonic weight of ten million screaming voices. Continuing the tradition of compelling the masses to stand together and unite as one beneath the shelter of earthquake inducing bass matched by unholy guitar virtuosity today are the dedicated musicians who comprise Sundodger, a Washington state indie rock band who shy away from monikers and comparisons in favor of staying focused on their music and the unstoppable vigor that inspires it.
Sundodger have a new record out this year titled Bigger Waves, a fitting description of both the album's narrative and the band's philosophy on making rock music in general. Bigger Waves isn't an indie record that hipsters are going to get excited about, and it definitely isn't a mature rock album that leans more on country-styled song structures more than it does old fashioned bluesy grit. Bigger Waves is just one gigantic tidal wave after another of bruising, hostile rock riffs that are sometimes accompanied by affectionate harmonies and other times so brutally devised that the melody is generated from the intensity of the pace rather than the compassion of the vocalist. In both cases, the concept not only works, it leaves a devastating trail of haunting smoke in its path. Even in the moments when this album draws close to being too strong, it's still more inviting than anything else I've heard in a long time.
Sundodger are the kind of band that make me want to get out and see some live music immediately when I listen to them. To hear this kind of spirit in such a modestly put together unit, this kind of tenacity from a band that doesn't ask for much other than a platform to distribute its message of individuality and collective strength, it's simply inspiring. Bigger Waves is almost like a playbill telling us what to expect when we hit whatever packed club that Sundodger has booked next in their touring schedule, and it's a show that is awfully hard to resist when given the opportunity to see it. Bigger Waves gets my endorsement for most exciting rock album of 2018 and most invigoratingly action-filled record that I've reviewed in the last two years by far, and I would encourage anyone who loves the energy of a truly connective rock n' roll experience make a point in seeing them in person at the soonest possible date.
Lloyd Bear