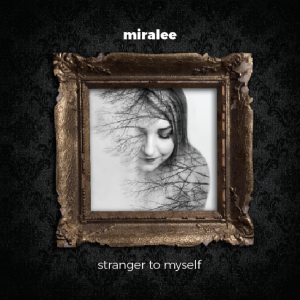 Downtempo artist Miranda Lee has made a unique imprint on underground electronic music. Based in Calgary, Alberta, the classically trained Canadian singer-songwriter's tight-knit family influenced her initial roots — everything from classic rock and folk to country, bluegrass, and jazz. This foundation inspired her to pursue a degree in music composition, one by she eventually began incorporating electronic influences, and further transformed her sonic palette.
Back in June, Lee successfully implemented those worlds into her EP, Stranger to Myself, under the artist name miralee. The resulting culmination is a vocally-driven, eclectic debut, backed by additional musicianship in guitarist Jason Graham and keyboardist Adam Gill, and solidified by producer Darryl Swart. Opening on "Shadow in the Moonlight," I felt the strong integration of blunt, darkly-nuanced synths and drums instantly set a fitting backdrop for the track. Miralee's vocal delivery, in combination, comes across similarly, but is perhaps more ambiguous, as it can assume two polarizing forms: a haunting, seemingly misunderstood ghost, or an angel, who has long since established her sense of command in the world. I can relate to this song's standpoint, as it seems to center on using one's intuition to detect someone trustworthy. Despite their being a complete stranger, they emit an interesting sense of comfort that somehow gives the other motivation. The guitar chord sequences subsequently flesh out the essence of the sound, especially when bolstered by the bold, entwining percussions that expands from within these elements. Following up with the EP's representative title track, miralee and company take their time in building upon their instrumental scope. There's a noticeable amount of space around the track, with primary emphasis on a mournful, ballad-based piano sequence. This track also hits home, as it lyrically represents rock bottom – the extent whereby one has become heavily invested in their idea of someone that they nearly disconnect from themselves. Miralee goes all out in this respect, even incorporating some 70s-inspired heavy guitars toward the end of the track.
The EP's flipside fares equally well, both in its pacing and utilization. Miralee continues with "Here We Go Again," a track that combines wispy dreampop ethereality and a contrastingly involved instrumental bed. By its stylistic mood being not exactly front-and-center, but coming together nonetheless, that actually ends up working to much of the theme's benefit. In this instance, the stranger is spotted once again, and there is an eventual realization that even though they not be around much longer, the person is satisfied to have at least had another opportunity to see them. "Fly," the final track, seems to expound on that uncertainty, and implies that the subject of the song is in greater proximity to the stranger than had been previously suggested. Because of this, their failure to muster such courage is justified. The song's funky bass groove is its standout feature, and although its length is relatively short, it wholly suffices as the EP's closer.
Overall, miralee's Stranger to Myself is a decent introduction to not only her individual talent as a vocalist, but how she applies it in a collaborative setting. The moods expressed within the EP are nothing short of pertinent, with emphasis of the quirky, draining, but ultimately exciting aspects involved in an emotional pursuit. I look forward to seeing how she will expand upon this direction for an eventual full-length setting.
Facebook|Instagram|Bandcamp|iTunes|Official Website
Compositions - 90%
Breaking Ground - 86%
Engagement - 90%
Lyrical Voice - 90%
Production - 92%