Shortly after a year of her debut release Space Case, Taylor Grey is back and ready to show fans what's in store for the singer. The 21-year-old has recently announced that it's "time for a change," and fans are eager for the anticipated new direction.
Taylor Grey has remained an inspiration for what she stands for – hard work, self-love, and girl power. Her debut album made for a dreamy summer last year, and though she's been on the down-low with music ventures since, she never stops growing as a Stanford student in neuroscience. Her gentle voice and infectious beats found is "Miami" and "Come Back" are a breath of fresh air amidst most pop music today, and there's no doubt she will continue to revolutionize the world of pop.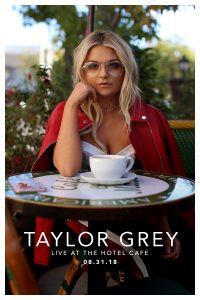 Taylor Grey will be playing Second Stage at The Hotel Cafe in Los Angeles on August 31st. Tickets will be sold via The Hotel Cafe and are currently on pre-sale. Click here to get yours today.
Stay connected with Taylor Grey:
Website | Facebook | Twitter | Instagram