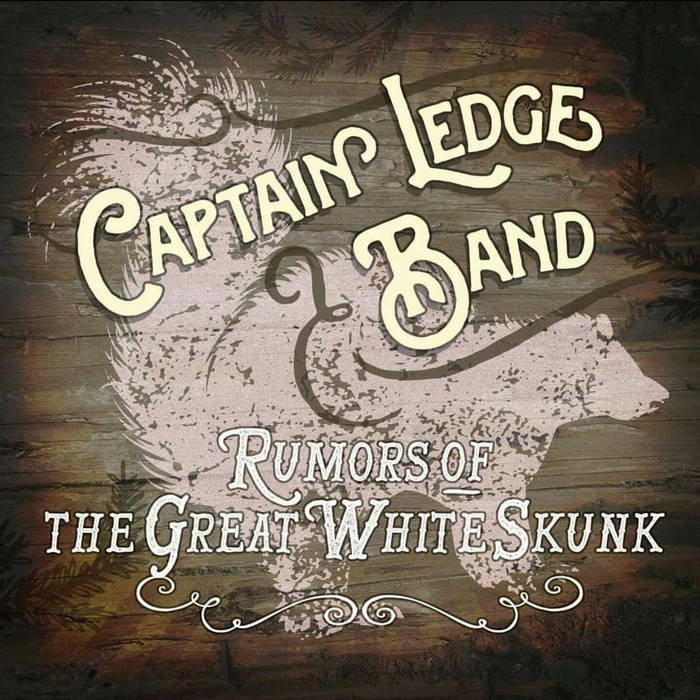 Captain Ledge Band – Rumors of the Great White Skunk
BANDCAMP: https://thecaptainledgeband.bandcamp.com/album/rumours-of-the-great-white-skunk
The third album from Southwestern based outfit the Captain Ledge Band, Rumors of the Great White Skunk, is a ten song release adding a particularly colorful feather in the musical cap of a band that works hard and writes better. "I Wish" begins the release on a distinctly optimistic note with a track that embodies the musical aesthetic of the Captain Ledge Band without being imitative, in any way, of established acts. The album's second cut, "Bucket Mouth", is much more traditional songwriting fare, structurally, but the same approach powering "I Wish" announces itself here as well. Jeana Downing handles most of the vocal duties on this track and turns in a powerful performance.
The songwriting quality of Rumors of the Great White Skunk really comes to the fore with the album's third song "Skeleton Key" and the choppy arrangement only accentuates the energy they are capable of bringing to individual performances. The banjo playing on this song is particularly inventive and matches the same signature quality we hear from the songwriting. There's certain predictable twists to their writing that, in this context, are especially effective. Banjo returns with a big impact on the album's fourth track "No Need to Cry". The acoustic guitar and banjo combination fueling muchof Rumors of the Great White Skunk makes a deep impact on this song and the deliberate nature of the performance adds much to its gravitas. The melodic instrumental work on this song stands out as well.
 The lyrical fretwork making "In the Middle" finds Jeana Downing taking a vocal backseat to Cliff Downing's singing, but nothing suffers as a result. The pained, emotional cry at the heart of his vocal helps the already fine songwriting have even more of an effect on listeners. It, likewise, exhibits how the verses in the Captain  Ledge Band's songs are often just as potent as the choruses. "I Remember" is another fine point on the release that finds Jeana Downing returning to vocal prominence joined, of course, by some fine vocal harmonies courtesy of her husband Cliff Downing. "Simple Things" is a near ideal example of the uncluttered elegance and emotional punch the Captain Ledge Band can and do bring to the best of their songs. Jeana Downing, however, sets herself apart with a strong vocal here.
 The weaving of acoustic and electric guitar on the album's last song, "Mimosa Tree", is enchanting and casts the duo's songwriting against a much larger screen than we've heard with earlier numbers. Rumors of the Great White Skunk may be a playful title for this ten song release, but the humanity and beauty of the album isn't anything to laugh at. Instead, the Captain Ledge Band turn in a collection that pushes their unique interpretation of Americana music up to a new level. It's one of 2018's best releases, by far.
Eric Jarvis