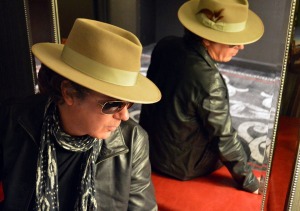 Mark Huff – "Stars for Eyes"
SOUNDCLOUD: https://soundcloud.com/mark-huff-678341851/sets/stars-for-eyes
A thunderous storm of the guitar strumming is accompanied by the grinding sound of a synthesized harmony, and we're transported to the internal cellblock where singer/songwriter Mark Huff is crooning his story, describing life from behind his "Prison Door" in the opening track of his new album Stars for Eyes. The amplifier destruction is soon mellowed as we fade into the album's namesake song, a glistening, country-style ballad that slinks into our sights and occupies our entire vision before we even realize that we've become engulfed in its bright, warm embrace. This glowing heat doesn't recede in the least throughout the span of Stars for Eyes' 11 tracks; on the contrary, you could argue that it just swells more and more as the record shuffles forward.
"Carolina Blue" is a calming ballad that releases some of the tension created in the contrast between "Prison Door" and "Stars for Eyes," but its supple beauty doesn't undermine the overwhelmingly grandiose nature of the album as a complete piece. "Big City Down" creeps out of the darkness like a shadow following us on our way home, but once Huff starts to sing, any fear of what the pitch black night could hold is immediately dismissed with a confident swagger that the singer is becoming quite famous for at the moment. Huff's descriptive lyrics paint us a vivid picture of the American countryside in black and white while the music splashes in all of the color that separates one lonesome town from the next. This style of attack is much more abstract than most folk-rockers would be comfortable with, but that just might be the genius behind this performer's unique allure.
"God in Geography" sees us come skating back into the sunlight, led by an optimistic beat and cutting duality in Huff's prose. While it's an enjoyable track, its follow-up in "Nightingale" has got to be the finest moment from Stars for Eyes, exhibiting one of the most comforting, catchy hooks of any deep track I've had the pleasure of reviewing in 2018. It could definitely stand on its own as a single, but does an excellent job of tying the first half of the record in with the second as well. At the track's completion, the theme of Stars for Eyes seems to shift a little as the psychedelia-tinged, slow beat of "Heart Beating Without You" materializes from the ether. Together with "I Know You Don't Want My Love," the songs represent a different, excitingly dark layer of Huff's songwriting that wasn't present on his extended play Down River, released two years ago.
Just when it feels like this winding road through Americana as driven by Mark Huff couldn't get any more elaborately lively, "Burning Letters" injects a bluesy grit that carries into "Albatross" with the weight of six guitars instead of just one. Not enough can be said about Huff's more than able backing band, whose rhythms and perfect synchronization manage to turn each one of these relatively simple songs into complete symphonies before our very ears. A poignant cover of the legendary Leonard Cohen's "Almost Like the Blues" (one of my favorite of Cohen's) brings everything to a close, and much like the end of a compelling movie that leaves us with somewhat of a cliffhanger, it's hard not to instantly want a sequel to this fantastically assembled piece of artwork.
Thomas Patton, III