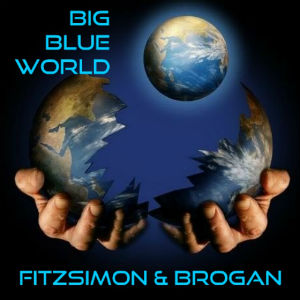 Listening to the new album from Fitzsimon and Brogan, "Big Blue World", nostalgia strikes with memories of friends sitting around the table at the local coffee shop, sharing dreams and fears. The light pop music of the day playing in the background, with all its innocence and careless abandon mixed with the calm surrounding the global climate. Of course, this is now and the as the past can never be duplicated due to the uncertainties this new millennium poses, the music also evolves into something modern, with a slight edge, a taste of the overall apprehension that surrounds us on a daily basis. Neil Fitzsimon, (chief songwriter, and instrumentalist) channels that feeling of careless pop ideologies in a folk/pop rocking, rhythmically daring collection of sing-along hits with a contemporary feel. Vocalist, Bee Brogan conveys the intricacies of the music with her self-harmonizing vocals and wide vocal range bringing the pop sensibilities to the listener with a joyful, mesmerizing talent which leaves us satisfied yet challenged by the complexity.
"Big Blue World" is an enjoyable album featuring tracks like "Girl In A Gilded Cage", which
showcases Neil Fitzsimon's guitar flexibility. The lyrics are a social commentary of the innocent girl looking out on the world, "she was tainted, she's just a girl in a gilded cage". "Blue Velvet" is a downtempo track highlighted by Bee Brogan's ability to sing in multiple registers as she harmonizes the feel of the girl who "Couldn't help it, she wore Blue Velvet." And the title track "Big Blue World", which is the highlight piece as the duo create a large sonic landscape in the listening field with the fast vocals and the pedaling on the guitar which gets the listener up and dancing. "Big Blue World", captures the nostalgia and throws it right back at us with a raw talent sorely lacking in the mainstream pop genre. This album would be a welcome addition to any rock, adult contemporary radio playlist due to its high replay value. The infectious choruses and the professional musicianship will guarantee industry attention. As this pair of seasoned veterans hones their craft and branch away from their native London, the world will be waiting for them with open ears as they bring love, peace and an overall happiness with their music.