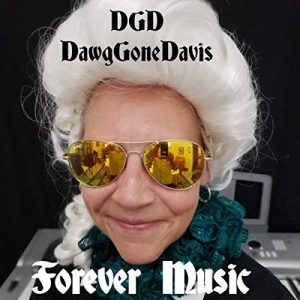 DawgGoneDavis – Forever Music + Butt on Fiya
YOU TUBE: https://www.youtube.com/watch?v=vvwME3tf7I8
You can deem DawgGoneDavis' two new singles further DIY efforts from the performer responsible for her earlier 2018 single "Middle Age Woman – Hip Hop Style", but don't let such labeling mislead you too much. She's a definite indie artist without major label backing, but she's obviously committed to turning out tracks with strong production values that best highlight her songwriting. The first of her two new singles, "Forever Music", exposes listeners to a more serious side of Davis, in some ways, but even writing about music brings out some of her caustically comic side. She digs into the words with a vocal that's often theatrical, knows when to pull back and never over-exert her influence on the final result, and her efforts seamlessly dovetail her voice into the backing track. It's the best single she's yet released.
The inclusion of some brass in the song is creative and strikes a great counterbalance to Davis' vocal. There's a surprisingly mournful quality to the playing that stands out during this song and the percussion brings a little added hardness to the song that is, perhaps, lacking from her vocal delivery. Her phrasing is satisfyingly unpredictable – her voice is capable of taking unexpected turns along the way while never veering too far from the song's appointed path and she shows great inventiveness with the way she stretches and manipulates some lyrics. We get a sense that she's making a personal statement of sorts with this song and spins it with some of the most idiosyncratic humor you'll hear from a songwriter and musical performer.
"Butt on Fiya" makes no such statements. Instead, this is closer to the outright comedic tone we heard with her first single "Middle Age Woman – Hip Hop Style", but there's a personal touch included with this performance that discerning listeners will catch. You needn't be discerning, however – if you just let go and don't analyze, "Butt on Fiya" is an often riotous performance with some more of DawgGoneDavis' typically propulsive beats pushing the song along. Both this track and "Forever Music" never overreach, but they do demonstrate Davis' growing confidence while still bringing high entertainment value to its potential audience. There's no horns in the second single and, thus, it isn't quite as musically rich as the performance we encounter with "Forever Music", but the two songs pair nicely.
Her work with producer Hellmut Wolf is expanding her musical and songwriting reach without ever betraying her vision for these songs. Davis certainly isn't looking to remake the wheel or turn the world on its ear with these songs, but they obviously satisfying a lifelong need for her and her joy entertaining listeners is often palpable. "Forever Music" and "Butt on Fiya" are a significant advance over the songwriting we heard with "Middle Age Woman – Hip Hop Style" and promises that DawgGoneDavis' musical journey has just begun. Not bad stuff for an IT project manager during the day.
AMAZON: https://www.amazon.com/dp/B07FTGZBPG
Denise Leyland