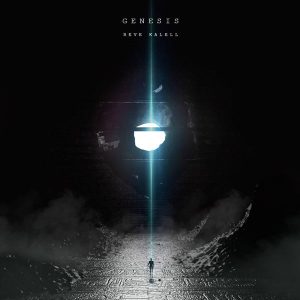 Colorado's Reve Kalell has fostered thematic relevance as one of his foremost assets. The Denver-based rapper/singer thrusted onto the hip hop scene last year with his debut album, the appropriately titled Crashed in Denver. Combining a multi-genre sound with unabashedly blunt lyrical sensibilities, Kalell managed to earn, nonetheless maintain, a dedicated social media following. While politically controversial from a surface standpoint, he reaches listeners through a poignant sense of unity, balance, and personal growth. In doing so, he strives to convey such commentary through the most forthright means possible.
In his sophomore album, Genesis, these elements continue to translate with a high degree of proficiency and finesse. As a newcomer to Kalell's work, I was surprised by the album's opener, "Rap Jesus." It doesn't play on the notion of one's ego being inflated to the extent of a God complex, but instead, a need to make the largest impact while death is on the horizon. There's decent attention to its rhythmic factor, particularly in the initial reverberated, funkified guitar groove. What gradually comes together is a smooth melding of jazzy bass and warm synths, which contrast with the intensity of Kalell's vocal delivery. Although the tone may be serious for a majority of the track, but the remainder is much lighter and is certain to garner a few laughs. Both "Expect Us," the track to follow, and its successor, "I Should Be President" center on the corruption that overtakes the current political climate. Kalell initially highlights such issues as mass media manipulation, economic divide, and sexual abuse within nationwide industries, all the while expressing a hazy, but genuine disenchantment. I appreciated how, that relaxed, old-school jazz vibe of the instrumentals is intact throughout. Even the more modern, tongue-in-cheek nature of the next track still resonates. It manages to strengthen the link of the two songs—from carrier single to thematic expander —by use of similarly pertinent anecdotes, and subsequently benefits the pacing of the album thus far. "Classified" enters on a wispy, but firm acapella melody, before continuing with the objective of a protest-based monetary raid, as a result of vital information being withheld from the masses. In both a clever and casual manner, Kalell suggests the very tip of the upper class be subjected to the unnecessary struggles minorities face regularly. That sentiment is followed by "Acid Rain," another single that expresses rage in more of a subdued, subtle manner. I like how it sees a shift back toward a guitar-based foundation, except once the beat gains a larger presence, the guitars are then obscured with only the tail having clarity. Otherwise, the song works well when transitioning into "Juice," a definite highlight about transcending the odds, that caps the first part of the album.
Without a doubt, though, the latter half is where Kalell especially excels. Generally, the instrumentals showcase a much more defined uniqueness and personality which ultimately benefits his delivery. I'd imagine "Communion" faring well as a follow-up single, given its memorable piano melody and straight ahead, radio-ready structure. Thematically, it carries the idea of being blessed, and subsequently longing to maintain a certain level of temerity. It is expanded upon in "How You Feel," a track that sees combative creativity (ways of "firing" back at authority, in the widest sense), as well as an experimental approach to the percussion. From here, that element becomes especially apparent as it comprises most of the rest of the album, with "Let Me Get Back" sporting a very ear candy-filled beat (think an Adult Swim interlude, but extended with a trippy flow). On the tenth and penultimate tracks, "VVI" and "Last Supper," Kalell aptly expresses both vulnerability and cynicism, stating that he, having inevitable flaws and facing inevitable loss, is also prone to the inevitability of death. Nonetheless, the final title track emits a dash of positivity that closes the album on an exclamatory note. Its return to a guitar-based foundation is upbeat as it is refreshing, as it bolsters the clarity of Kalell's singing voice. The song proves poignant this time around, not just for its emphasis on the importance of bonds, but the call for a persistent, worldwide strength to manifest and solidify.
Overall, Genesis is definitely an album that has broadened my understanding of modern hip hop's merit and creativity. There's a clear transformation that has taken place – from a colorful, highly imaginative debut to a somewhat grim, but indeed more mature and introspective sophomore effort. I have yet to experience what direction Reve Kalell will take his talents, as he is presently succeeding in making a difference for fans and newcomers alike.
Reve Kalell Socials:
Facebook|Twitter|YouTube|Instagram
Compositions - 90%
Breaking Ground - 87%
Engagement - 90%
Lyrical Voice - 92%
Production - 90%