Taking place on Saturday, September 8 and Sunday, September 9, 2018 at Governors Island in New York, NY, OctFest, which is presented by Pitchfork and October, recently added performers NAO, Standing on the Corner, Hatchie, and Flasher on Saturday, and Girlpool, Kamaiyah, Shopping, Julie Byrne, and The Courtneys on Sunday. They join previously announced artists Vince Staples, The Flaming Lips, Nile Rodgers & CHIC, Vagabon, BADBADNOTGOOD, Yo La Tengo, and No Age. 
Over forty new craft breweries, including Rogue Ales, Zero Gravity Craft Brewery, Bogota Beer Co., and Boxing Cat Brewery. In total, the event will host 90 breweries from 20 countries, pouring more than 250 varieties of award-winning craft beer. Not only that: A number of breweries, including Wicked Weed Brewing, DC Brau, Wedge Brewing Co., Four Peaks Brewing Co., Wild Beer Co., and Karbach Brewing Co., will be making their New York City debut at OctFest.
If you're interested in attending OctFest in early September, single day passes are $75 and two day passes are $140.
More information can be found on the OctFest website at OctFest.co and the full music and brewery lineup, which includes various international brewers, can be found below.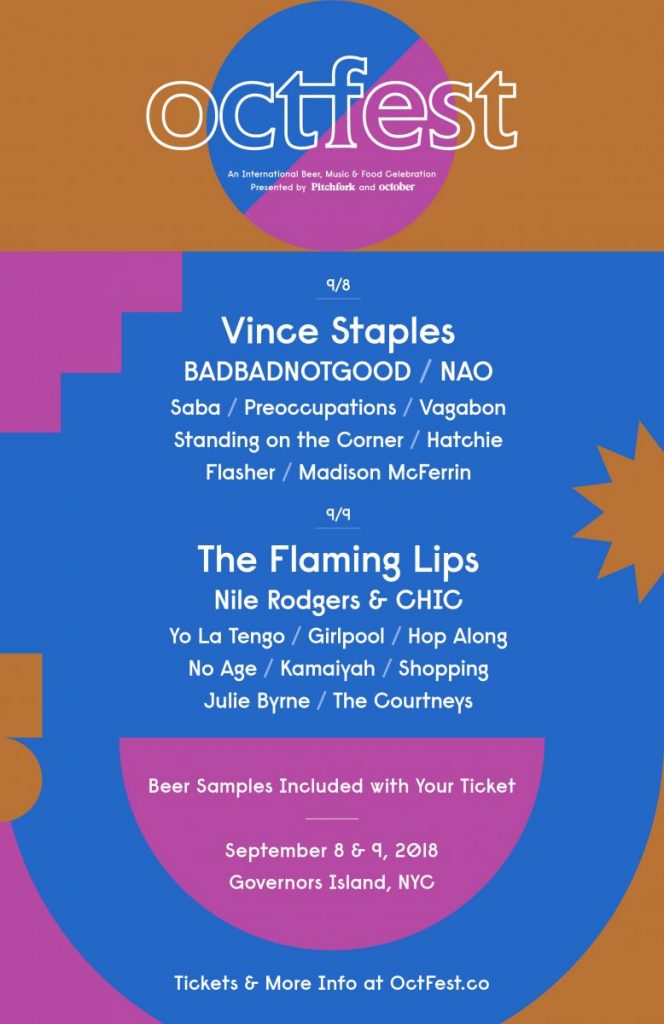 MUSICAL LINEUP
Saturday, September 8
Vince Staples
BADBADNOTGOOD
NAO
Saba
Preoccupations
Vagabon
Standing on the Corner
Hatchie
Flasher
Madison McFerrin
Sunday, September 9
The Flaming Lips
Nile Rodgers & CHIC
Yo La Tengo
Girlpool
Hop Along
No Age
Kamaiyah
Shopping
Julie Byrne
The Courtneys
BREWERY LIST
* denotes new addition
North America – West
10 Barrel Brewing Co. (Bend, OR)
Austin Eastciders (Austin, TX)
Blake's Cider (Armada, MI)
Breckenridge Brewery (Littleton, CO)
Elysian Brewing Company (Seattle, WA)
FiftyFifty Brewing Company (Truckee, CA)
Firestone Walker Brewing Company (Paso Robles, CA)
Founders Brewing Co. (Grand Rapids, MI)
Four Peaks Brewing Co. (Tempe, AZ)
Golden Road Brewing (Los Angeles, CA)
Goose Island Beer Co. (Chicago, IL)
Jolly Pumpkin Artisan Ales (Dexter, MI)
Karbach Brewing Co. (Houston, TX)
Kona Brewing Company (Kailua-Kona, HI)
Live Oak (Austin, TX)*
Monkless Belgian Ales (Bend, OR)
On Tour Brewing Company (Chicago, IL)
Rogue Ales (Newport, OR)*
The Shop Beer Co. (Tempe, AZ)*
Urban Family Brewing Co.(Seattle, WA)
Virtue Cider (Fennville, MI)

North America – East
Blue Point Brewing Company (Patchogue, NY)
Brasserie Archibald (Canada)*
Braven Brewing Company (Brooklyn, NY)
Brewery Ommegang (Cooperstown, NY)
Brickworks Cider (Canada)*
Circa Brewing Co. (Brooklyn, NY)
Cisco Brewers (Nantucket, MA)
Collective Arts Brewing (Canada)
DC Brau (Washington, D.C.)*
Devils Backbone Brewing Company (Roseland, VA)
Flying Dog Brewery (Frederick, MD)
Hanging Hills Brewing Company (Hartford, CT)
Jack's Abby Craft Lagers (Framingham, MA)
Keegan Ales (Kingston, NY)
Lamplighter Brewing Co. (Cambridge, MA)
LIC Beer Project (Long Island City, NY)
Lord Hobo Brewing Company (Woburn, MA)*
M.I.A. Beer Company (Doral, FL)
Microbrasserie Gainsbourg (Canada)*
Mill Street Brewery (Canada)*
Narragansett Brewing Company (Pawtucket, RI)
Sand City Brewing Co. (Northport, New York)
Stanley Park Brewing (Canada)*
Stillwater Artisanal Ales (Baltimore, MD)
The Bronx Brewery (Bronx, NY)
Veza Sur Brewing Co. (Miami, FL)
Wicked Weed Brewing (Asheville, NC)
Zero Gravity Craft Brewery (Burlington, VT)*

Europe
Aktien Brewery of Kaufbeuren (Germany)
Birra del Borgo (Italy)
Brasserie La Binchoise (Belgium)*
Brouwerij Bosteels (Belgium)*
Brouwerij DeKroon (Belgium)*
Camden Town Brewery (UK)
Ginette (Belgium)*
Hertog Jan (Netherlands)*
Jopen (Netherlands)*
La Virgen (Spain)
Laugar Brewery (Spain)*
Radeberger (Germany)
Wild Beer Co (UK)*

Latin America
Barfuss (Argentina)*
Bocanegra (Mexico)*
Bogota Beer Co (Colombia)*
Cervecería Urbana (Mexico)
Cervecería Wendlandt (Mexico)
Cerveza Patagonia (Argentina)*
Colorado (Brazil)*
Cucapá (Mexico)
Lohn Bier (Brazil)*
Melas Beer (Colombia)*
Nicaragua Craft Beer Co. (Nicaragua)*
Pratinha (Brazil)*
Wals (Brazil)*

Asia, Africa, Oceana
Bira 91 (India)
4 Pines Brewing Company (Australia)*
Balter Brewing Co (Australia)*
Boxing Cat Brewery (China)*
Cape Brewing Co. (South Africa)*
Good George (New Zealand)*
Newlands Spring Brewing Company (South Africa)*
Pirate Life Brewing (Australia)*
Playground Brewery (South Korea)*
Taihu Brewery (Taiwan)*
The Hand & Malt Brewery (South Korea)*