Experimental punk rock metalheads Rolo Tomassi graced the stage at Download Festival once again this year. What I caught of their show was as brilliant as to be expected: it was packed with energy, heavy tunes, and theatrical displays. I caught up with Eva Spence and James Spence after they'd played and was delighted to hear that they'd had great time on stage too:
J: We had a phenomenal time.
E: It was really fun, had great energy, and the crowd were great. The sun was amazing for us.
J: A pleasure to be back at Download.
Going so wild on stage isn't something you should just get up and do, as they go on to explain. Such activity requires a certain degree of preparation, and Rolo Tomassi are experts in their field.
E: Make sure you stretch definitely, and warm up properly and thoroughly.
J: And a lot of cardio based exercise in your own time.
E: Don't eat close to stage time either- I don't eat three hours before we go on because it'll just slow me down.
J: We wanna enjoy it as well and to meet our own personal standards and expectations so we have to treat it in the way Eva just described and do all those things.
All that preparation really makes for a great live sound. But even then, you still need incredible music for its basis. Luckily, with such a diverse range of inspirations, Rolo Tomassi has that in spades:
J: I listen to a lot of contemporary classical pianists, ambient musicians, so that kind of helps with the layers and the dense keyboard sounds. I think it's really important to have minimal moments and have that space in the music for those huge meaty parts to have impact. There needs to be that contrast. I know that Eva likes a lot of sort of indie rock and pop punk stuff, certainly from a lyrical perspective. So we kind of draw on a wide range of influences. Black metal, pop, electronic stuff, classical piano players, and we just pull all of that in to write what we write.
If you've never listened to Rolo Tomassi before, now is a very good time to start. Their latest record Time Will Die And Love Will Bury builds on Rolo Tomassi's eclectic and ever-evolving sound, and is a very good introduction to newcomers. It skips easily between skull-crushing hardcore noise and ambient dreamy pop music. It's impossible to get bored listening to a Rolo Tomassi album, and this one is certainly no different.
For me personally, their stage show was made even better by their use of the technology, as they didn't let a single inch of space go to waste. I love a good light show, and I'm so glad Rolo Tomassi knew how to put one on:
J: We brought our own lights so a lot of it was running off tech, and it matches the music. We were debating before we went on whether to bring them out or not, because we weren't sure if it was gonna have any impact on a tent of that size so I'm pleased to hear it did.
Combine their commitment, talent, and energy, and you have the perfect recipe for a stunning live performance. I'll be sure to jump on any opportunity I have in the future to see them again.
Buy or stream Time Will Die and Love Will Bury It now: lovewillburyit.com
Catch Rolo Tomassi on tour this autumn: ROLOTOMASSIBAND.COM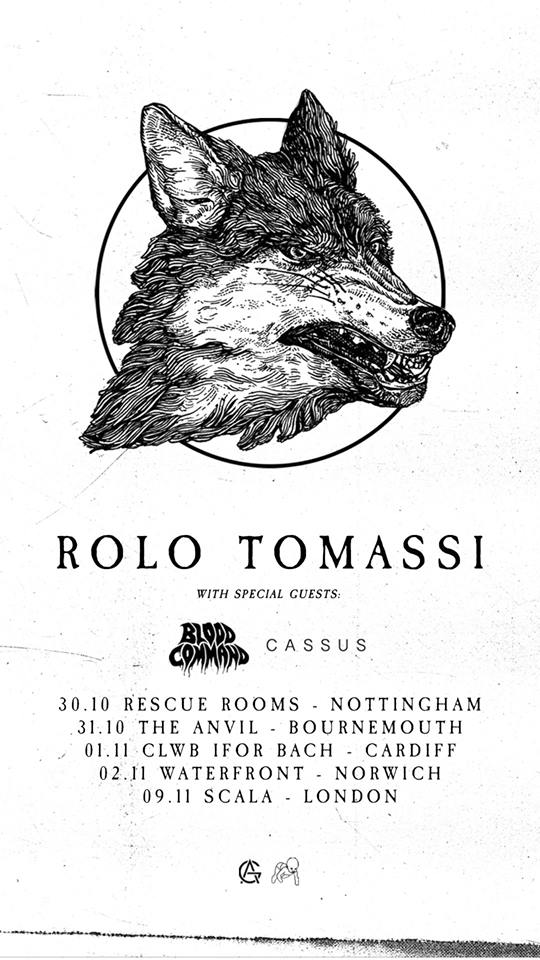 Watch the video for "Balancing the Dark" now:
Find them on social media: