Jacqueline Auguste and her life partner Andy Ramjattan (bass player for the band), founded the Across The Board in 2013 out of a desire to move their garage and back yard jams to social media. They created a popular cover webseries, "Pick Up & Play" now in its 5th season on Youtube, and decided to take their show on the road with the debut album "JANE ON FIRE", released in June of 2016. Since then, Across The Board has played to sold-out crowds across Ontario, and from Newfoundland to Vancouver. Recipients of four international music awards for work on "JANE ON FIRE" and "AMENDS", ATB is set to take off yet again on tour this spring and summer across Southern Ontario and into Quebec and the Maritimes with "SONIC BOOM". ATB is a 2018 Josie Music Awards nominee and Global Music Awards winner!
Please tell us the origins of the band. How did you get together?
ATB: Across The Board, as a band, started as a regular garage jam session with local musicians here in Toronto. We started making Youtube videos to covers in 2013 and by 2016 we hit the live stage with our debut album JANE ON FIRE. We started essentially as a Youtube band, and continue to put out daily content—from our original cover series "Pick Up & Play", to an "Acoustic Jam" series, a "Caravan Karaoke" series and even a musical cooking show "Kitchen Sessions". Since 2016 we have been playing to sold out shows in and around Toronto, and last summer we embarked on a Canada-wide tour via planes, trains and automobiles! This year marks the release of our third record and second full length album SONIC BOOM—we will touring across Ontario this summer and performing at a few festivals in the fall.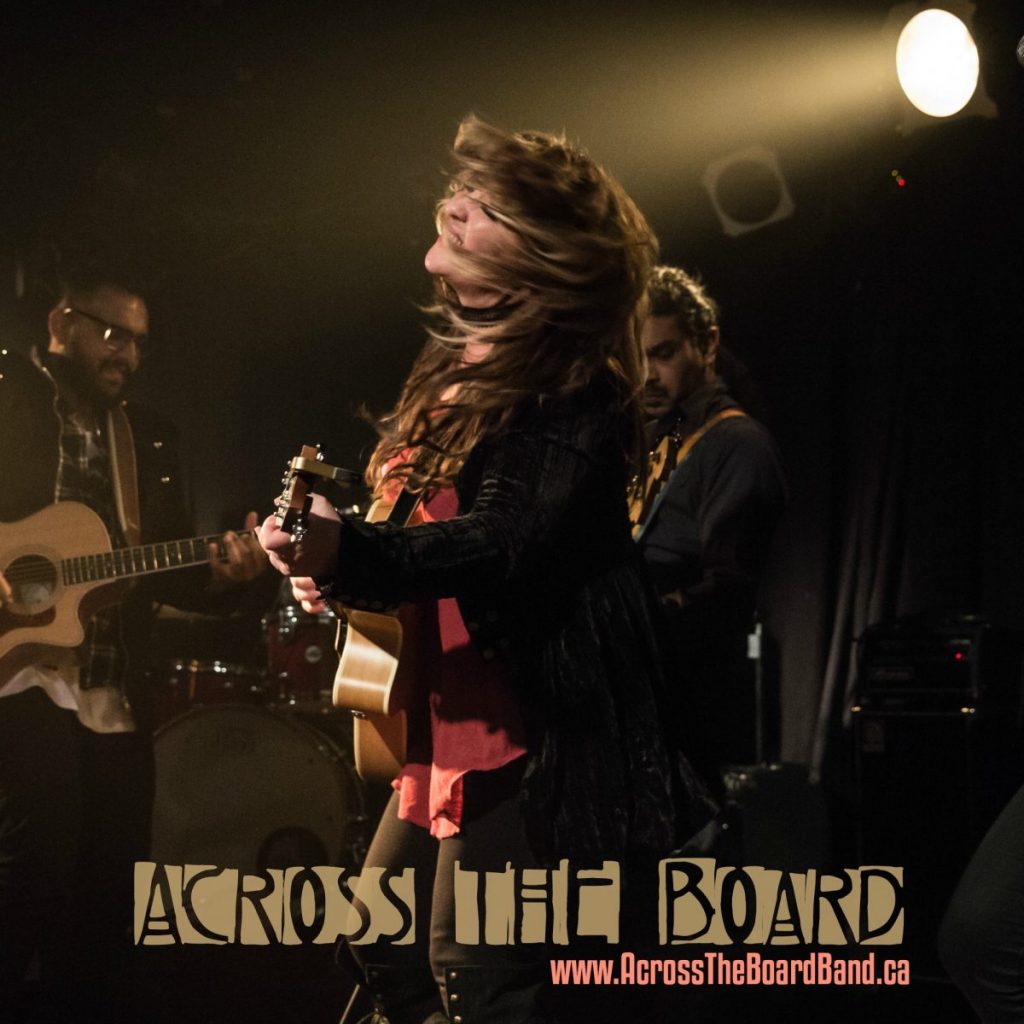 How did you come up with the name, "Across The Board?"
ATB: Due to the eclectic nature of our band, with diverse ethnicities, and the fact we are all multi-instrumentalist musicians, we wanted to choose a band name that reflected this diversity. "Across The Board" seemed perfect!
Being from Toronto, how do you feel your location has helped and/or hindered your band?
ATB: Toronto has a vibrant music scene. There are over a hundred clubs in the Toronto area where bands can play to crowds from a handful of people to upwards from 750 and more. The live music scene is popular and fans are used to seeing live music acts as part of their evenings out. This is a blessing but can also be a bane—sometimes we are all competing for the same pool of fans—particular on the indie rock scene—which can make doing too-frequent shows unrealistic. For this reason, Across The Board has been reaching out beyond the Toronto borders out into smaller Ontario towns. We hope to go back on tour nationally in the fall and winter and continue to reach a wider audience with our original music, as with our online content.
Tell us about your latest album, "Sonic Boom:"
ATB: SONIC BOOM was written as a "rock opera"- taking the listener on a musical journey of the "breaking" of band.
With SONIC BOOM, we wanted to show the evolution of our writing from an Americana and country rock genre on first record JANE ON FIRE (2016) and through our second major release AMENDS (2017) which was more pop-rock– to where we find ourselves now– alt pop rock with a rootsy vibe. We realize these genres are often hard to define, but we feel our music always pushes the rock and roll envelope to the edge of pop, country and blues–and lands squarely in "alt" land as a result.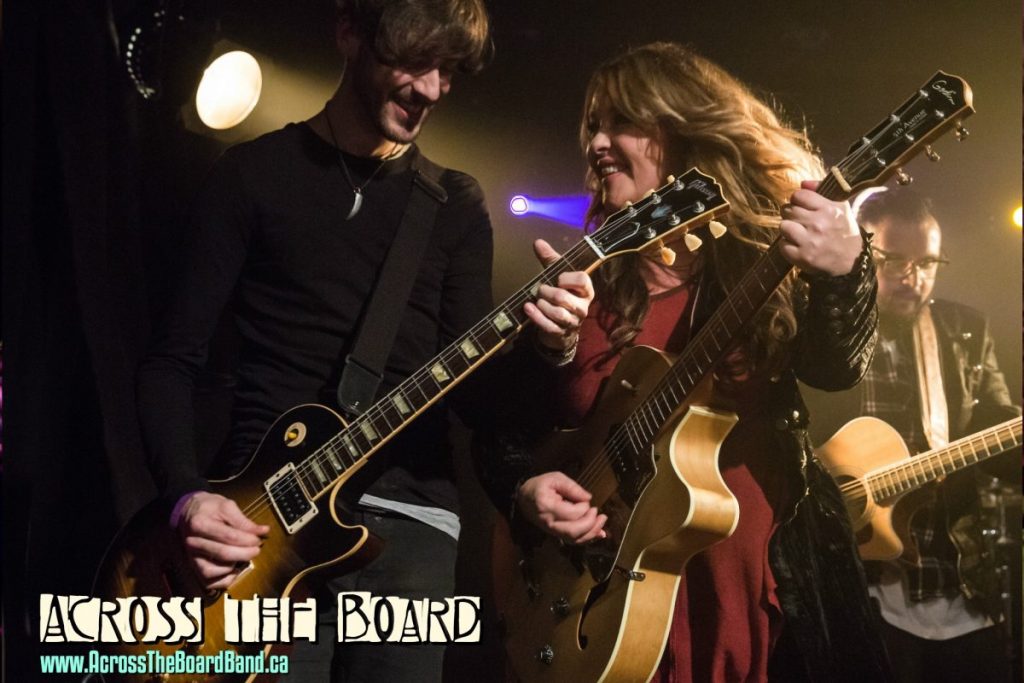 Who are some of your biggest influences, as a band?

ATB: We are influenced by a variety of sounds—predominantly rock from the 90's and country rock from the 80s. From Fleetwood Mac, to U2, to Pearl Jam, The Cranberries, The Beatles and more. This "across the board" is a fitting band name!
Any plans for a tour?

ATB: Yes, we are on our way across Ontario this summer and will be touring across the country in late 2018 and early 2019! We are so excited to continue this musical journey and bring our music to a wider audience!
Where is your favorite place that you've performed? Least favorite  place?
ATB: Our most favorite place is a tie between The Opera House and The Hideout in Toronto. We don't really have a least favorite place—we have been very fortunate to have performed at amazing venues in Toronto and from Newfoundland on the East coast to Vancouver on the west coast.
Any funny/crazy stories from the road?
ATB: One of the most interesting stories was at our CD Release Party May 4th at The Hideout in Toronto. We were in the middle of a huge windstorm, and the club lost all power. There were fallen trees, phone lines and cars crashed everywhere. Yet, the club managed to rewire the entire club and sound stage and we still managed to play to a sold out crowd!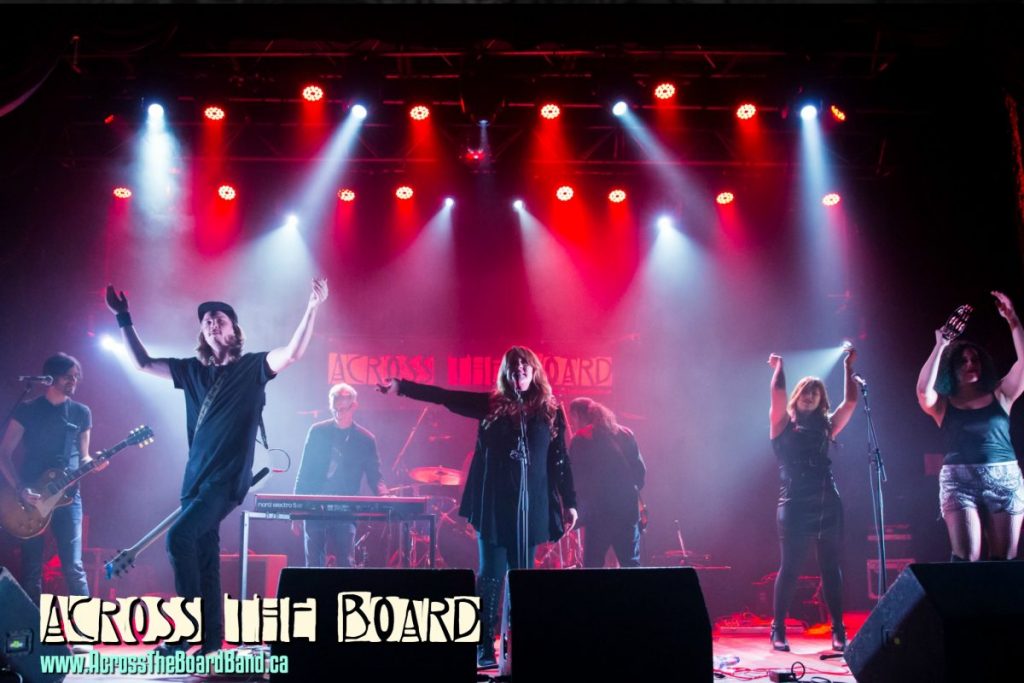 What is your greatest achievement, so far?
ATB: With SONIC BOOM, we have been nominated for two Josie Music Awards for best rock band and best rock album 2018. We will be going down to Dollywood in Tennessee to attend the awards. We also received two Gold Medal Global Music Awards for Sonic Boom and were very grateful to be featured on their website.
What one song do you wish you had written, that you didn't?
ATB: Comfortably Numb by Pink Floyd (Jackie), Jeremy by Pearl Jam (Andy).

If I was to come to dinner, what would you serve and what movie would we watch afterwards?
ATB: We would make you a lovely pasta dish, with freshly picked tomatoes, freshly shredded Parm, an amazing green salad from our garden and some Artisan garlic bread! Then we would watch THE SHINING!!!
That sounds amazing!  Thank you so much for taking the time to speak with us.  Best of luck in the future!