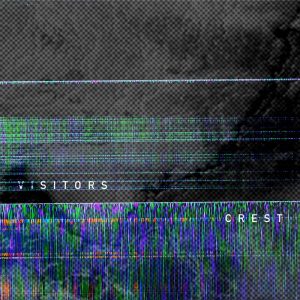 Visitors are a rising quintet composed of vocalist Ian Cooperstein, guitarists Ty Brigman and Ian Hilton, bassist Cameron Jorgenson, and drummer Bryan Lee. Forming in Utah, the Salt Lake City band built a live rep along the west coast utilizing charisma, progressive arrangements and hook factor — topped with arsenal of guitar effects.
After two critically acclaimed EPs, Visitors are preparing for the release of their debut album, Crest, slated for July 13. While the album retains the heaviness of previous releases, its expanded sonic scope proves ideal for what upcoming adventures abound. Opening on "Pollyanna," the intro is a leap right into overdriven and pulsating force, buckling onto each subsequent phase. From there, the verses showcase a lot of open space, Cooperstein's clean vocals swimming in comfortable harmony. I found the drums to work just as well. They exhibit a fluent bounce against the bass, which carries on fluently through every note change. In getting to the pre-chorus, I appreciate how the crushing main sequence from the intro makes a welcome return. Cooperstein's tonality makes a smooth shift to grim shrieks and back, while a solid focus on balanced dynamics is emphasized. Up next, "Sea of Limbs (A Diminisher)" continues on a straight ahead note from a riffing and tonal standpoint. Its bed exhibits some contrast, carrying a looser, more relaxed rhythmic pattern. As the song progresses, I envision imagery of body parts from numerous deceased, rising from below the ground, grabbing at those who had wronged them in the past. At the same time, I began making note of how the production is implemented. Each element is expressed with an impact that is more interpretive in nature, rather than explicitly conveying certain emotions in a planned, outright formulaic manner. On "Apoplexia," I can further sense unity between what's instrumentally and thematically conveyed. Within a very single-oriented pace, the delivery of these elements represents the unnecessary hurdles put forth by emotional distance, and the persistent challenge of failed communication. Though at every point, the chorus hits with equal intensity and pulls the listener right back into focus. All of this seems to accumulate and boil over toward the end of the song, increasing feedback signifying the futility for any kind of repair.
Toward the album's midpoint, "Styrofoam Needles" also exhibits quite a lot of single potential, mostly in its being thoroughly representative of what the band offers sonically. The sections within the song are carefully crafted, initially setting the tone through clean, dreamlike wonder and peaking with overdriven certainty. The vocals also delve more into stationary range, which is refreshing, and really give listeners a solid reference for when the brutal shift counts. "Fugue (In D Minor)" seems to put that into motion, in a streamlined length, yet poignant all the same. Its slower, early metal-inspired leanings help the pace from stagnating, but the sheer bluntness of it maintains what was expressed to this point. In some way, it tells of the extent to which one is manipulated, wherein the blame is fully justified toward the other who is responsible. At "Monochopsis," there's a return to the long form but with better attention to buildup. Once again, there is more room dedicated to Cooperstein's stationary range, to the point where the belted parts flow more naturally. The initial light version of the chorus with clean guitars and falsetto sounds decent on its own, but its stronger permutation a bit further on is what gets the song going. Its vocal nuances are altered ever so slightly so that when transitioning to a heavier setting, they're given a more commanding presence. By "Stationed (South of Nadiria)," the intensity begins to lull slightly, emphasis mostly toward melodic chord sequences and harmonies. Within the space of the track, sparse, reverberating lead melodies do their part in fleshing out its textural depth. This time around, the vocals are calm on the surface, but a subdued rage slowly gains prominence, especially in combination with similarly played guitars. I found the final two tracks, "In Part (Entrained)" and "In Whole (Encased)" to have an interesting opposite about them. The first exhibits a type of swift instrumental free flow, centering on a gradual descent into madness, while the latter sounds contrastingly slow and glum, but strangely hopeful. Those subtleties are integrated very well into any notion of severe detriment – reaching rock bottom, under a confident façade, but then striving to make a sincere change despite clear damage on the inside and out.
Overall, Crest is a solid translation to full-length territory from start to finish. Featuring killer riffs, haunting chords, and balanced production values tying it together, it is well worth listening to entirely. Even more so, its thematic poignancy can't be understated. While regular fans of Visitors would glean a thematic continuation from their Vortices, A Foreword EP, the album is bound to strongly resonate with newcomers in much the same way.
Follow Visitors:
Official Website|Facebook|Twitter|Instagram
Pre-order Crest:
Compositions - 9.1
Breaking Ground - 8.5
Engagement - 9.3
Lyrical Voice - 9
Production - 9