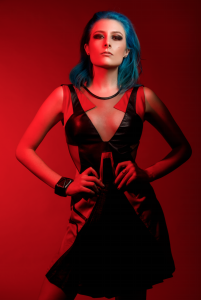 I have never heard of Diamante until one of my best friends sent me one of her songs, "Bite Your Kiss." I immediately fell in love with her sound. I began doing what I do when I become a fan of an artist, research (…or "mild stalking" if you prefer to call it). This blue-haired, fiery-voiced vixen released her debut record Coming in Hot via Better Noise Records/Eleven Seven Group today, June 15, and I have to say, I really loved what I heard.
Coming in Hot doesn't have a build-up or an intro like most records do…it immediately jumps right in with the title track. "Coming in Hot" is a perfect anthem for starting the weekend off on the right note – whether you're getting ready for a fun night out or just kickin' it in your frumpiest sweatpants, messy hair, junk food and remote in hand ready to binge whatever is on Netflix. "Sound of Us" is one of the four empowering tracks on this album packed with a strong punch. Now, for those who have short tempers/anger management issues, "Had Enough" is definitely perfect for y'all, and it really showcases Diamante's vocal ranges.
As I mentioned earlier, this record has quite a few empowering tracks, the next one is song number four, "F.L.A.G." (Fight Like a Girl), featuring its strong chorus "Hey boy, take me on / I will prove you wrong / Put me up against the world / I will always fight like a girl!" It's a tune that women in our society need, the kind that makes you want to pump your fist in the air and say, "fuck yeah!" The album slows down with her current single, "I'm Sorry," the chilling harpsichord intro adding to the emotional and ethereal track. Diamante's next song, "Haunted," has such a beautiful and creative way of saying "I'm always on your mind and I'll always be with you." It also helps that it has a strong kick and a catchy chorus. The following track, "Sleepwalking," seems to act as a second part to "Haunted" with Diamante being haunted by someone else in her dreams – personally one of my favorite songs off the record.
"Bulletproof" is the third inspiring song in Coming in Hot, and I have to say, this tune is perfect for those who have been knocked by life, literally and metaphorically. "Bulletproof" hones in the encouragement needed to get back up and keep on fighting the good fight. Diamante keeps the party going with a very strong passionate and lustful song – a Fifty Shades of Grey kind of feel if you will, especially with the lyrics from its very catchy chorus "Handcuff me like a dirty cop / fuck my safe word don't you stop." This track, ladies and gents, is called "Kind of Love," a great song for Valentine's Day, kiddies, so be sure to bookmark it for next year. The following, "Black Heart," is Coming in Hot's second slow song (well, somewhat slower paced) and this one, it's a bit of a tearjerker in my opinion, truly beautiful and deep lyrics. Definitely a memorable tune that'll be stuck in my head for a while.
The record's next lust-filled track, "Crazy on You," has a great amount of guitar riffs and a very catchy chorus. "Definitely Not in Love" has that old school rock feel – especially with the spoken verses with a touch of an Avril Lavigne alternative sound, a fantastic track overall. I have to say Diamante did save the best empowering track for last – "War Cry" is the call to all females, this is the anthem we've been waiting for, the one to get us amped for whatever comes our way. This song is our war cry. Finally, Diamante surprises us with her Spanish speaking skills with "Lo Siento" (translation: "I'm Sorry"). A perfect way to end the album.
All in all, for a first full-length record, Diamante did a phenomenal job. She introduced a sound that was her own and she did with such a fierce force.
Coming in Hot is now available at your nearest retailer and for digital download. Diamante is currently on tour with Bad Wolves and From Ashes to New on their What's in Your Head Tour. For more information, be sure to visit her Facebook, Twitter, Instagram and her website.