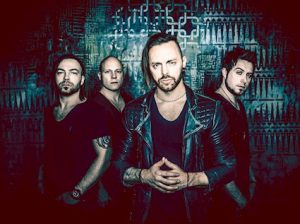 After 5 albums, and nearly 20 years performing, Welsh metal group, Bullet For My Valentine, with a new deal with Spinefarm Records, released their new album, Gravity. With promotion on BBC Radio 1, and performing at Download Festival in Donnington, UK, as well as frontman Matt Tuck tweeting "Here we go again. #BFMV6", there is a lot of hype surrounding the band's 6th effort. But does this album live up to that hype? Well, yes and no, in many ways.
The tracks at the beginning and the end of the album contain great examples of the the band's musical talent. Examples of fantastic drumming, a brilliant mix of heaviness and soft instrumentation, for example in "Leap of Faith", "The Very Last Time", "Letting You Go", and "Don't Need You", show that they are all talented, even with "Breathe Underwater" and its minimal sound works well to close out the album. The little changes in sound from what they're well known for work well in these tracks, especially with the vocals and lyrics, for example, "Start living 'cause we're not dead yet!" in "Not Dead Yet". The vocals in "Over It" help bring the lyrics to life, whilst "The Very Last Time"'s harsh lyrics with the soft instrumentation bring out the soothing, yet tortured emotions that fit well with the song.
However, there's some tracks in the middle of the album that feel out of place in terms of sound and style. Most of them could benefit with the heavier sound that the band are known for, especially when it comes to the lack of unclean vocals, like in the title song, "Gravity", and "Coma", both feeling very generic and done before. The addition of synths in "Under Again" is an interesting touch, but it's the moment when the album starts to peter out; again, feels like it's been heard before, and done better by other bands. As stated, it does pick up again with "Don't Need You", but those few tracks create an album that is leaves the listener with mixed thoughts.
Overall, this album is a mixed bag, with great tracks at the beginning and end of the album, however the middle tracks are what lets this album down. Most of those tracks feel generic and done before, and better, even by this band. It is a shame when we know this band can do better, but we can only wait and see what these guys do next, and hopefully return to their more heavier sound that we know they can do well.