Last weekend Matthew Marcum's Pollock: A Frequency Parable kicked off the Hollywood Fringe Festival with a no holds barred whirlwind of abstract vocal styling and in your face charisma. Running for the month of June every Saturday night at The Complex's Flight Theatre on Santa Monica Blvd, Marcum's show is a sonic exploration into experimental soundscapes guided by the legendary spirit of modern art hero Jackson Pollock. Billed as an "avant-operatic" sound performance piece Marcum's show is rooted in the work of experimental composers such as John Cage and Meredith Monk and enhanced by a distinctly rock and roll flavor.
As I entered and took my seat I was greeted by a montage of pre-show music consisting of Led Zepplin, Elton John, and Fleetwood Mac before a hypnotic drumbeat brought up a multi-faceted video and light show. Marcum took the stage holding a paint can and a text book that he opened while launching into a militant dialogue about what it means to be a "modern artist, making and creating in this modern age." He tips the audience off to what is coming up next by mentioning that new artists require new techniques and he just happens to have a few of them" before tearing into a vocal collage of primal screaming, jazz scatting, and melodic lushness. He drops back into the dialogue midway through the show bestowing Pollock's virtues of abstract art's ambivalence to the critics and cleverly drinks from the paint can to continue a climaxing vocal section that beautifully shakes, shimmies, and soothes the audience. Marcum concludes his Pollock tribute with inspirational resolve stating that "a mans life is his work and his work is his life" before ripping pages from the book and throwing them into the air. Another lighting run signaled the end of the show leaving me applauding feverishly and wanting "more, more, more." I guess I too am one of those people that Marcum described as "burning on the inside."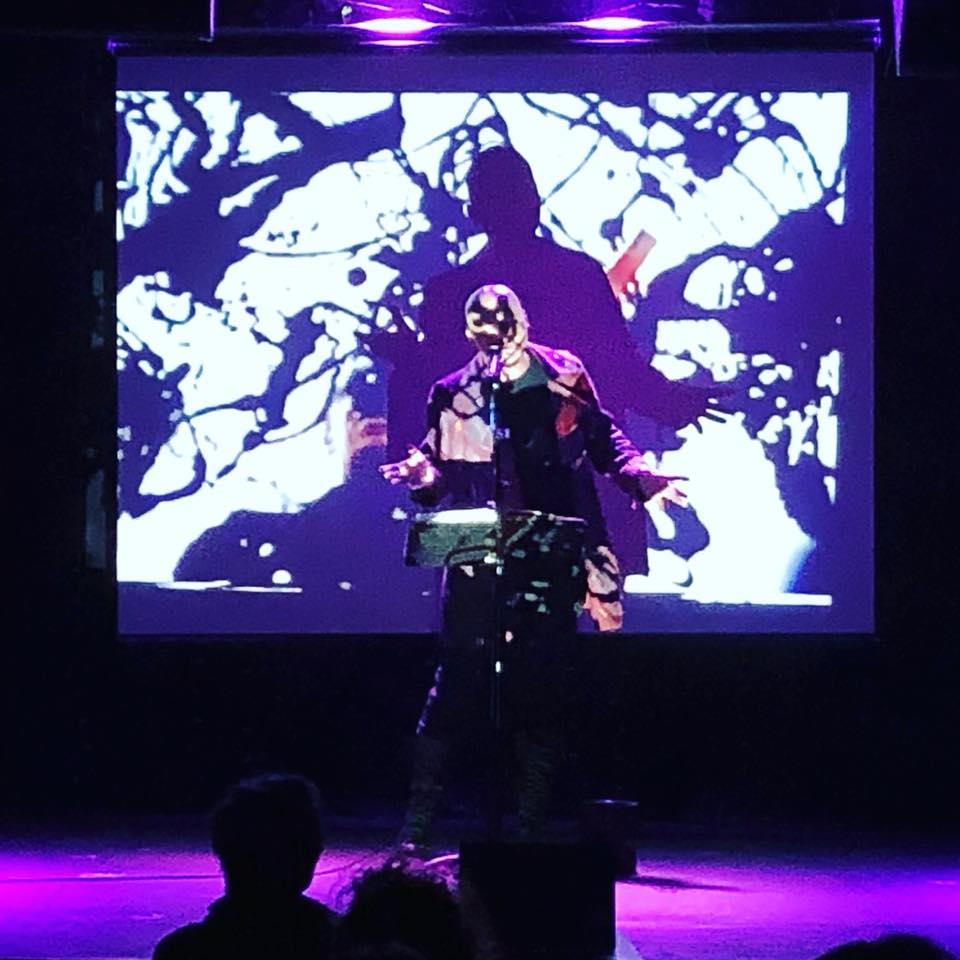 Pollock: a Frequency Parable is a tight 30 minute package possessing everything that makes fringe theatre worth watching.
Marcum's raw talent shines through as his exceptional voice transitions seamlessly through multiple musical genres and exhausting vocal stunts. His passion can be most felt during his Expressionist ballad which provides the first of many moments for the audience to look beyond the character facade of Jackson Pollock and see why Matthew Marcum standing alone with a microphone is an artistic force to be reckoned with in his own right.
For tickets, additional information, and a digital download of the show check out www.theunconventionalempire.com and the Hollywood Fringe Festival at www.hollywoodfringe.org.