TALIA's fourth EP, Let Sleeping Dogs Lie, was released on May 4 via Pavement Entertainment. Recorded at Electrical Audio by Steve Albini, the five-track EP features the "raw" sound that many bands struggle with and packs together '90s rock riffs with heavy bass. My first impression of the EP was the instant Dorothy vibe- the almost "garage band" sound. Although that's typically not a bad thing, it's definitely difficult to pull off in today's day and age, which is impressive and admirable. Not having heard anything from TALIA prior to today, they've definitely captured my attention.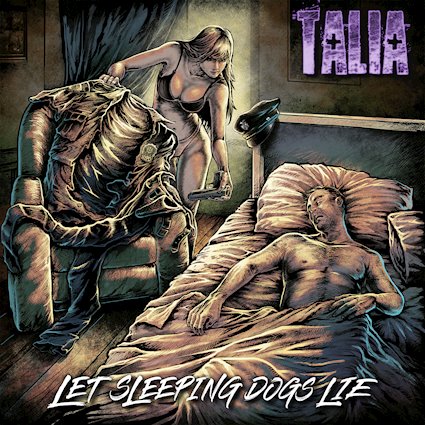 The EP kicks off with "Afraid of Heights," which summarizes the EP's overall sound. The riffs almost reminded me of Subvision, an early 2000s band featuring Tobias Forge as their frontman. I certainly appreciated the instrumental spotlights; they do a great job of balancing the vocals and instrumentals together. The highlight of the song, guitar solo near the end, shows the listeners they came to rock.
"Still Waters," the second song on the EP, is, unfortunately, my least favorite. It's upbeat and guitar-packed, but it just didn't live up to the other tracks.
The next banger, "Wreckage," starts strong and hard, immediately bringing in the riffs and vocals. I enjoyed listening to this song due to it being action-packed from beginning to end. All five songs keep me headbangin', but this one in particular really gets me going.
The only acoustic on the EP, "Bleed You Dry," happens to be my favorite. Although slower than the other songs on the EP, this song showcases the vocals. After listening to it the first time, I immediately went back to play it again. There's something about Nicolas' voice that shines and captivates me, leaving me wanting more acoustics in the future.
"In the Evening (New Wave)" is the heaviest off the EP. The riffs give me a hardcore '90s rock (maybe even punk rock) vibe. To summarize this song, picture a crowd hair flipping, headbanging and fist pumping.
Let Sleeping Dogs Lie has a powerful effect that many EPs lack, and I am looking forward to seeing more from this three-piece band in the near future.
TALIA will be on tour this summer with FLAW and Smile Empty Soul. Check out the tour dates below.
THE FLAWLESS SMILE TOUR
5/30 Saint Louis, MO – Fubar
5/31 Barrington, IL – Penny Road Pub
6/1 Battle Creek, MI – The Music Factory
6/2 Flint, MI – The Machine Shop
6/4 Rochester, NY – Montage Music Hall
6/5 Watertown, NY – Exhibition Hall
6/6 Albany, NY – Jupiter Hall
6/7 Burlington, VT – Higher Ground
6/8 Laconia, NH – Whiskey Barrel
6/9 Lawrence, MA – Claddaugh
6/10 Providence, RI – Fete Music Hall
6/13 Poughkeepsie, NY – The Chance
6/14 Amityville, NY – Revolution Music Hall
6/15 Clifton, NJ – Dingbatz
6/16 Baltimore, MD – Fish Head Cantina
6/18 Richmond, VA – The Camel
6/19 Wilmington, NC – Reel Cafe
6/20 Florence, SC – 507 Live
6/22 Chillicothe, OH – Feel the Fire Fest 6
6/23 Findlay, OH – All American Rock House
6/26 Clarksville, TN – O'Connor's Irish Pub
6/27 Memphis, TN – Hi Tone Cafe
6/28 New Orleans, LA – Southport Hall
6/29 Houston, TX – Concert Pub North
6/30 Dallas, TX – Trees