I had been looking forward to sitting down with Derek Zanetti, a.k.a. The Homeless Gospel Choir, for a while. Upon meeting him and being greeted with one of the friendliest of smiles from a guy in a rainbow bum-bag, I knew I was not going to be disappointed. The punk soloist is, for me personally, one of the most exciting artists in the world at the moment. In the eight years he's been making music, he has released six records, toured extensively, and become a leading figure for the DIY merchandise movement. His latest album Normal is a condensation of Zanetti's musical career: folk punk style combines with unapologetically personal lyrics to create a wholly honest and refreshing musical experience. So what made The Homeless Gospel Choir come to fruition?
"I think I noticed the majority of people I grew up with living a life I was not interested in living. I saw them practicing some very normal life practices that weren't yielding results that I thought were worthy of pursuit. The idea of just making a lot of money does not excite me. I mean, of course, I wanna go ahead and have a lot of money so I don't have to worry about it. But the idea of selling my soul or spending 60 hours in some cubicle toiling my life to get money doesn't feel good at all. I made a decision. I just wanna try and see the world, and get out there and talk about the things I'm passionate about and that I care about. Or even like, maybe stuff I'm not passionate about. Maybe just something in my mind and a feeling I have that I want to express in some artistic way to you who also may have that feeling in your heart, who's had that thought inside your mind for months and hasn't been able to get it out in the right way. But then there's this person that's just like me and they were able to say it. Hopefully, it gives you the courage to say shit like that too."
This mentality is ever present in his songs. And, with songs like "Alright," it's not difficult at all to decipher where Zanetti stands on political issues. There's been quite a lot of political turbulence recently, and he often brings these ideas to the forefront of discussions and uses his music to provide a refuge for those who need it.
"I wanna write about now because now is an important time. I'm not the only one in the world who is afraid. I'm not easily manipulated, but I have a lot of friends who are afraid. Songs can become something powerful, and I think it's a great service we can offer to someone just to say 'I'm here in this struggle with you."
But it isn't just current affairs and political climates that inspire The Homeless Gospel Choir:
"I like to write songs that are about the current, but I also like to write songs about how I felt when I was 15; to look at my life as one thing, from where I was born to where I happen to be now, or where I will be in the future and just take slivers of that."
"6th Grade" is a great example of this, and condenses a belittling experience he had with his sixth-grade science teacher into a comedic, self-deprecating message of hope: "She's still teaching 6th-grade science while I'm on MTV… I'm not on MTV."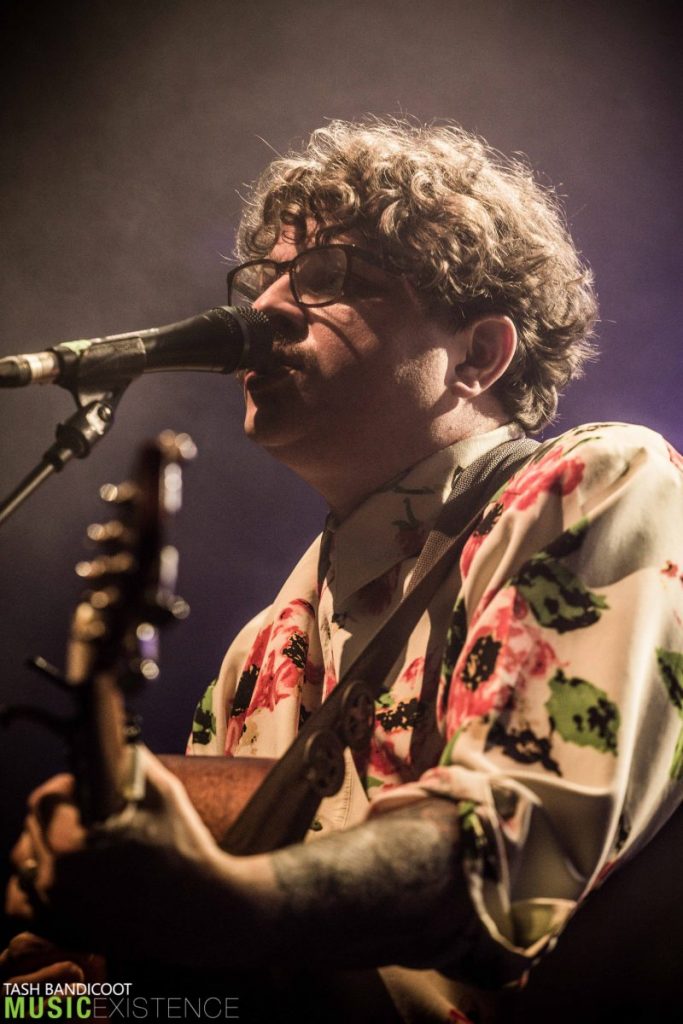 So what keeps Derek Zanetti making his unique brand on unconventional punk rock? Maybe it's his own take on the genre. His punk is inclusive, all-encompassing, and not what you might have expected.
"We identify with whatever makes us feel comfortable. In a world where selfishness, greed, and hypocrisy is an ideal, where Trump is president with what he's done to get to that place – he's rude, cut-throat, hurtful to women and to the disabled – the most radical and punk thing you can do is be inclusive, to offer people who have no place to go somewhere to go. The most radical act of love and kindness is to make space for people. Yeah, I love The Ramones, The Clash, Black Flag, but if Punk is just a genre of music that sounds [bangs fists]? I have no time for that good ol' boys club of people afraid to grow as people."
So The Homeless Gospel Choir may have a name that invokes Christianity, but it certainly seems that Zanetti's religion is much more punk-based. But his beliefs go much further than just singing about politics and personal emotions. Zanetti's hopes for the future are idealistic, but annoyingly achievable if only more people shared his mentality.
"Equality… I think if there was an equilateral balance to how we view capital and how we view money, and if there was a jubilee, where debts were forgiven and wealth was redistributed, it would radically change the way people in poverty live.… What would it look like if those of privilege were willing to lay down their privilege and offer equality for people who don't have it? I think that would radically change the world. That's why I think the world sucks. But also I think if we all looked at ourselves, what can I do? How can I be a kinder person with compassion in a new and different way? How can I offer grace and forgiveness to people who have wronged me, and stand up for people who have been marginalised and oppressed? I think the real start has to happen from within. I have to be an advocate for the change I want to see."
Punk has changed a lot since the days of "Anarchy in the UK" and studded jackets. The Homeless Gospel Choir is a proponent of this softer, flowery punk rock that only needs an acoustic guitar and some DIY'd stickers on the merch table. Derek Zanetti is as rebellious as they come, and if you're unhappy with your lot in life, looking for some solace in a like-minded individual, you might just be in some excellent company.
Just remember: you're always welcome in The Homeless Gospel Choir.
Find The Homeless Gospel Choir online:
Facebook | Twitter | Bandcamp | Official Site
Watch the video for "Normal" below!
Check out Tash Bandicoot's gallery from the show in Newcastle!
Gallery: The Homeless Gospel Choir at Newcastle O2 Academy, 22.4.18