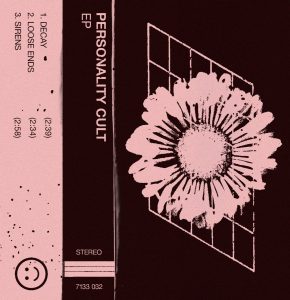 Personality Cult is the fresh project of Los Angeles singer-songwriter James Clifford. Sporting equal channeling from indie rock and new wave of the 80s, Clifford commands a multi-spectrum sonic atmosphere all his own. His debut single for this year, "Decay," has been receiving steadily warm feedback for its authentic, yet still-imaginative encapsulation of such nostalgia. However, all of its components end up driving the foundation of his self-titled debut EP.
As the lead track and carrier single, "Decay" does enough to showcase its stature. Emphasis on synths is pronounced on the surface, but the means of their integration is executed considerably well. I understand and appreciate the odes to the period where the remainder of Joy Division transitioned into New Order. When considering the chorus-tinged lead as a top-off for the instrumentation, it effectively unites assets of both the mainstream and underground. Clifford's sentimental thematic approach is ideal for this backdrop – a brutally honest scenario of guilt, throwing away sincere experiences for temporary highs. The chorus is simple, but perfectly encapsulates that flawed nature, making a solid bridge back to the main melody.
"Loose Ends," the following track, continues on an upbeat, retro-active note. There's a slight shift in the tone of the melody, while attention to instrumental balance remains intact. This time around, the subject matter focuses on uncertainty within oneself – a want to open the heart, while subsequently holding back. Further, it is revealed that this hesitation is justified, feelings withheld in the same way by their significant other. Such conflict brings out a rather relatable tendency, which involves a heightened, almost dizzying degree of intrigue as a result of the other's mysterious façade. But underneath, it is a wholehearted longing to repair the extent of emotional damage.
The third and final track, "Sirens," takes the outcome of the thematic perspective into account, by way of associating how one would turn out should their needs and goals not be met. Amidst failure having been implied, there's a level of maturity as well in the sheer acknowledgement of the subject's internal flaws. Like the stylistic direction of the two previous songs, this one features its fair share of throwback influences. But on the other hand, the presentation is constructed much more so on a modern pop skeleton, and thus may perform decently as a potential follow-up single for the EP.
Overall, Personality Cult's self-titled debut EP proves a solid snapshot of James Clifford's abilities. Each song is carefully strewn with dreamlike, involved backdrops, and lyrical anecdotes which shine in both cleverness and poignancy. Even with the EP's release still on the way, I'm excited to see how these elements would translate in a full-length setting.
Follow Personality Cult:
Facebook|Twitter|SoundCloud|Bandcamp