Buffalo based emcee Agent 21 releases his new EP on April 23, 2018. "His Son" is a follow up to the sophomore release, from April 21, 2016. He has returned to set the stage for the listeners and audience to hear what his mission is all about.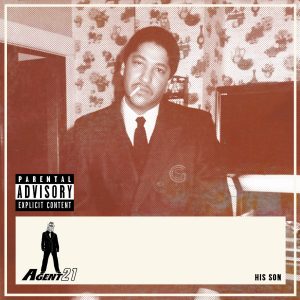 The theme of "His Son" is attention grabbing. The "His Son" catalog includes noteworthy tracks and instant favorites such as Cosby, Water World, Pen & Pad, My Game, & Legendary. These head nod finds are highly likely end up on loop on many playlist.
Agent 21 has the potential to garner a large variety of listeners and with this digital release, and high anticipation, its likely to occur sooner than later. I look forward to further developments with this artist as well as The Hot Cahmodity, who has the ability to pull in a large female following to his cool, collected sound and persona, and who will also be featured on the EP project.
His nostalgic influence and delivery persuades him to dub himself as being, "sent from the past, circa 93′ " the era in which Hip Hop music was considered golden and authentic. What makes Agent 21 distinctive in today's Hip Hop culture, is his pledge to anonymity (hidden identity), as "Only a select few will know the face behind the mask." An approach, as in the case with MF Doom and Hip Hop legend, Humpty, is rarely seen in today's industry.
Agent 21 released his first project, DHMC (Didn't Hear Me Comin') September, 2012.The anticipated release date of this project is 4/23/18 and will be made available on SelfCeeGodz.com.
To preview singles, and catalog, check out the artist's on Reverbnation.com/Agent21 and follow the artist on his social media: Instagram.com/_agent21_