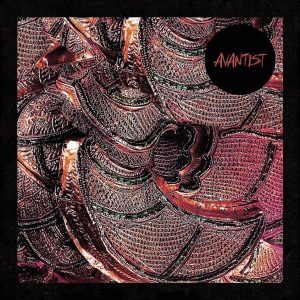 Avantist contains a foundation that is fostered equally by finesse and family. Based in Chicago, Illinois, the quartet is held together by the familial bond of the Arias brothers (Fernando – vocals, David – guitar, Erick – bass, and Luis – drums), who have each flourished in their roles since forming in 2008. Their sound is every bit as raw as it is expansive – an eclectic mix of nuanced alternative dirge and R&B-tinged pop appeal. Within such a display of influences is the utilization, which is done exceptionally in their newly-released, eponymous debut album.
Right from the opening "Conquer," there's decent emphasis on crafting free-form, but focused structures within the instrumentation. What begins in a slow-building prog permutation escalates into a kind of punk that interestingly presents cleanly amidst prominent distortion. Once the chorus hits, I appreciate the clear passion which emanates from Fernando's voice, as well as the general rhythm expressing not only experimentation, but palatability, in full effect. Up next, the single "Tidalwave" represents a looser, more fun side of the band, complete with vintage surf guitar tonality, reverb, and a danceable drum groove. The solo at the song's midpoint does well in enforcing its simplicity, by way of using the open space of both rhythmic components. Although a clearly stripped down and simpler presentation, it works as well to the effect of highlighting the band's variety. "Medi Demi," the track to follow, features patient ambient influences that are accentuated in a mildly overdriven, yet wholly melodic chorus. The solo is well-crafted in much the same way, striking opportunely with just the right level of presence. A general groove element is aptly reinforced throughout the song, benefitting the album's pace thus far. On "Our Design," that element is scaled back a bit in favor of a more straightforward leaning, with standard rock instrumentation compacted to represent the band's signature sound. Given how these elements are presented, it actually makes for a decent single. There's enough in the way of tonality and memorability in order to have it stand out, and it also feels refreshing to the pace with such an approach. Capping the album's midpoint is "Red Bible," the album's current single. As it sees a return to fast, interestingly calculated punk rhythms, the momentum pumps up while simultaneously keeping fresh. This is so well-executed that even otherwise noisy sonic collisions at the halfway point sound digestible.
Toward the latter half of the album, "Veneno" enforces punk influences yet again, this time in a succinct manner. Its delivery is clearly simple, but emits the excitement and intrigue of what could resemble a recently dug up Zoé b-side. Sustaining the momentum is "Human Driver," which features a subtly-shifting melody attack that bolsters half sung, half shouted vocals. I'm reminded of a Rites of Spring channeling, but with greater involvement of experimental and textural elements. Of the tracks that feature saxophonist Adrian Terrazas-Gonzales of The Mars Volta, this one is where he shines as he utilizes his instrument within both contexts. "Truth in Light" appears to be a complementary, longform answer to "Tidalwave" as it sees a return to beachy, sunny guitars drizzled in reverb. During the verses, I appreciate how the vocal harmonies blend in likeness to the guitars that graze through them. The chorus is especially noteworthy as well, for rightfully lifting those elements over and translating them into a richer, more active form. An extension to this is "Deep Red Love," which keeps an ambient foundation along with a mostly clean center. Effectively, the band's R&B influence is highlighted the most, working in conjunction with smooth synths and vivid bass lines. Fernando's vocal range is also best represented on this track, initially in soulful vibrato and peaking with controlled belts. "Solita Soledad" marks the penultimate track for the album, and feels comfortably executed given its slower tempo. Its main staccato riff blends naturally within the vocals, with the bass, keeping its usual punctuative qualities intact. As the song intensifies, the reverberation within it becomes more pronounced along with the notion of space. At the halfway point is where the song takes of in the widest sense, beginning on a gradually unwinding synth note and letting in a neatly-strewn mass of lead melodies. By the second half on the song, the guitars seem to assume a darker tone, as reverb wisps steadily wrap around, and eventually consume, the instrumentation. All that remains is a faint string grind, coupled with distant, mournful strings. "Ramses" is the final track for the album, very much functioning like a rising from the sonic residue that the previous track had accumulated. It ultimately seems like a triumphant end to everything that has played, shifting between overdriven and clean, and entailing a new journey to soon abound.
Overall, Avantist's self-titled debut is an adept representation of musical and personal cohesiveness. Whether short or longform, the 11 tracks on offer carry a substantial amount of distortion, instrumental diversity, and poignance that works collectively, but in a sense, also allows each track to stand out individually. I have yet to see what avenues they explore on their forthcoming Terasoma EP this June!
For more on Avantist:
Official Website|Facebook|Twitter|Instagram
Compositions - 9
Breaking Ground - 8.6
Engagement - 9
Lyrical Voice - 8.5
Production - 9