A lot can change in a year. Earlier this year, Matt and Kim debuted their new track "Happy If You're Happy" from their upcoming LP Almost Everyday, due out May 4th on FADER Label. The single is an acapella love song sung by Matt who says, "'Happy If You're Happy' is a song I should have written years ago. It's about how Kim is the best thing that ever happened to me. I'm sorry it took so long."

But last year wasn't as kind to Matt and Kim, Kim was injured in an onstage incident last March, the injury forced the band to cancel all live dates for 2017 effectively ending their year before it even began. But while they weren't able to get onstage again that year, they were able to write a new record. Matt talked about 2017 and the writing process for their new album recently, saying: "2017 was not a great year for us. Kim got real depressed during her recovery, and anyone who knows Kim (or has seen her play) knows she's such a bad-ass upbeat person so it was hard. Then of course almost everyday it seemed like there was another terrible headline. I feel since the beginning of music people have used writing songs as a form of therapy, but I'm not sure we ever really did…until 2017."
Almost Everyday will be Matt and Kim's 6th studio album. Co-produced by Lars Stalfors and Matt Johnson, the album includes guest vocals from the band's friends such as Mark Hoppus, Clairo, King Tuff, Flosstradamus, Santigold, Kevin Morby, Cole and Max Becker from SWMRS, Kevin Ray from Walk The Moon, Travis Hayley from Night Riots, HXLT, Dave Monks from Tokyo Police Club, Van William from Waters, and Fletcher C. Johnson.
Pre-order Matt & Kim's 6th studio album, Almost Everyday by clicking HERE
Almost Everyday album artwork: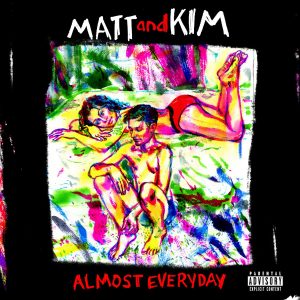 Almost Everyday track listing:
1.) Intro
2.) Forever
3.) Like I Used To Be
4.) I'd Rather
5.) Happy If You're Happy
6.) On My Own
7.) All In My Head
8.) Youngest I Will Be
9.) Glad I Tried
10.) Where Do We Go From Here?
Matt and Kim 2018 North American tour dates:
4/20 – Columbus, OH @ Express Live
4/21 – Pittsburgh, PA @ Mr Smalls
4/22 – Philadelphia, PA @ Electric Factory
4/23 – Burlington, VT @ Higher Ground
4/24 – Portland, ME @ State Theater
4/26 – Boston, MA @ House of Blues
4/27 – New Haven, CT @ College St Music Hall
4/28 – Brooklyn, NY @ Brooklyn Steel
4/29 – Brooklyn, NY @ Brooklyn Steel
5/2 – Washington, DC @ 9:30 Club
5/3 – Washington, DC @ 9:30 Club
5/4 – Charlotte, NC @ The Fillmore
5/5-6 – Atlanta, GA @ Shaky Knees Festival
5/7 – Toronto Canada @ Phoenix Concert Theatre