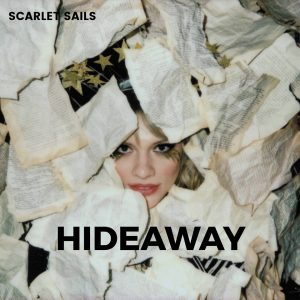 Scarlet Sails continue to refine their complementary blend of alternative rock – a soaring, progressive instrumental foundation seasoned by confident, sultry vocals. The husband-and-wife core of Olya and Brian Viglione had successfully implemented both spectrums on their 2017 debut full length, Future from The Past, which helped them earn legions of fans across the U.S. and Europe. This year, while situated at Brooklyn, New York studio Degraw Sound, the band cut "Hideaway," their first single since the album's release.
To bring out the best of "Hideaway"'s potential, the band enlisted production talent in Ben Rice, responsible for crafting the sounds of such acts as Norah Jones, the Candles, and Elliot & The Ghost. The resulting sound is a surprising yet satisfying combination. Starting in subdued, raw folk form, the song proceeds to build into that of punchy grunge with a modern skeleton. Regarding the song's lyrical standpoint, Olya states, "When you find someone to hold on to and to feel safe, you find that constant that allows you a second chance at life. It goes along with learning how to trust again and how to be present in the moment instead of disassociating with oneself to not experience any real feelings. In other words, realigning with yourself through love."
Indeed, the song's construction plays out very much like someone trapped in their insecurity from a crippling quarrel, before breaking through and redeeming themselves to their significant other without hesitation. Second chances are hard to come by, and often taken for granted once they are provided. But through Scarlet Sails' stylistic and thematic means of depicting that scenario, it centers on a positive, and, undoubtedly, meaningful outcome.
Scarlet Sails Socials: