Australian rockers The Faim popped up on my radar only fairly recently, and quite out of the blue. They've only released a couple of songs so far, yet they've already amassed a considerable online following. Their debut single "Saints of the Sinners" has already been streamed over 100,000 times on Spotify since it was released last month, but one listen was all it took for me to see the appeal. Treading the line between pop and rock, their stripped-back verses merge into all-out choruses making the track a guaranteed earworm.
So considering their rapid progress in becoming an internationally known band in the space of a few months, I was keen to find out the origins of the Perth-based four piece and what they have in store for us. I had the opportunity to speak to Stephen Beerkens who plays bass and keyboard. "Josh (Raven, lead vocals), Mike (Bono, lead guitar, bass, vocals) and I went to high school together, and we came together as a band in November 2014," said Beerkens. Even from the early days, building an online community was instrumental in the band's initial success. "From the moment we started the band, we've worked extremely hard on our social media, and getting the most out of it as we possibly can. Living in a city as isolated as Perth, it's been one of the most effective ways to draw people's attention and share our music around the world."
Social media won't be decreasing in importance for the band anytime soon, I should think, considering how efficient their online campaigns have been for raising awareness of their music. Their YouTube channel is choc-a-bloc with vlogs of their experiences making their music, and it's a great way to communicate and engage with fans worldwide. And most importantly, without YouTube, one member of the band wouldn't even have joined. "We found Sean (Tighe, drums) a few months [after starting the band] through his YouTube drumming covers." The Faim have such a keen understanding of the use of their social media because they are themselves such accomplished users of it and know exactly how to tap into their fanbase to make them as supportive and interactive as possible.
Their tactics have definitely been successful, as The Faim recently signed a record deal which gave them the opportunity to travel to LA for their yet-to-be-released debut album. "We've been very privileged to have recorded with Grammy-nominated producer, John Feldmann." For a young band to go straight into working with such an accredited producer was certainly a jump, it seems. "It completely changed the way we go about songwriting, and pushed us to work harder than ever. We went from writing and recording two half-songs a week, to two full songs a day." They've even got to work with some notable names during their time in the States. "We've collaborated with artists such as Pete Wentz, Josh Dun, Mark Hoppus and Ashton Irwin." said Beerken. "It was amazing working with such talented individuals, as they not only contributed their unique perspective as writers, but also shared with us their experiences in the industry which has helped us prepare for the many years ahead." Personally, I don't think there's anything better than well established musicians giving a helping hand to the next generation.
The Faim's old demos, which are still available on YouTube under their old name 'Small Town Heroes' showed a lot of promise, but working with these professionals appears to have really helped refine their already complex sound. "All four of us have grown up with very different musical inspirations, including Green Day, Jet, U2, Frank Sinatra and Coldplay. Drawing on these influences has become very apparent in forming our sound, as it keeps us connected to the music that we're writing and performing." All of these inspirations are evident in their music. Their latest single "Midland Line" is a lot mellower than the gritty "Saints of the Sinners." Mixing up their genres with every release looks like it's going to be a bit of a trend for The Faim. "Fans can expect a diverse range of music with our upcoming songs. Each song shows a different side of us as people and as musicians."
The Faim show no signs of slowing down either. With two singles released in the past couple of months, they're looking forward to breaking out onto the international live music scene this summer. "We're hoping to fill as much of the year as possible with shows and festivals around the world. We couldn't be more excited to be kicking it all off in the UK with Lower Than Atlantis and festivals such as Download, Slam Dunk and The Great Escape! We've announced our first international headline show in Glasgow, Scotland, and have some more announcements coming soon, so stay tuned!" Touring with LTA is sure to introduce them to new crowds on their extensive tour of the country. Hopefully that'll mean they'll be able to pull their own crowd to their slots at the UK festivals, too. One thing is for sure: a fair few people will come away from their set as fans.
As is the case with every band who starts up so young, getting to the point that The Faim have managed is a dream. They're already being tipped as ones to watch by big publications like Alternative Press. For them to have progressed so rapidly is quite an accomplishment. But at the root of their goals and aspirations is a love for making and playing music. "Music has always been a huge part of each of our lives. Since we were young, we knew that it's what we wanted to do. There's nothing better than playing music with your closest mates, which is what we have the privilege of doing." So they've managed to keep their modesty, for now. But I'm hopeful that they'll be able to pull off fame if this band does make it into the upper echelons of the music industry, because they're certain of themselves and where they want to take their music, rather than where they want their music to take them. "Our music matches our personalities. Energetic, emotional, slightly weird, real." As long as they stay true to that, they'll have a good time.
Watch the video for their debut single "Saints of the Sinners" below and download or stream it here!
Find The Faim on social media:
Facebook | Twitter | Instagram | YouTube | Official Site
The Faim play their first international headline show in Glasgow, Scotland this summer. Get tickets here.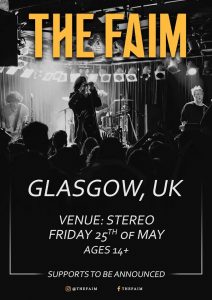 You can also catch The Faim on tour with Lower Than Atlantis. Tickets available here.