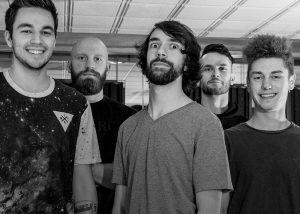 Pennsylvania metalcore band, Toothless, describe their influences from bands like The Dillinger Escape Plan, and Every Time I Die. With their new EP, Red, the band hope to combine those influences into these 6 tracks. As quoted by the drummer, James Slattery, "[…] we explored our individual influences more than in the past. We tried to incorporate a bit more groove while also pulling elements from some more obscure genres, like post-metal and drum and bass, to meld with our metalcore/mathcore sound". But does that come across in this EP?
First track, "Mask", gives a great intro to the EP, nice riffs in the guitar and very interesting lyrics, so is intriguing to the ear. Vocals take a little while to get used to if you're not used to unclean vocals, but for the most part, they can be really good and strong; gives a Bring Me The Horizon vibe, which is great to hear. Then the music goes through an interesting transition to the second track, "Bridges". The drums sound fantastic, the lyrics are great, and the unclean vocals sound a lot better here. Another great track. The third track, "Torches" immediately starts into the frantic nature of the song; chaotic, but once the track gets going, it really works together. However, the vocals seem to not work well for this track, maybe because everything else is very frantic, but something just seems off here. Next, "Broken Toes", where the vocals work a lot better here, a nice improvement to say the least. Instruments also sound great, and work nicely with the tone the lyrics set for the song. Only downside is the weird, almost abrupt ending to the song, but it's nonetheless one of the best on this EP. The next track, "Subtle", starts off with a really nice guitar and bass, working together to give a soft introduction. It does come to an abrupt stop as the tempo picks up, and everything becomes heavy, which is a little off putting, but otherwise sounds great. The vocals also work well with the lyrics, and convinces the listener with the tone it sets for the track. The final track, "Red", is unfortunately not the best track to have finished this EP with. Whilst the intro riff is fantastic, and there is talent within the guitars, bass, and drums, the uncertainty over the vocals returns, not helped with the equal amount of uncertainty over the lyrics.
Overall, there are some great songs in this EP, but it really is a mixed bag. There's a lot of ideas going on at once; sometimes they work, sometimes they really don't. This is a good EP, the instrumentation is, for the most part, fantastic. But there is a lot of room for improvement for these guys yet, but looking forward to whatever they decide to release next.  
Red EP is out 30th March