LA based Theatrical Metal Band RAVEN BLACK has announced the pre-order launch for their highly anticipated 2nd album, 13. The incredibly visual quartet has also released the pre-order for their debut comic book, A Dark Metal Carnival: The Beginning and has begun booking their Spring tour set to launch in May. "Monster" is available to stream NOW on Spotify and download on iTunes.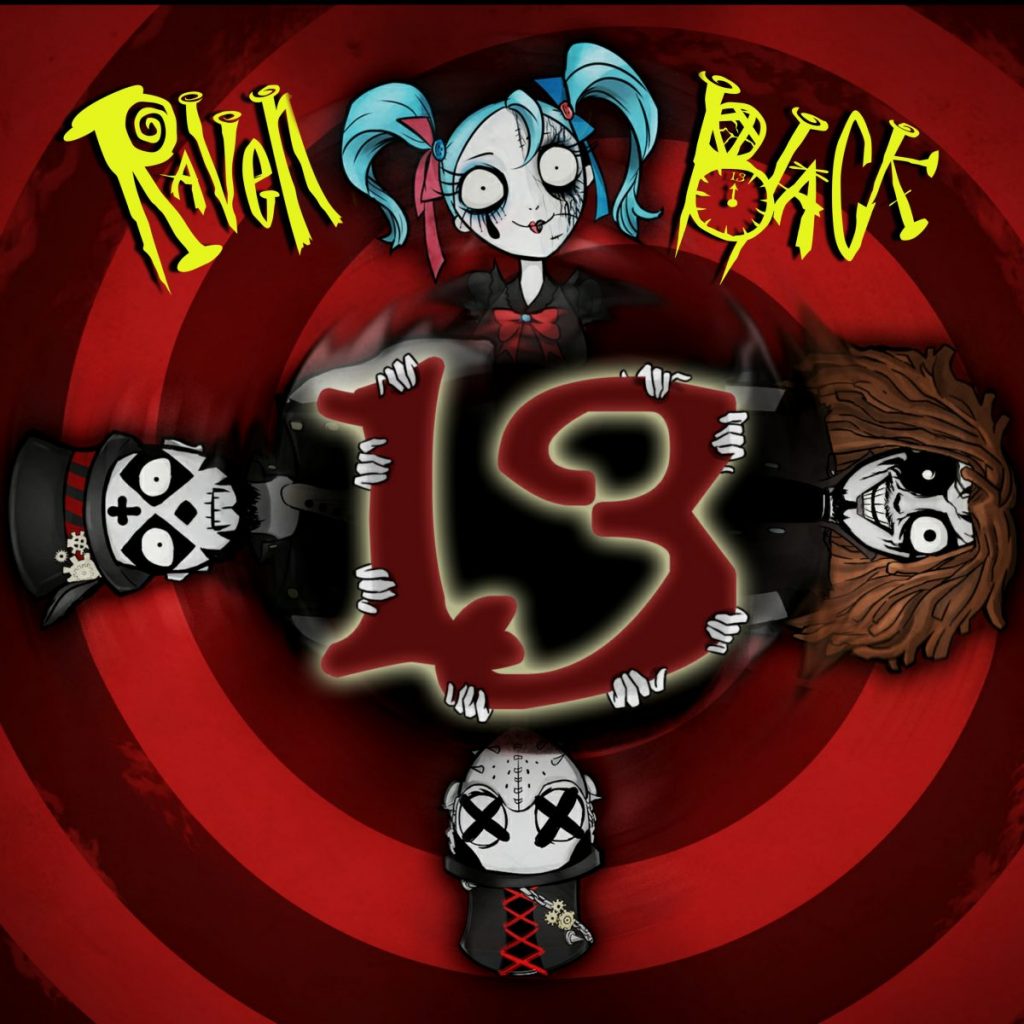 Track List:
1. Monster
2. Sticks n Stones
3. Nothing
4. Spider
5. Dollhouse
6. Break the Box
7. The Nobodies
Click HERE to Pre-Order 13!
Exclusives:
Album Pre-order -free digital download of single "Monster" and first 100 receive exclusive "Monster" poster & sticker.
Comic Book Pre-order – Free autographed exclusive Variant Comic Page for first 100 preorders.
Tour Show Ticket Pre-Sale – Free autographed Exclusive RB Tour Poster – Special Edition (not for sale) & name entered for a Chance to win a RB VIP Package, $50 value. (Raffle to take place May 1, 2018 – LIVE FEED – Facebook)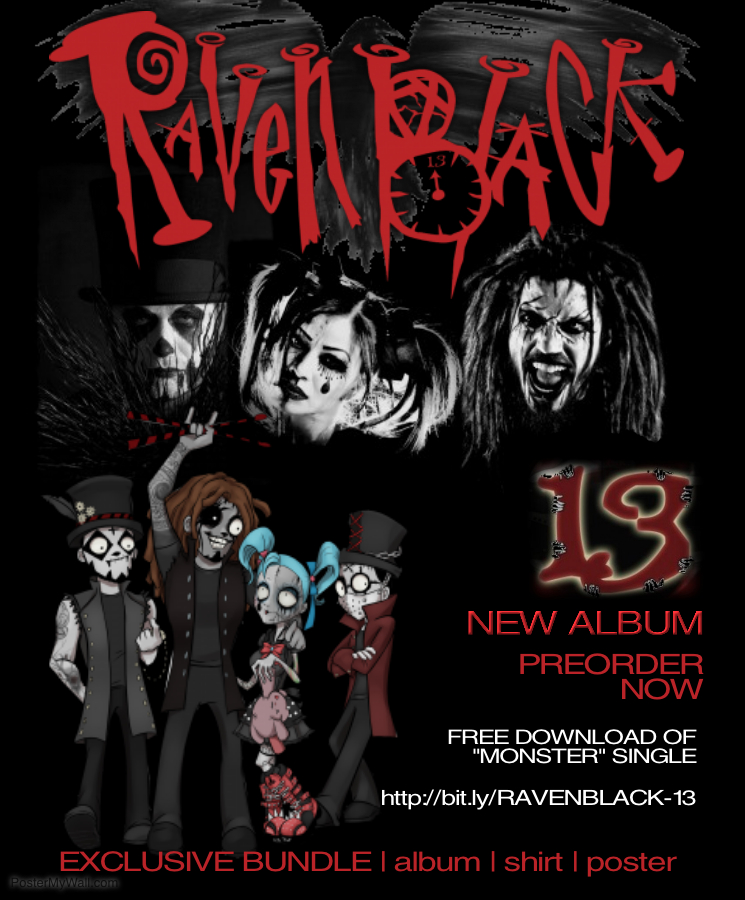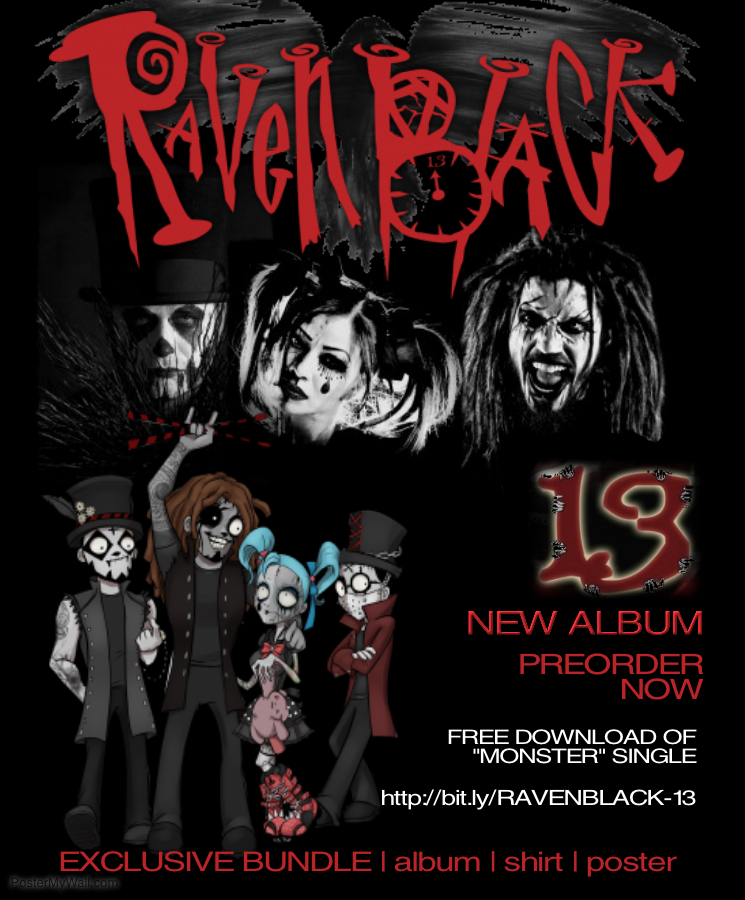 A Voodoo Doctor "The Doctor" came across a girl who looked lost and scared, crying in the alley way behind his lab. He used his magic to turn her into a doll, but his spell was disrupted from her terrifying and taunting screams, she remained half human, half doll. As Raven lived in the dark world of the Doctor, she secretly learned his magic and conjured up a demon, Muppet, who she made her eternal protector and trapped him inside her heart. The Doctor and Muppet created Stitches to search for those who are looking to join our dark world in the 13th hour.
Raven Black released their first Single, "Died Inside" on September 7, 2013 at The Roxy, selling out the venue that night. They continued to work in the studio and released their first EP, "Midnight Dreary" in June 2014, successfully packed the house at the famous Viper Room.
The band was previously managed by Aaron Rossi (Grammy Nominated Drummer of Ministry/Prong), AJR Enterprises and worked with Grammy-Winning Producer Logan Mader (SoulFly/Machinehead/Five Finger Death Punch).
In October 2014, they revamped their line up and began working with Grammy Nominated Producer Ulrich Wild (Rob Zombie, White Zombie, Alice In Chains, Breaking Benjamin, Pantera, Seether, Dethklok, Otep, and more) on their new album. They then spent the next two years writing and then released their single "Seven Sins" in April 2016 and their EP Seven Sins in September 2016.
​Raven Black played the Corona Hell and Heaven Festival July 2016 in Mexico City, Mexico with headliners like Rammstein, Twisted Sister, Ghost, Five Finger Death Punch, Mushroomhead, Selpultura, Alien Ant Farm and many others.
To end their summer, they played the 2016 DirtFest Festival in Michigan with headliners Killswitch Engage, Asking Alexandria, Hatebreed, Attila, Born of Osiris and many others.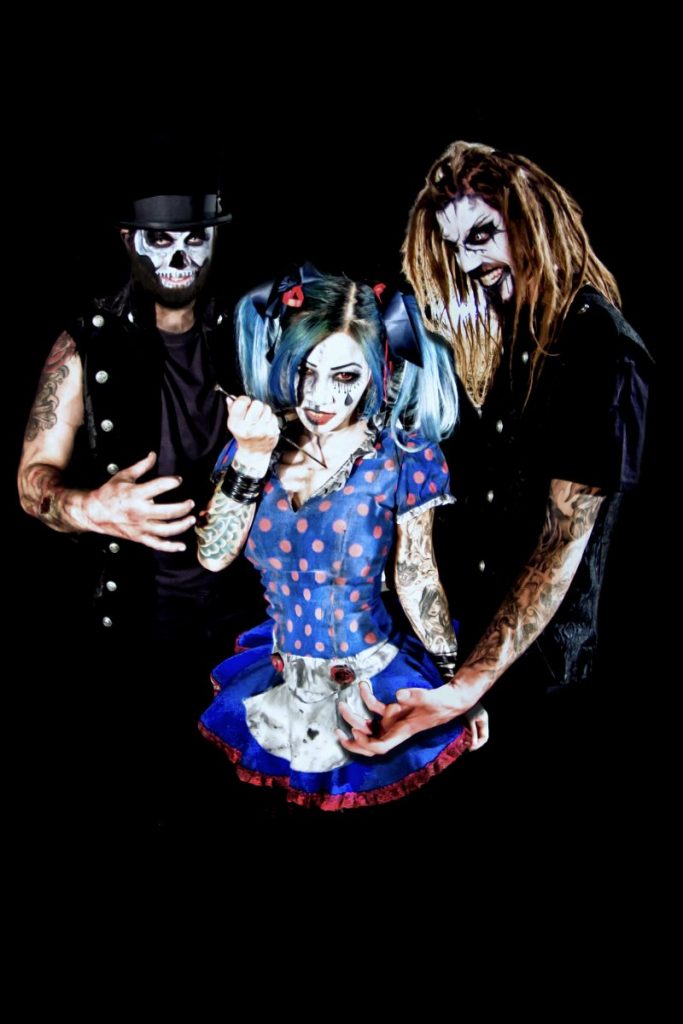 Releasing their first Official EP with the new line up, Seven Sins EP dropped September 29, 2016 on the way out to tour with Mushroomhead, Sunflower Dead, Unsaid Fate, and Death Division for Mushroomhead's Annual Halloween Tour.
The 2017 year started very busy for Raven Black as they headed to Cleveland, OH to film their new music video with MonoBloc's Josh Apple and Andrew Sparks, for "Twinkle Twinkle Little Scars", Premiered by Revolver Magazineon April 13, 2017. A little horror version of their already theatrical presence in the metal community. "We wanted to have some blood in this one," says Raven.
After a quick rest, Raven Black toured through the Southern parts of the U.S. on their way to SXSW. They played the Heart of Texas Rock Festival in March 2017. Winning fans from across mutiple genres at SXSW. Raven says, "I am so proud of being able to share our METAL music with other fans of country, hip hop and pop genres. I was so surprised and happy to see them buying our music. It was fun and the only thing missing was the big mosh pit, LOL, although there was a small handful of metalheads respresented this year at SXSW. "
​After returning back home to Los Angeles, the band quickly prepared for their first Headliner Tour, The Hex O'Clock Tour, which kicked off in Guadalajara, Mexico at the Roadhouse Voodoo Bar, July 7, 2017 and returned to the U.S. to begin their onth long tour throughout the U.S. from coast to coast.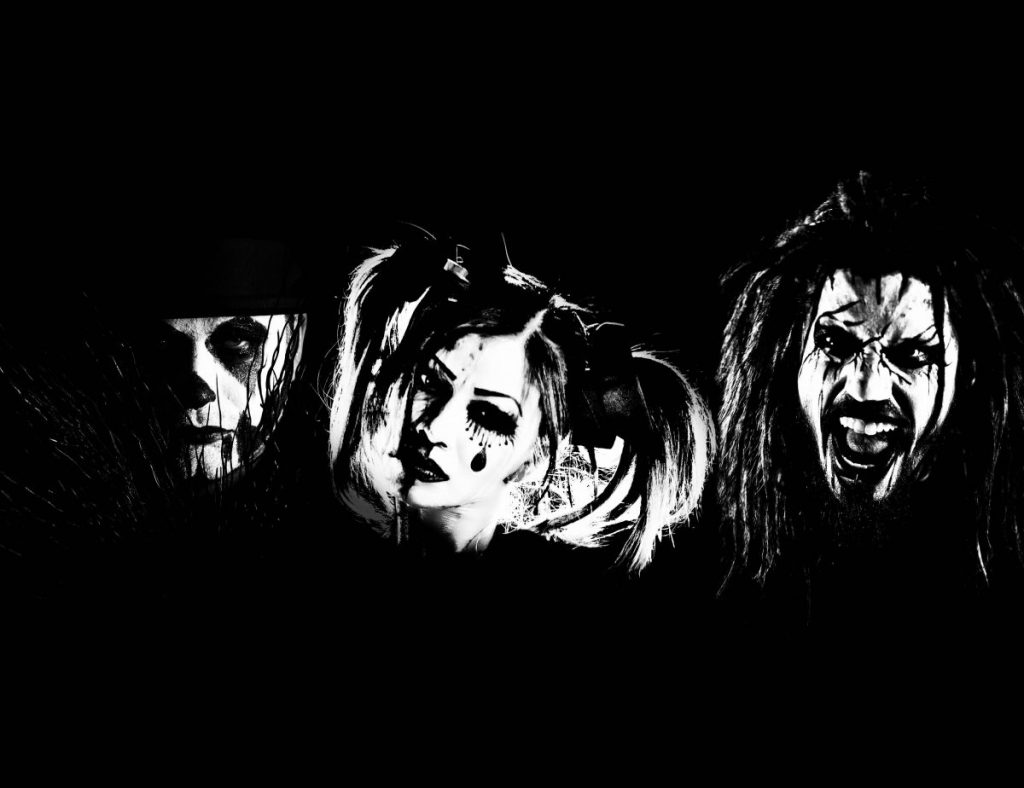 ​The Hex O'Clock Tour was a complete success and the band was able to visit so many new cities throughout the country, see their fans and play so many new venues. Sharing with their fans, new stage props, a few new songs and announcing their new album 13 in early Spring 2018.
​Raven Black just finished their 6-week across the U.S. tour supporting Psychostick, Arsonists Get All the Girls and Kissing Candice. The tour was amazing and the bands have developed life-long friends. Doesn't always happen on tours, but it did this time.
​To end the 2017 year, Raven Black just announced their Preorder of the Comic Book – The Dark Metal Carnival – The Beginning – Issues 1-100. These pre-order comic books will be series sequenced from 1-100 and will release in print this Spring 2018. Only these first 100 issues will be numbered for the fans that preorder. The remaining prints after the first 100 will not be numbered.
They will be also releasing their 2nd Album on May 10, 2018, 13. In the studio in January and February, Raven Black will be working with Ulrich Wild, Wurm Group, once again to complete their next release this Spring 2018. Of course, this will surely mean a TOUR across the U.S. and performing the new tracks from 13. There will also be a new music video coming this early Summer.
​Who will they be touring with this Spring? It's still a secret but one worth the wait! Stay tuned for the upcoming Tour dates!
Connect with Raven Black:
Raven Black Official
Facebook | Twitter | Instagram