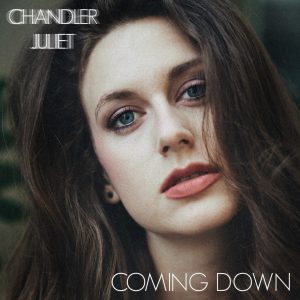 Singer-songwriter Chandler Juliet has solidly maintained her output into this year, and with that came a fresh stylistic approach. Her newest single is "Coming Down," which saw release on Friday. The song's vibrant electro-pop structure showcases Juliet's experimentation from her usual pop-rock roots. Through and through, her penchant for accessible hooks and poignant lyrical themes remains constant.
From the start, the song utilizes a sense of catchiness by way of subtle synth tones, and thereafter, forthright bass grooves. With its stylistic shift, Juliet's thematic context has also expanded, focusing on riding the wave of, and ultimately conquering, an addictive-turned-abusive relationship.
"We all know what it's like to be addicted to something that's toxic for you. It sounds kind of dark, but it's meant to be empowering, because taking the first step of giving up something that's toxic for you, takes so much strength. After I took my first step and walked away from a toxic and abusive relationship, I wrote this song," she explains.
Overall, Juliet feels positive about the song's reach on fans, adding, "I hope 'Coming Down' empowers you to know your worth, and quit your addictions to toxic things, places, and people."
Chandler Juliet Socials: