On Tuesday night fans packed into a sold out Capital Theatre to see Steve Winwood's career spanning "Greatest Hits Live" tour. The set touched on his time with The Spencer Davis Group, Blind Faith his work as a solo artist but mostly revolved around around his time Traffic which earned Winwood his spot in the Rock and Roll hall of Fame.
The evening would start with a different Winwood taking the stage. Classic rock legend Steve Winwood's daughter Lilly Winwood opened the night for her father playing an acoustic set of her English take on classic Americana music.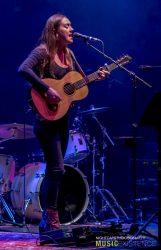 With the mood set by his daughter Lilly, Steve Winwood and his four piece band that consisted of guitarist Jose Neto, drummer Richard Bailey, percussionist Edwin Sanz and saxophonist/flutist Paul Booth took to the stage. The band got right down to business with the Spencer Davis Group hit "I'm a Man" with Winwood on his organ filling in the bass parts with the foot pedals jamming along with the house lights lit for a few minutes before going into the lyrics of the song. Winwood then dove into the years of Traffic with "Pearly Queen before going into a Buddy Miles cover of "Them Changes".
Changing up the pace Steve Winwood got out from behind the organ and picked up the guitar. As Winwood began striking the cords for the Blind Faith hit "Can't Find My Way Home" fans took to their feet cheering in recognition. After continuing on the Blind Faith era with "Had to Cry Today" it was back to his organ where he would play the next three songs from his years with Traffic before being joined on stage with his daughter Lilly as they performed the set finale with his 1988 hit "Roll With It".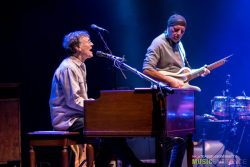 With some fans seeming to be a bit disappointed that his set of greatest hits didn't include "Arc of a Diver" or "Back in the High Life Again". Traffic fans were more then pleased. As Winwood and his band came back out for their encore join by his daughter Lilly for the traditional cover of "John Barleycorn" followed by yet another Traffic song "Dear Mr. Fantasy". Winwood would close out the night once again with his daughter Lilly to perform The Spencer Davis Group hit "Gimme Some Lovin".
Setlist:
I'm a Man
Pearly Queen
Them Changes
Can't Find My Way Home
Had to Cry Today
The Low Spark of High Heeled Boys
Empty Pages
Light Up or Leave Me Alone
Roll With It
Encore:
John Barleycorn
Dear Mr. Fantasy
Gimme Some Lovin'