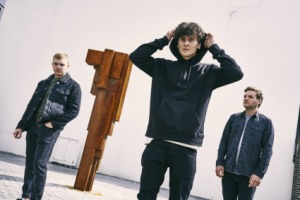 A few years after the release of their debut album, Good Intent, Press To MECO are back at it again with their sophomore effort, Here's To The Fatigue. Whilst this album was delayed by a few months due to the band's recent signing to Marshall Records, was it worth the wait?
A notable factor of the band and their music is, not only do they all sing the tracks, instead of one main vocalist, but they also harmonise with each other; this works well with their voices, blending together around the instruments, and creating a warm sound that fits with each song. The use of harmonization within songs like "If All Your Parts Don't Make A Whole," "Skip The Crawl," and "A Quick Fix" showcase how diverse the vocals can be together and on their own, all working well. Another part of the album that works well is the instrumentation. The complex drumming from Lewis Williams works well to drive many of the songs, and make a juxtaposition from the simple, but by no means any less great, guitar and bass parts. Each part fits the theme of each song, for example, in the song "Howl", the driving bass from Adam Roffey, and the great riff from Luke Caley come together to create an unforgettable track. Finally, each song have fantastic lyrics that resonate with each song, covering a diverse range of themes, and matching each instrumental within the song which, with some of the songs, allows the listener to hear the lyrics, for example, in "If All Your Parts Don't Make A Whole", the song uses the lyrics "I see disaster right round the corner", and "find comfort in being alone" to show how it's ok not to be perfect, something that can be relatable to the listener, and especially the band's audience. If there were to be any criticisms, the intro to "A Place In It All" feels off rhythmically when the drums come in; it's initially difficult to know where the beat is at the beginning, but it is a good song once all the instruments are in, but it does feel weird for that opening minute or so.
Overall, this album was worth the wait, as it will easily please fans who have been waiting since 2015, and something that will also please newcomers to the band, people who had never heard of them will enjoy this; the album does feel like a breath of fresh air in the alt-rock genre, and is enjoyable from start to finish.
Here's To The Fatigue is out 30th March!
Press To MECO have announced an album release show at Black Heart, London 11th April – tickets here