It seems that the fans have been waiting for this moment for so long, that it was almost unbelievable when the news were announced and quickly spread – Myles Kennedy, the voice of Alter Bridge, Mayfield Four, Citizen Swing and Slash's band, is finally releasing his solo record.
Those who expected something similar to the hard rock Kennedy is very well known were quite surprised with the title track "Year Of The Tiger". The whole album was presented as something completely different from the very beginning, after all and it is surely a big step away from the heavy riffs and loud music. Concentrating more on the singer-songwriter side of the music, the vocal range and abilities are unmistakably shown through a pleiad of very diverse tracks that tell the story of Kennedy's father passing away when he was only four years old.
He managed to tell the story that I can only imagine must have been a really hard one for him to tell in a very powerful and emotive way. I was always a sucker not only for music, but the lyrics as well and I must say, there are some pretty brilliant lines in here. Also, all the different instruments like banjo, lap steel or mandolin used on the record give the tracks nice and a bit unusual feel, a fresh and exotic vibe. It is definitely something unique combined with the guitar. But still, it is perfectly clear, that the voice itself was the most important instrument for Myles when it comes to the Year Of The Tiger album.
The second song is what really sounds in a way like a grand finale for me. I was absolutely taken away by the sheer epicness of "The Great Beyond". It is no wonder given the theme of this song and Myles himself concludes, that this has been the most challenging lyric to write and sing, death is after all not an easy topic to delve into. He really stepped up to the challenge. But even though it really is a finale in a way, the story only really begins here when it comes to the story behind.
With some songs, they are not as grim as the others, even though the theme still might not be as bright and optimistic. Perfect example here might be "Devil On The Wall", I caught myself more than once tapping my foot to the rhythm and just itching to start moving, dancing to be honest. In a way, this one really reminds me of the type of music Myles has been working with Slash and the Conspirators on over the years. Not that much in a point of music, mostly the singing and the way he handles his voice in the song.
On the other side, the anger and frustration over his father's death are loud and clear throughout songs like "Blind Faith" or "Nothing But A Name". The second I've heard the mournful and accusing tone and words of the latter song, it really resonated through me and without even trying to read about the song itself you know perfectly well, what he is speaking about and that the song is dedicated straight to his late father. Myles opened up quite a lot and not only on these, but on the whole album. He also dedicated songs to his mother, especially the one called "Mother" is in a lyric point of way a really beautiful way of saying thank you. Even though I have to admit, this one is just a little bit too country for me.
"Haunted By Design" is another song that has been already released previously and even from the teaser, that preceded the full song, I really loved that deepness and lower part of the vocal range that Myles is using in here. He is a very versatile singer to say the least who certainly knows how to put that whole impressive vocal range into use.
But the single one that stands out to me above all is without any hesitation "Love Can Only Heal". From the first tones, until the very end, this song is pure genius. Kennedy's voice sounds here so soft and fragile, vulnerable even, yet in a way hopeful, getting insanely powerful over the course of the song as a contrast to the gentle parts of the song. And those high notes there are just insane. The guitar here really only accentuates the vocals, on which the spotlight here clearly is most prominent. And if you find yourself there for a second or two, or the whole song, softly on the verge of tears, I would not be surprised. I am really hoping for this one to be included in the live set, I can only imagine how this could sound live and those images are nothing short of breath-taking.
After such two heavy songs, I think Myles concluded the album perfectly with two much brighter sounding songs. Especially "One Fine Day", talking about changes with a great stress on the hope and moving on lifts the spirits up a notch, it eases the mood in a very natural sort of way after such heavy and outright depressing themes being discovered on the album.
I have to admit, even though I expected the album to be very different from what I've heard from Myles Kennedy before, I was not quite sure what exactly to expect. The first single – "Year Of The Tiger" had quite a bit of country vibe and the second one, "Haunted By Design", has this bluesy feeling to it. By now, we could also hear "Devil On The Wall" already, too. But do not be mistaken. Judging the album only by these small sneak peeks is certainly not accurate. This album as a whole is very diverse with tracks that nicely show off Myles' beautiful voice and his vocal skills, that are undeniable. As a songwriter, he presents himself here in a different light that we are all used to, after all this is a solo album, a solo effort. And a very outstanding one at that. Even if you might not have liked the first singles that much, I am quite sure that almost everyone will find their something on this masterpiece.
For me, this is one album that certainly stands out of the great variety of albums that came out in the past few years. It is something very unique and it easily finds its spot at the very top of my personal album chart.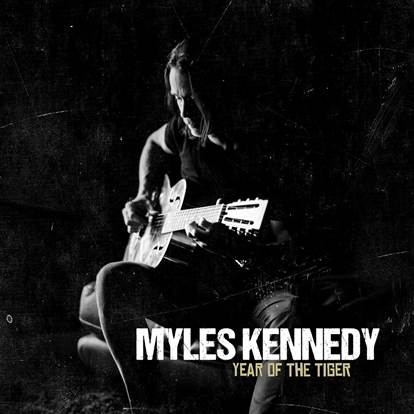 Year Of The Tiger is set to be released on March 9th. You can pre-order your copy on at: Napalm Records and www.myleskennedy.com. Album is also available for for digital pre-order.
Website | Facebook | Twitter | Instagram | Youtube