Over the weekend Boston-based seven-piece Ripe played back to back nights at the city's Paradise Rock Club, kicking off their 2018 tour with the after the announcement their full-length debut, Joy In The Wild Unknown. In addition, the band shared the first new track from the upcoming album, a single titled "Downward." Joy In The Wild Unknown was produced by Cory Wong of Vulfpeck, mixed by 5-time GRAMMY-Winner Joe Visciano (Mark Ronson, Adele, Beck, Coldplay), and mastered by Randy Merrill (Lady Gaga, Lorde, Imagine Dragons, Taylor Swift).
Siphoning the spirits of rock, funk, R&B, jazz, and pop through a kaleidoscope of virtuosic improvisation, Ripe are seven musical soulmates who have built a rabid fan base and rapidly growing community of friends and followers with their unique brand of dance music, including fan favorite "Goon Squad" that's racked up over 1 million Spotify streams, and a live show filled with unstoppable groove. They are the swagger of funk filtered through a rock anthem, a musical journey that somehow gets as stuck in your head as your favorite pop banger. Ripe finds the elusive sweet spot between jaw-dropping technicality and airtight songcraft on songs like lead single "Little Lighter," with its simmering bass line and funked-up guitars, and the dynamic, hypnotizing delivery of "Flipside." With Joy In The Wild Unknown, Ripe collectively kick off a fresh, focused, and fiery next phase.
The album represents a creative culmination of a six-year journey for the band, who formed at Berklee College of Music in 2011. Following 2013's Produce The Juice EP, the 2015 Hey Hello EP yielded fan favorites such as "Goon Squad," which racked up over 1 million Spotify streams. Ripe has built a rabid fan base through tireless gigging and a steady stream of music that has brought them to countless festivals including SweetWater, Levitate, The Rock Boat, High Sierra, LaureLive, Brooklyn Comes Alive, Audiotree, Summer Camp, and more.
They will bring their live show across the country to major cities including New York and Los Angeles, providing fans with a chance to dance and collectively revel in the magic of Ripe's live show.
Ripe are Robbie Wulfsohn [vocals], Tory Geismar [guitar], Jon Becker [guitar], Sampson Hellerman [drums], Josh Shpak [trumpet], Calvin Barthel [trombone], and Nadav Shapira [bass].
Joy in the Wild album art: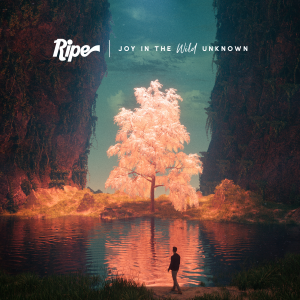 Joy in the Wild Unknown tracklisting:
Little Lighter
Flipside
Follow Through
Downward
Stanky
Passerby
Young Tom Rose
Ladies Night
Beta Male
Yesterday's Clothes
Pedro
Ex-Life
Lola (CD and vinyl release only)
RIPE tour dates: – TICKETS

March 10 Steamboat Springs, CO @ Budlight Rock The Boat 2018
March 21 Charleston, SC @ The Pour House
March 22 Asheville, NC @ Isis Restaurant & Music
March 23 Charlotte, NC @ Visulite Theatre
March 24 Raleigh, NC @ Lincoln Theatre
March 25 Charlottesville, VA @ The Southern Café and Music Hall
March 28 Birmingham, AL @ WorkPlay Theatre
March 29 Atlanta, GA @ The Loft
March 30 Tampa, FL @ Orpheum
March 31 Fort Pierce, FL @ Hooked On Music Festival 2018
April 4 Washington, DC @ U Street Music Hall
April 5 Philadelphia, PA @ The Foundry
April 6 New York, NY @ The Bowery Ballroom
April 7 Toronto, ON @ Velvet Underground
April 11 Nashville, TN @ The Basement East
April 12 Chicago, IL @ Lincoln Hall
April 13 Milwaukee, WI @ The Back Room
April 14 Minneapolis, MN @ 7th Street Entry
April 15 Omaha, NE @ The Waiting Room
April 18 Denver, CO @ Larimer Lounge
April 19 Salt Lake City, UT @ Kilby Court
April 20 Missoula, MT @ Top Hat
April 21 Seattle, WA @ Barboza
April 22 Portland, OR @ Hawthorne Theatre
April 26 San Francisco, CA @ The Independent
April 27 Los Angeles, CA @ The Roxy Theatre
April 28 San Diego, CA @ Voodoo Room
April 29 Phoenix, AZ @ Valley Bar
May 2 Houston, TX @ House of Blues
May 3 Dallas, TX @ Cambridge Room
May 4 Austin, TX @ Mohawk
May 5 New Orleans, LA @ House of Blues
July 7-8 Marshfield, MA @ Levitate Music & Arts Festival