"If you don't come to the Hellfest, the Hellfest will come to you! "
13 dates, 13 unique evenings concerts, screenings, animations during which we will come to meet the fans and friends of Hellfest!
We will be accompanied by our friends from Ultra Vomit who will offer you a special show show, but also by our Spanish friends from Display of Power who will be happy to revive Dimebag Darrel's soul every night with their Pantera tribute band!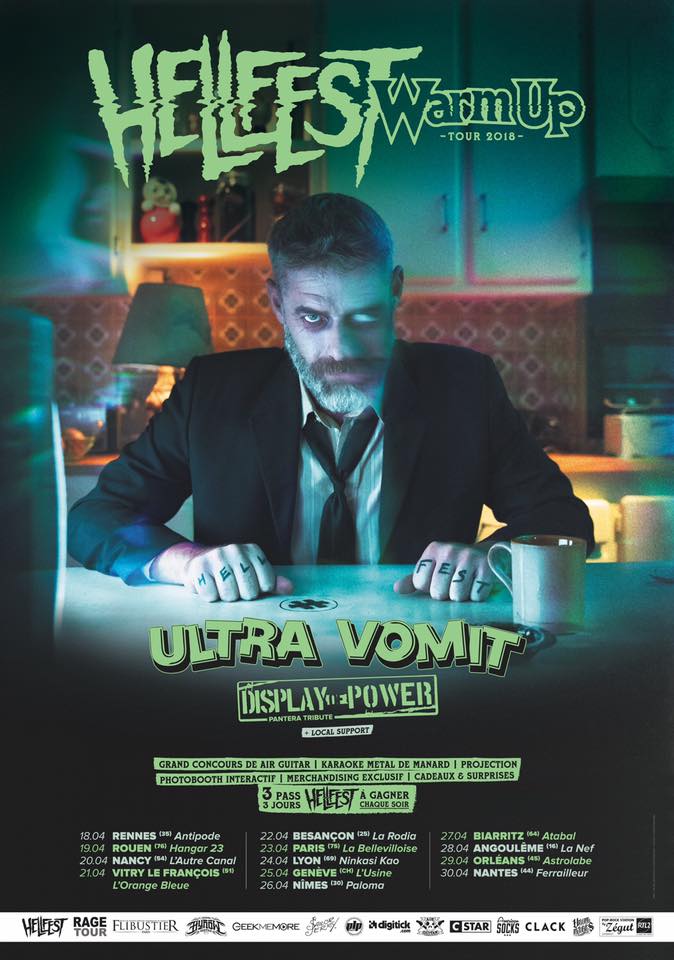 Concerts:
– Ultra Vomit (parodic metal – Fr – special show Hellfest)
– DISPLAY OF POWER ( Pantera tribute – Esp )
– LOCAL SUPPORT ( tba )
– DJ (Cgt)
Attractions:
– air guitar contest
– interactive photobooth
– video projection
– Karaoke Metal Karaoke
– exclusive merchandising
Surprises:
– gifts and goodies offered for participants
– Merch and 3 PASS 3 days hellfest to win every night
18 April Rennes – ANTIPODE
19 April Rouen – HANGAR23
20 April Nancy – AUTRE CANAL
21 April Vvitry the f. – ORANGE BLEUE
22 April besançon – RODIA
23 April Paris – BELLEVILLOISE
24 April Lyon – NINKASI
25 April Geneva – USINE
26 April Nîmes – PALOMA
27 April Biarritz – ATABAL
28 April Angoulême – NEF
29 April Orléans – ASTROLABE
30 April Nantes – FERRAILLEUR
In 2017, the warmup tour Hellfest: one hell of a ride looked like this: