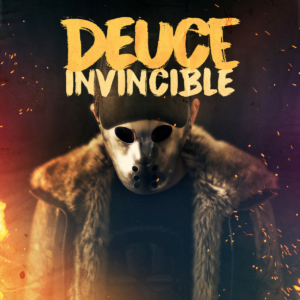 After interviewing singer-songwriter/rapper Deuce, I decided to delve further into his follow-up solo album, Invincible. Three singles from the album, "Here I Come," "Bitch This Is It," and "World On Fire," each exhibit a distinctive hybrid of hip-hop and rock. Alone, they continue the growth from Deuce's previous efforts with Nine Lives. However, it is their placement within the album that accounts for Invincible's presentation, both from a stylistic and thematic standpoint, which ultimately make the album flow.
The aforementioned "Here I Come" is a functional opener in setting the album's tone, which starts out hip-hop. Deuce's commanding and forthright lyrical delivery complements his instrumental foundation. He seems to gather anecdotes from personal experience, but comes off more like an alternate persona given its grandiosity. With statements pertaining to raising all types of hell, it feels as though they are simply blueprints for his takeover, as the song's structure actually plays out as a singular buildup. Expounding on that sentiment is the rock-driven "Hell's Gonna Break Loose." There's clear focus on singing and melody, and although lyrically similar to the previous song, its hook factor is still apparent in the chorus. From the transition between "Bitch This Is It" and "Gone Tomorrow, Here Today," I found its progression well-executed. To an extent, it is as if Deuce has gathered enough success until burning out, but then bounces back to everyone's surprise. I'm also reminded of Deuce's temerity amidst past drama, and that by his effectively pushing it aside, he begins on a clean slate. Further, "World On Fire" alludes to his awareness of an underlying cynicism. I appreciated the clarity in the acoustic guitars, especially as it blends with Deuce's vocal tonality. Once the heaviness returns at the chorus, that's when I felt the song was representative of its thematic placement. The transition from "My Buddy" to the title track also fares well in wrapping the album's first side. After the initial hunger involved in garnering success, Deuce encapsulates the scenario pertaining to when that success overcomes him. There's a slight contrast in the song's mood as a result; this new slate is wiped clean repetitively by means of a numbed state of mind, rather than an attempt to repair his well-being. The latter track showcases a dominant emphasis on singing over rapping, as well as greater vocal range, which further instates the cap on the first side.
On the flipside, "Bad Attitude" plays with similar rock and vocal elements, while comprising a hip-hop skeleton. I'd think of this as the point where Deuce's success overcomes him, to the point where he takes his immunity for granted. Essentially, he continues to mow down those in his way, but with signs of a crackling foundation. The beats in this track are decent enough, featuring a hybrid of live rock drumming and sequencing of hip-hop samples. Another notable transition is marked between "Best Of Me" and "Thank You." Whereas the initial track centers on much of the same subject matter, the other is a plea for forgiveness and an attempt to come out strong on good terms. Like its intended message, the song is indeed poignant with the addition of Deuce's vocal range. However, it would have been better executed had it been the final track on the album. That is not to say the second side lacks memorability, as the subsequent "Catch Me If You Can" proves a genuine up-tempo punker. Those elements carry over into "It's Alright, It's Ok" with equal success, and effectively bolster an exclaimed notion of longevity. Upon reaching the penultimate "Talking About You," featuring Nine Lives vocalist Gadjet, I'd consider that the strongest track on the album by all accounts. Gadjet's focus on music publications straying further from their identity couldn't be more relevant today. On top of that, Deuce's chorus reinstates the subject of cynicism as a result of overblown media gossip, which works toward the album's consistency. The final track, "Pull Me Under," is another straight-ahead punker with an exceptional structure. Even though it wasn't the ending I'd expected, I found it an interesting choice. In a sense, Deuce once again does away with his alter ego and offers a brutally honest outlook – the vulnerability instilled on one from the constant pressure in maintaining their stature. This is a fitting end nonetheless.
Overall, Invincible wholly satisfied my expectations for a follow-up, especially given the five-year lapse between albums. Deuce and company further demonstrate clear growth, not only in their musical talents, but also their abilities in crafting a cohesive and flowing concept. For all that they have endured and triumphed over, this is one solid album for the year.
Deuce Socials:
Facebook|Official Website|Twitter