Festival producers Danny Wimmer Presents and AEG Presents are bringing a diverse and unprecedented music lineup to the 8th annual Monster Energy Carolina Rebellion at Rock City Campgrounds at Charlotte Motor Speedway in Charlotte, NC on Friday, May 4, Saturday, May 5 and Sunday, May 6, 2018.
The Monster Energy Carolina Rebellion music lineup will feature many critically acclaimed, multiplatinum artists and the hottest up-and-coming talent including: Muse (in their first announced, and only American festival performance of 2018), Queens of the Stone Age, Alice In Chains, Five Finger Death Punch, Godsmack (celebrating their 20th anniversary), Incubus, Shinedown, Billy Idol, Breaking Benjamin, Stone Sour, Halestorm, Stone Temple Pilots, In This Moment, The Used, Bullet For My Valentine, The Struts, Underoath, Clutch, Greta Van Fleet, and many more.
Many Monster Energy Carolina Rebellion bands will be performing brand new music from their upcoming 2018 releases, including Alice In Chains, Shinedown, Stone Temple Pilots, Halestorm, Black Veil Brides, Asking Alexandria, Sevendust, Pop Evil, and Red Sun Rising.
The Mid-Atlantic's Biggest Rock Festival features over 60 bands performing on four stages, plus outstanding barbeque offerings in the Pig Out Village, and top-notch camping facilities. In 2017, Monster Energy Carolina Rebellion had another record-breaking year, with more than 105,000 fans attending over three days.
 The daily band lineup for Monster Energy Carolina Rebellion 2018 is as follows (subject to change):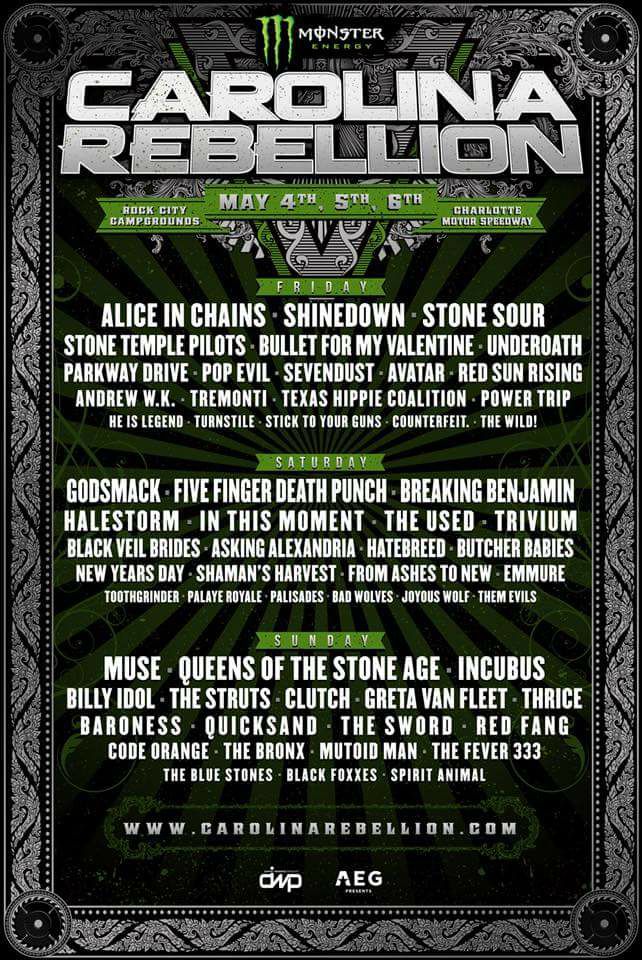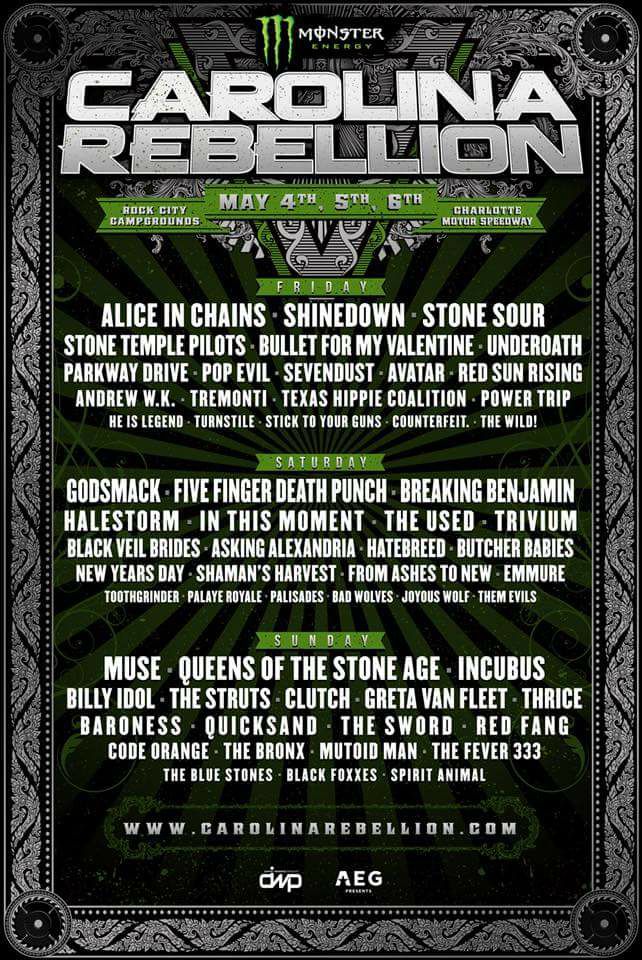 Friday, May 4: Alice In Chains, Shinedown, Stone Sour, Stone Temple Pilots, Bullet For My Valentine, Underoath, Parkway Drive, Pop Evil, Sevendust, Andrew W.K., Tremonti, Red Sun Rising, Avatar, Texas Hippie Coalition, Power Trip, He Is Legend, Turnstile, Counterfeit, Stick To Your Guns, The Wild!
Saturday, May 5: Godsmack, Five Finger Death Punch, Breaking Benjamin, Halestorm, In This Moment, The Used, Trivium, Black Veil Brides, Asking Alexandria, Hatebreed, Butcher Babies, New Years Day, Shaman's Harvest, From Ashes To New, Emmure, Toothgrinder, Palisades, Bad Wolves, Palaye Royale, Joyous Wolf, Them Evils
 Sunday, May 6: Muse, Queens of the Stone Age, Incubus, Billy Idol, The Struts, Clutch, Thrice, Baroness, Greta Van Fleet, Quicksand, The Sword, Red Fang, Code Orange, The Bronx, Mutoid Man, The Fever 333, The Blue Stones, Black Foxxes, Spirit Animal
Joe Litvag, Executive Producer of Monster Energy Carolina Rebellion, said, "In all of the Carolinas there is only one music festival that has this kind of variety in a single weekend, spanning the rock spectrum and the decades of rock history. From Muse,Queens of the Stone Age, and Incubus to Five Finger Death Punch, Godsmack, Shinedown, Halestorm, and Alice In Chains, Breaking Benjamin, Stone Temple Pilots…it doesn't stop. And that is exactly what we wanted to accomplish for this year'sCarolina Rebellion–non-stop, incredible rock from a diverse range of top artists."
Brent Smith of Shinedown said, "We are extremely honored to be playing Carolina Rebellion 2018. We have always admired how this event has grown year after year. With that being said, let's get it on. Cya in May, Rebels!!!"
All General Admission and VIP tickets (including layaway options), as well as Hotel Packages and Camping options, are on sale now at www.CarolinaRebellion.com. Fans are encouraged to buy early and save. New for Monster Energy Carolina Rebellion2018: Each ticket price level has a limited number of tickets available, so attendees can save more by buying earlier. Ticket prices will automatically move to the next price level once a price allotment sells out. The layaway purchase option also allows fans to split the ticket cost into four monthly payments.
Current ticket pricing levels are as follows while supplies last:
Weekend VIP: $350.00 plus fees
Weekend General Admission: $149.00 plus fees
Weekend General Admission 4-Pack: $500.00 plus fees
2-Day General Admission (Friday/Saturday or Saturday/Sunday): $99.50 plus fees
Single Day General Admission: $89.50 plus fees
Bronze, Silver, Gold, and Diamond Premier Hotel Packages are also available for purchase while supplies last.
Camping Packages are currently SOLD OUT. However, Camping Upgrades (to tent, basic RV or full RV camping) are still available for those that purchase GA or VIP weekend tickets.
Specially priced tickets for Monster Energy Carolina Rebellion will be available for active military through partner GovX (www.govx.com) while supplies last.
Monster Energy Carolina Rebellion is produced by AEG Presents and Danny Wimmer Presents and is brought to you in part by Monster Energy.
For more information on Monster Energy Carolina Rebellion, visit:
Website | Facebook | Twitter | Instagram
About AEG Presents: AEG Presents is one of the largest live music companies in the world. The company is dedicated to all aspects of live contemporary music performances, including producing and promoting global and regional concert tours, music events and world-renowned festivals. AEG Presents operates in North America, Europe and Asia through 16 regional offices that support its tours, which include such artists as Taylor Swift, Paul McCartney, The Rolling Stones, Justin Bieber, Katy Perry and Kenny Chesney; produces or supports over 25 music festivals, including the iconic Coachella Valley Music & Arts Festival; and owns, manages or books more than 60 clubs and theaters. AEG Presents produces more than 8,000 shows annually worldwide and conducts business under such globally renowned brands as AEG Presents, Goldenvoice, Concerts West, Messina Touring Group, Marshall Arts LTD, and Madison House Presents.
About Danny Wimmer Presents: Since 1993, music industry veteran Danny Wimmer has been producing concerts and festivals, both large and small. In 2011, he formed Danny Wimmer Presents, which now produces several of the largest rock and alternative festivals in the U.S. By combining A-list talent with local cuisine and culture, DWP has become recognized within the industry for delivering the highest-quality entertainment experiences to fans, artists, sponsors, partners and host cities. DWP creates memorable and all-encompassing festival experiences, leaving both consumers and partners with lasting and meaningful impressions. DWP will continue to add new music festivals to its already stellar portfolio, which includes Rock On The Range, Monster Energy Aftershock, Monster Energy Welcome To Rockville, Monster Energy Carolina Rebellion, Louder Than Life, Bourbon & Beyond, Monster Energy Rock Allegiance, Chicago Open Air, and Northern Invasion, among others.
About Monster Energy: Most companies spend their money on ad agencies, TV commercials, radio spots and billboards to tell you how good their products are. At Monster Energy, we chose none of the above. Instead we support the scene, our bands, our athletes and our fans. We back athletes so they can make a career out of their passion. We promote concert tours, so our favorite bands can visit your hometown. We celebrate with our fans and riders by throwing parties and making the coolest events we can think of a reality.