Canadian rockers The Damn Truth are set to cross the border for a Winter 2017-18 tour and will also be joining such legends as Sammy Hagar, Bad Company, Uriah Heep on the already sold out Rock Legends 2018 Cruise, which embarks from Miami, FL on February 15. Check out their newest video for "White Lies" off of their 2016 released Devilish Folk and catch the hot up and coming trio LIVE!
Catch The Damn Truth LIVE:
12/08 @ Jewel Music Club – Manchester, NH
12/16 @ Widowmaker Lounge – Carabasset, MN
01/26 @ Java Barn at St. Lawrence University – Canton, NY
02/09 @ FLX live – Geneva, NY
02/12 @ Preservation Club – Knoxville, TN
02/15-19 @ Legends of Rock Cruise – Miami, FL
02/21 @ Vista Room – Decatur, GA
02/24 @ Curtain Club – Dallas, tx
02/25 @ Fitzgerald's Bar – San Antonio, TX
03/09 @ Arcadia Blues Club – Arcadia, CA
03/10 @ The Pour House – Paso Robles, CA
03/22 @ El Corazon/The Funhouse – Seattle, WA
03/23 @ The Garages – Beaverton, OR
05/04 @ Nietzsche's – Buffalo, NY

Over the years, Canada has given us a lot of great bands; Neil Young , Alanis Morrisette, Arcade Fire, Bryan Adams, The Guess Who, BTO, Rush and many more.
Well, now there's a new name you can add to that list; The Damn Truth.
Singer-guitarist Lee-la Baum has been called the love child of Robert Plantand Janis Joplin; mixing up the best of the classic rock the band loves with the indie energy of their hometown Montreal scene.
The band is here to introduce their new album (their 2nd), Devilish Folk, meet their American fans, and promote the new single, "White Lies".
But the journey to get here has been a Behind The Music tale of drama, misfortune, and lucky breaks.
For example, you could say there's nothing more rock n' roll than your van blowing up in the middle of your biggest national tour to date. Unless of course, you're The Damn Truth, and you've barely escaped with just the clothes on your back while most everything else is up in flames. And, oh yeah, it's pitch black in the middle of nowhere in the northern Canadian backwoods. And you've got your 3-year old son and his babysitter also on board. And, did we mention it's in the middle of winter – A Canadian winter.
"We had literally just driven out from a garage in the last town where the mechanic told us everything was fine. Thank god this car drove up beside us on the highway – waving their arms frantically – and told us that the van was on fire . We stopped, got as much stuff out as we could, and then literally watched the van blow up in front of us; all our gear – gone." remembers drummer Dave Traina.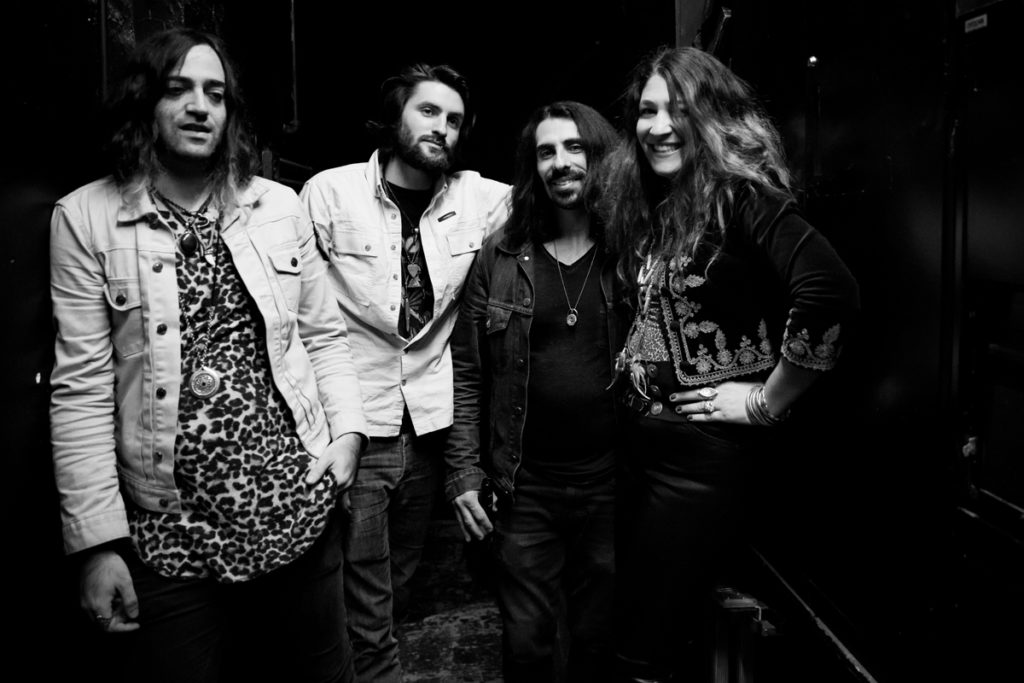 Nothing has ever come easy for The Damn Truth, but for every adversity there has been some unexpected reward. In this case, they quickly scrambled a funding campaign that raised over ten thousand dollars within 24 hours. The experience brought out the best from their fans and the local community and a renewed faith in the power of music. The tour continued. The shows – and their belief in rock n'roll – got stronger.
And now The Damn Truth are set to do it all over again (except for the blowing up part, of course).
A lot of good things have happened since then for the Montreal based quartet such as singer Lee-la Baum turning in a heart-stopping vocal for an Yves St Laurent TV commercial- their new perfume, Mon Paris, that is rolling out worldwide. The vocal (a cover of "Love Is Blindness" by U2) has had such an impact, raking in over 400K views, thousands of comments, emails and orders have come in from around the globe, exposing the band to a wide audience of new "Truth Seekers ".
The Damn Truth have their roots definitely in 60s and 70s rock ,but they are adding to that palette with alt-rock and indie-rock and whatever-else-kind-of rock attitudes and power; basically, what makes the music stronger is all that counts. Consider the pedigree of the alternative and classic rock credentials of Devilish Folk.
Devilish Folk mixed by Grammy-award winner Tchad Blake (Black Keys, Pearl Jam, Arctic Monkeys, and others). All this power was brought to the forefront via the mastering of John Davis, responsible for the recent Led Zeppelin re-issues in addition to work with U2, Lana del Ray, Stone Roses, Florence & The Machine, and others.
The Damn Truth have always been a self-contained unit; producing their own records, videos, and hanging out old-school after a show; meeting the fans one by one.
"We've had to work hard every step of the way," says lead guitarist Tom Shemer. "But that's ok. People know it's real when they come to the shows".
Part of that ethos is the family vibe amongst the band; Tom and Lee-la travel with their 3-year old son "there has never been a choice in the matter. Rock n' roll has always been our lives and his too. He's been on tour since he was 2 months old. " says Lee-la
The Damn Truth are Lee-la Baum (vocals/guitar), Tom Shemer (guitars), PY Letellier (bass) and Dave Traina (drums). There are echoes of Jack White, Arctic Monkeys, Gretta Van Fleet, and Brittany Howard of the Alabama Shakes, all of it uniquely channelled through Lee-la's powerful vocals; creating an emotional rock that's both distinguished them and made them something of a musical anomaly.
"Jimi Hendrix taught me everything I needed to know about that rock'n'roll attitude," says Lee-la, "and he was my first real rockstar crush!"
The world is evolving , rock n' roll and social norms are changing.
Women are taking charge and Lee-la Baum and The Damn Truth are here to break those sexist stigmas every step of the way.
Connect with The Damn Truth:
The Damn Truth Official
Facebook | Twitter | Instagram