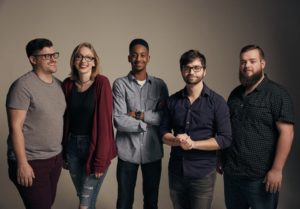 Coming out from Tennessee with their sophomore effort, Kingdoms, Coopertheband bring a new take to the alternative/indie sound with a mixture of soft sound, and different instrumentations through the 11 songs. How does it fair?
Firstly, the instrumentation on each of the tracks may be simple, but used to great effect, with using strings and a banjo in certain tracks like "Moon Pt1," "Undignified," and "Kingdoms". Each instrument helps create a comforting atmosphere for each of the tracks, even in the connecting interlude in "We Ran As If To Meet The Moon", which was a nice soft instrumental connecting the tracks and themes together. Individual instruments stand out well with their musical accomplishments, like the bass riff in "Abigail", the drum rhythms in "Mercy!", and guitar solos like in "Invisible Man".
Secondly, the differing male and female vocals work well, especially when harmonizing with each other in songs like "Moon Pt1".  Both the male and female vocals, even when singing solo, resonate well with the instruments, for example, the female vocals with the acoustic guitar in "Collarbones" work off each other really well, and the male vocals with the increasing instrumentation in "Kingdoms" works to make that song powerful with that great build up.
Finally, the lyrics are very poetic in each of the songs. The band have stated that the album is inspired by the life of King David from the Bible, with themes of love, rebellion, and challenges scattered throughout all the songs. This is shown through "Rebels," "Invisible Man," and "Home", shown through especially in the latter with "you look like summer, but you feel like spring".
The criticisms here are, firstly, the use of violins does become a little overused, especially within "Moon Pt2", which also has instrumentation which just doesn't quite fit the tone of the song. Another criticism is that there is also an overuse when it comes to backing vocalists singing "woahs" and "way-ohs", which by the song "Invisible Man", become slightly grading.
Aside from that, this album does a good job with evolving the indie genre, and bringing more of it into the alternative, and giving it that similar feeling to other alternative indie bands like Imagine Dragons and Coldplay. It's soft, but has catchy songs, and a great atmosphere within the whole album. From start to finish, it's ethereal and simply beautiful, doing well to capture those themes mentioned, and seems like a step in the right direction for the band.
Kingdoms is OUT NOW!