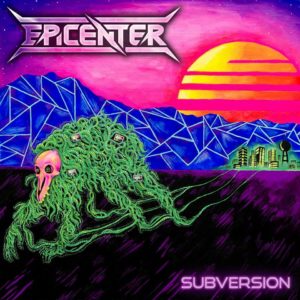 Thrash metal quartet Epicenter have returned with their second full-length album Subversion, a record that proves the band doesn't succumb to hitting the sophomore slump. While Epicenter hold roots in thrash, their music contains musical influences that range from progressive metal to hardcore punk.
The album opener, "Transcendence," begins with some energetic rapid percussion, an absolute must-have when creating quality thrash metal, courtesy of Zak King. King also provides a hearty vocal performance that gives the track life. The vocals aren't overly polished, though that's not a hindering offense for a brash genre such as this. While "Transcendence" begins in rather typical thrash fashion, it transitions into a more hardcore-punk aesthetic. The vocals feel raw and unhinged, the drums pack a powerful gut punch, and the guitars remain flashy, providing colorful licks. The crossover thrash style here is reminiscent of bands like Ringworm or possibly even Code Orange to a certain extent. It's a pounding style that lets listeners know that Epicenter have more to offer than just straightforward thrash metal. The hardcore influences continue on tracks like "Useless Motion," and "Splatterbrain." "Useless Motion" features King's vocals at the forefront. King's vocal delivery takes an authoritative stance and demands listeners to pay attention, similar to punk legends Henry Rollins or Keith Morris. "Splatterbrain" features instrumentation rooted in more classic metal though it still carries a level of aggressiveness that can be attributed to punk influence. The rhythm section is hard-hitting and the brisk chanted chorus is easily comparable to that of Minor Threat.
While the hardcore influences show up more often than not, Epicenter also take more a traditional thrash approach for certain tracks. Songs like "Nightmare Visions," "Firepower," and "Sheepdog" all feature thick and hearty guitar riffs that will appeal to to more "head-banging" fans of metal. Jared Towne and Ryan Burke also occasionally take their guitar work down a twisted, zig-zagged path similar to the style of Mastodon and High on Fire. This style especially works well on the aforementioned "Sheepdog" which emphasizes Steve Foley's eerie bass work. It's a style that provides some sinister tones while still remaining powerful. This foreboding style is demonstrated in "Drone," a track closer to sludge metal than anything else. "Drones," doesn't emphasize the brash nature found on the majority of the album. This track emphasizes its bulky rhythm section to create a rattling sensation. Layered over this is a sharp leading guitar riff that provides the song with a lively tone. What's even more impressive is the pairing of this track with the following song "Proxy." While "Drones" focuses on the sludgier side of metal, "Proxy" offers the most abrasive moment on the entire LP. Clocking in at under a minute, "Proxy" is a brief yet smashing piece that falls more into the straightforward hardcore realm rather than metal itself. This track almost reaches Converge territory with its levels of pure hard-hitting output. It's a bellicose moment that ends the album with an exclamation mark.
Subversion certainly holds a wide array of genre influences, though the tracks that take a more standard thrash approach might be too simplistic for their own good. Songs like "Fugitive" and "Wolves" boast clear Slayer and Anthrax influence and while that makes for a fun listen, they feel rather stale compared to the more daring previously mentioned moments. "Wolves" particularly feels too heavily rooted in its '80s influences. The Anthrax comparison is especially strong here. The song itself is fine, especially when it turns into an almost anthemic war march towards the end, though the performances are a bit over the top. Similar to how Anthrax have always been considered the silliest of the big four (not to detract from the high quality of the music itself), those similar notions are found within certain parts of Epicenter's work. Because of this, the aforementioned tracks feel somewhat beefy and hypermasculine, ultimately lacking the raw emotion found in the album's more punk-oriented moments.
Subversion presents a fun crossover thrash project that's a breath a fresh air within the modern metal scene. While Epicenter certainly wear their influences on their sleeve, the LP is nonetheless immensely enjoyable thanks to the lively performances and occasionally deranged song structures. Epicenter may not be breaking down any boundaries in terms of their brand of metal, Subversion will still leave thrash fans more than satisfied.
Subversion is out now. You can purchase the album here. You can follow Epicenter on Facebook and Twitter.
Compositions - 8.5
Breaking Ground - 7
Engagement - 9
Lyrical Voice - 8
Production - 8