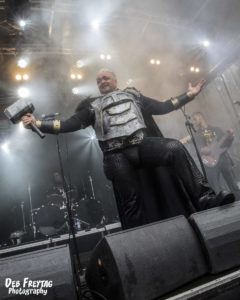 Last week, my review of Thor's latest album, Beyond The Pain Barrier, was shared by the man himself. I'd reached out to Thor via Facebook, and not only did he enjoy the review; he'd also accepted my proposal for a follow-up interview, thus making what's presented here possible.
Having initially seen him in his role as John Triton in 1987's Rock N' Roll Nightmare six years ago, I was exposed to a combination of campy horror, hilarity, and heavy metal catchiness. But upon researching Thor's history, of both the band and the man, I became inspired. From then on, I'd listened to all their classic and current output, and further acknowledged the purity that has carried the legend of Thor over four decades strong.
I caught up with Thor—the man, whose real name is Jon Mikl (and professionally, Jon-Mikl Thor) to discuss his current tour, formative music years, and the making of the new album. Ultimately, Thor aims to be a longstanding inspiration to hardcore and up-and-coming fans alike.
ME: Hey Jon, how's it going?
Jon: I'm pretty good, man! How are you?
ME: I'm good, yeah! I just wanted to say, thanks to you and Billy James for setting this up. I know you have a lot going on, so I appreciate it.
Jon: Yeah, no problem. We've been on the road for a while now and things are great; we've done a lot of traveling. But it's great to talk to you, man!
ME: I wanted to ask you about that, actually. How's the tour been?
Jon: Absolutely incredible! The tour technically started on August 4th in Finland with the Porisphere Festival. That was unbelievable. We played in front of 15 thousand people, and did some more appearances in Europe. Then, we did the North American tour here. Every place is packed with very enthusiastic fans, and you just never know that until you get up there and tour, right? You meet all these people and it's just unbelievable.

ME: It's always a new experience for you, in other words. I've seen your photos on Facebook, and you seem to be having just a really good time.
Jon: Absolutely! You know, whether we have 500, or a thousand, or 15 thousand people, everyone seems to be having a great time. We've had cities that I've never played before, like Saint Paul, Minnesota and Green Bay, Wisconsin. The people over there were just amazing, and the interaction with the crowd just gives you so much energy. It was really overwhelming to me.
ME: Right now, you have your Return To Vancouver show with Gatekeeper and Road Rash. How long has it been since you've played there?
Jon: I think about 10 years – something like that; if not, more. We've decided to have an "end of the first leg of the tour" Halloween wrap party, and then come back next year to a much bigger venue. We were doing this tour in legs, you know? There's a first leg of the tour, and then there's the second leg, which is out east, and then we go out west, so we're taking it in stages.
ME: You're from Vancouver originally, right? Born and raised?
Jon: Originally, yeah. But I left at a young age to pursue my dreams in show business. Before that, I was traveling a lot in professional bodybuilding all through my teen years. I'd take some time off school, go to California and train with Arnold Schwarzenegger, Larry Scott, Dave Draper – those guys, you know – and enter physique championships.
ME: When it came to pursuing music, you started out playing bass in The Ticks, and had a song, "Hey Tonight." Was the concept of Thor in mind at that point, or did it take some time before that? I know you used to train listening to Zeppelin and Sabbath, too.
Jon: Well, The Ticks were originally centered around The Beatles. They were a Beatle band with Beatle haircuts, suits and ties, leather jackets, or whatever. The Thor thing didn't really come up at that time, right? That's when I was really young – let's say 11 to 13, but I was also bodybuilding at that time as well. Maybe the spark was there, but what really got me going with the theatrical part was coming into the early 70s. There was the whole glitter rock era, which was David Bowie when he was Ziggy Stardust, and then Alice Cooper, of course. Everyone was doing this bigger-than-life type show. I was playing bass in The Ticks, then the music got heavier, and our shows got wilder. So, I wanted to go out and be a front man, and that's how the Thor concept happened, because I was always into superheroes.
ME: Thor the band has gone through many incarnations, starting with Thor And The Imps, and then, of course, the album Keep The Dogs Away. What point would you say marked the beginning of Thor's heavy metal period?
Jon: You're talking early heavy metal, right? I'd consider Iron Butterfly early heavy metal. Bands like Goddo are early Canadian metal. Even BTO had some metal in them, and that was around 1972.
With Thor And The Imps, I thought our Muscle Rock EP had more metal than Keep The Dogs Away. Keep The Dogs Away was out at a time when punk and disco were big (laughs). Many people regarded that album as power pop. You know, some even called it punk. It had some good riffs, but again, our music would get heavier over time.
So, Unchained was essentially our first all-metal type album. But I'd consider [Muscle Rock] to have our earliest metal leanings, as it was a much heavier album than Keep The Dogs Away.
ME: With your current incarnation today, can you tell me a bit about this lineup?
Jon: I've had the pleasure of touring in Europe and North America with John Leibel, Matt McNallie, Tom Croxton, who played in Impaler, and Ted Jedlicki. These are young guys who listen to all the metal that's going on now. I'm a classic guy. I still listen to Led Zeppelin, Black Sabbath, and The Doors, you know? Somehow, we put our writing skills together – sort of a classic-meets-new metal niche – and it worked.
We've written some pretty good tunes together, and these guys are very skilled performers. Here on the road, it's not easy hopping on a plane and flying all over the place and getting into a tour bus, you know? It's arduous; you have to be both a road warrior and a rock warrior.
ME: That brings me to your new album, Beyond The Pain Barrier, which comes two years after Metal Avenger. What went on during that transition?
Jon: I'd toured on Metal Avenger in 2015, and also, I Am Thor came out, so I did promotion on that. Now, I've been working on a sequel to I Am Thor called Return Of The Thunderhawk, working on post-production and writing new songs.
But yeah, basically I toured into 2016. Many times, I'd just fly into a city like Chicago and have a backup band to rehearse the material. In this case, I was in Minneapolis, and that's where I met John Leibel and the guys. We'd talked about recording together, and started swapping song ideas through Dropbox – just long-distance writing and recording, you know? So, I'd say this is a Dropbox album because we were all in different places and whatnot. Ted Jedlicki was in Denver, the other guys were in Minnesota, and I was in Vancouver, and we were able to utilize studios and the internet to make this album.
ME: "Tyrant" kicks off the album, and its strength comes not only from your vocals and the riffs, but also the lyrics. What inspired you to write that song?
Jon: There's a lot of things that keep going on in the world. It's a political statement. However, it's also a continuation of Metal Avenger. Metal Avenger was a concept that took place in the world of Psycon. I've always been very much into concept albums. I think Kiss's The Elder is one of their best. I've always been into that kind of thing – Pink Floyd's The Wall, you know?
So, on Metal Avenger, I'd teamed up with California producers Frank Meyer and Bruce Duff, and we created the concept where Thor is on the world of Psycon, and there's a tyrant ruler he has to overcome to free the masses. There are a lot of crazy tyrants in many different countries, and madness going on in the world. And I think the lyrics of the song "Tyrant" are very current with the affairs of today.
ME: For the second single, "The Calling," I found the music video interesting. It's like what a lot of us do. We like to discover your music, and then back track it to the stuff you've done in the past. Can you tell me about that song and video?
Jon: Yeah! So, the song was written by John Leibel, and the idea is that when we go on tour, we're almost like a new band to a lot of younger fans. It's all ages, so they're in their teens, 20s and 30s. In the old days, you had to flip on the radio, but nowadays we have so many mediums to showcase the act Thor.
One of them is Netflix, and it's unbelievable how many people have seen I Am Thor on Netflix alone; that gave us sort of a mainstream appeal. A lot of fans who come to the show know all the songs. It's amazing to me. Many of them weren't even born when I was writing these songs. It's just overwhelming—it really is. And then, going to meet these people after the shows, it's amazing how much these songs mean to them, you know? One guy said that Only The Strong saved his life. He was fighting cancer, and then survived, because he felt that the album kept him moving forward. Another guy said that in his first time having sex, he had "Laser Eyes" from Unchained playing in the background. It's like we're always here in different places – not physically, but through our music.
ME: Another thing I noticed is the song "Phantom's Light" having the same opening lines as "Long Ride From Hell" from Recruits. Did you intentionally want to revisit that song, or was it written rather spontaneously?
Jon: Well, you know, before you come up with a song, there's a lot of incarnations and demos you end up doing, right? Yeah, there's definitely that similarity, but I'm not plagiarizing anybody but myself, you know? (laughs)! I wrote all the lyrics and riffs. Sometimes there are hybrids that come out of a demo, and I might have wanted it one way at one time, and then it becomes another way another time.
ME: I consider "Phantom's Light" to be a continuation of that song.
Jon: Yeah, it's like a reprise. Exactly!
ME: Throughout your material, I've noticed a recurring theme of electricity. There's "Thunder" from Keep The Dogs Away, "Lightning Strikes" and "Laser Eyes" from Unchained, and "Thunder On The Tundra" from Only The Strong. Then there's also the villain you portray in Recruits, named Thunderhead, the song "Thunderhawk" from the Triumphant album, and most recently, "Thunder Girl" from the new album. Pretty consistent with the thunder god himself!
Jon: Yeah, I guess you'd sing about thunder and lightning with the name of the band being Thor, you know? But you can't keep singing about it all the time, and that's why we've got songs like "On Golden Sea," which is about love and meeting a girl on a distant island. In the concept of Beyond The Pain Barrier, there's a fair amount of songs that don't have thunder, but I guess the thunder sort of creeps its way into the music. You hear the thunder and see the lightning. There's always something about the light that shoots forward.
But that's a good ear you have to notice thunder in all those songs, you know? (Laughs). Our music is thunderous, so that's why we're called Thor.
ME: I saw a clip your performance at the Highline Ballroom in New York City, where someone shouts out "There's only one Thor!" and you respond, "He's got it! Now I gotta keep going 'til I'm 73, cause of this guy." Do you plan to keep going for real?
Jon: (Laughs)! Well, we'll see. Paul McCartney's playing at 76 years old and doing well. Bruce Springsteen's also in his 70s. When you look after yourself, there's a lot of longevity in your music.
On this tour, I'll tell you. It just really inspired me to meet these wonderful fans who just went wild. As I'd said before, you don't know how much your music means to them until you meet them. There are older guys who had albums like Keep The Dogs Away or Only The Strong for me to sign, but it's incredible that a lot of young fans came. I want to inspire as many people as I can through music, you know? And if I can keep performing, the sky's the limit.
ME: Yeah, and you definitely came back super strong with Beyond the Pain Barrier.
Jon: Thank you very much. I appreciate your words.
ME: Lastly, anything you'd like to say to your fans?
Jon: I'd like to say thanks for the support. Thanks to those listening to Beyond the Pain Barrier, and to those who came out to our North American and European tours. It was wonderful to meet everybody. And I want to also say, never give up! Always believe in yourself. There's always an obstacle around, but smash down the walls. Kick back at the kickers, laugh back at the laughers, and achieve your dreams.
Thor Socials: